Raising a child with a partner is hard enough, so imagine how hard it is to raise one on your own. And not just one child, but four. All while holding down full-time work and odd jobs on the side. All while battling a life-threatening illness. All while trying to keep your head up through it all.
As a show of support to single moms in the wake of Tito Sotto's tasteless "na-ano lang" gaffe, we got nine Pinoy men to reveal how great their moms are to have raised them singlehandedly, and WE'RE NOT CRYING, YOU'RE CRYING.
***
Adrian Arcega, 38, video director/VFX artist/musician/educator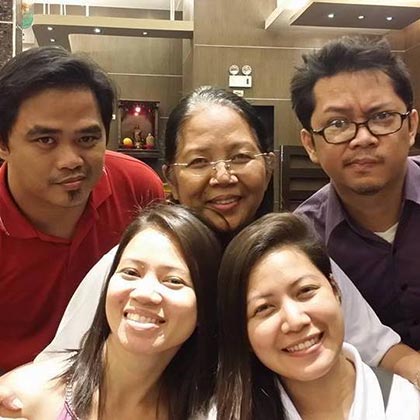 Continue reading below ↓
Recommended Videos
"My mom separated from my father when I was two due to domestic violence issues. She took me and my sister and raised us on her own, with the help of my grandmother and uncles. Two more siblings later, and she had to raise four kids with totally different temperaments…while working a day job in cultural affairs at the U.S. Information Service, and working a night job as a scriptwriter for TV.
I don't remember her sleeping much (the typewriters clanked away the whole night). She was able to work with the Americans and the British, facilitating very enriching cultural programs between our country and theirs. She was able to organize big events. All while raising four kids.
I still don't know if, when faced with the situation, I can be as good. She wasn't perfect, but she was everything to me. And I try to live my life and career along the path she forged."
***
Raymond Peter Campiglio, 35, bar owner/bartender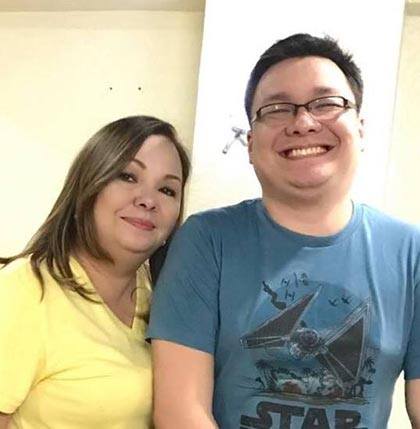 "My mom was an undergrad in college when she was pregnant with me. My biological father left my mom when he found out she was pregnant. If I'm not mistaken, he left the country even. The pregnancy got her kicked out of her school and not in good stead with her family.
My mom fended for herself. She took a lot of jobs to raise me and my siblings (from another relationship that didn't work out). She fought tooth and nail to get all of us to a better life. She worked and still found time to tutor us. We couldn't afford tutors, but we all ended up getting scholarships for high school and college. My siblings and I love learning—that came from our mother.
Over the years, my mom has taught a lot of lessons but the one that stuck is that I should fight for what I believe in and what I want. That's why I do what I do now, personally and career-wise."
***
Mike Candongo, 22, student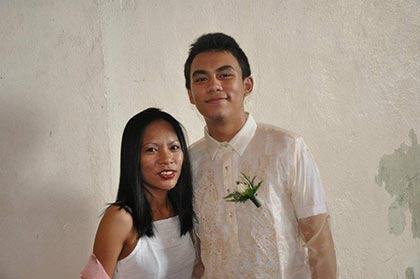 "My dad left us when I was around three years old with a big house and a car. Through my mom's perseverance and sheer determination, she was able to send me to an international school and now to a well-known college. She worked as a restaurant manager while holding odd jobs on the side and handling a few investments which eventually tanked.
Eventually, she stopped working and had to go back to the province to care for my grandmother who was battling breast cancer. She gave me one full year of independence and trust as I had to find work to pay the bills and live on my own. In that year, I learned the most.
Now, she's back and I'm finally on my last year of college. She has sold the house and we're living quite comfortably, all thanks to her neverending love, courage, and bravery. I love you, mama!"
***
David Jireh Dela Cruz, 25, performance marketing specialist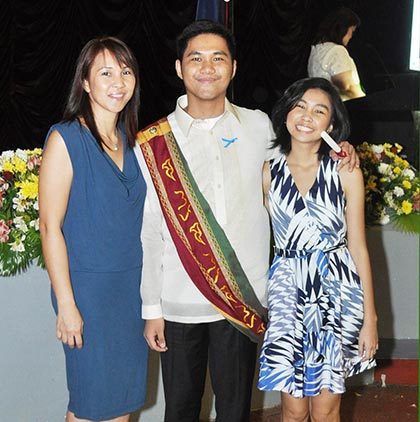 "My mom had me at a very young age. It wasn't particularly easy especially since a few years later, she gave birth to my sister. An undergrad when she had me, she had to work on the side while finishing her studies. Now, she's about to have her second child graduate from college.
She got featured in a documentary a friend of mine made about the deconstruction of marriage where she spoke as a single mother. Hearing her talk about how she didn't feel the need for a partner to help raise her children and live a happy life made me understand how she sees me and my sister as inspiration to never give up no matter how tough the situation seems.
They say it's always the little things, but some people make doing the impossible seem so normal that we sometimes just forget to give them credit for it. For always doing the impossible, thanks, Mom!"
***
Roland Antonio Guia, Jr., 30, lawyer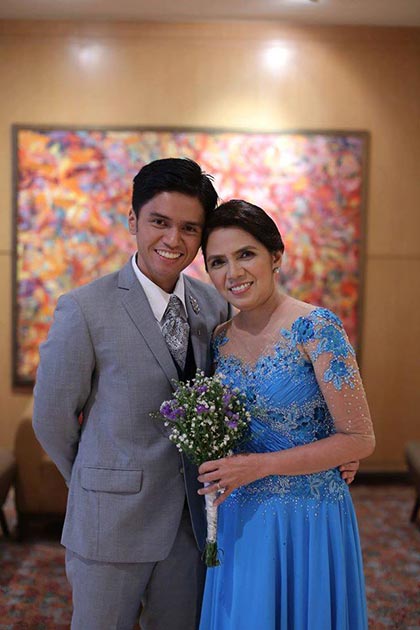 "My mom raised me alone amidst challenges. One day, fed up with years of abuse, she told my father to pack up and filed for annulment. One time, we almost lost our home due to some work-related issues, and she was suspended from work without pay for a month because of it. Still, she never ceased in taking care of me and providing for the household that I didn't realize how serious her troubles were then. She took care of my education all the way through law school, even if she was battling breast cancer during the latter period.
Fast forward to the present, and she beat breast cancer once again! Now, it's my turn to take care of her—if she would let me. I've been telling her to avail of early retirement but she just wouldn't listen.
I learned from her that true strength does not come from bulging muscles, intimidation, and the usual alpha-male, macho-straight stuff guys define it by. I love you, nanay!"
***
Miguel Mendez, 29, sales consultant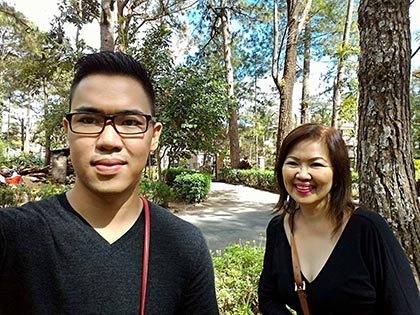 "My mom raised us four siblings all by herself. I was five years old when she decided that enough was enough and she finally left my dad because of his infidelity, immaturity, and irresponsibility.
We didn't have all the luxurious things we wanted but she made sure that we had what we needed. We were all enrolled in private schools from grade school to college. She was able to buy her own house, her own car, and she was able to travel the whole world. She started as a med rep and worked her way up to being a top executive. She was always busy working; she left home early and got home late. I remember seeing her cry while talking to her workmates once. I really don't know how she did it.
Mama, you will always be my inspiration. With hard work and love for family as your fuel, everything became possible. They say that you can't share the love you haven't received. Because of you, Mama, I'll have a lifetime of love to share with others."
***
Karl Nieto, 23, sales head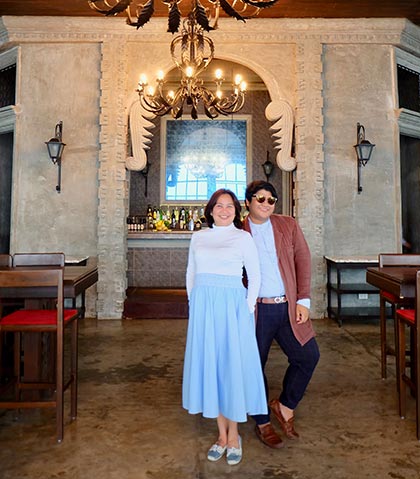 "If there's one thing that makes my mother awesome, it's that I've never felt the need to have another parent. I don't think I can put into words how much love I feel from my mother and how much I admire her. She raised me on her own, sent me to a good university, and accepted me for everything I am.
My mother and father separated before I was even born. As a child, I remember I would ask her about my father. She made me understand our family of two and how that did not change who I was or make me any less of a person. She has always believed in me and done everything she could to provide a good life for us, even traveling to live and work in Vietnam for three years!
I always say that the only reason I know what a great parent is is because I was raised by one."
***
Barny Rivera, 31, associate creative director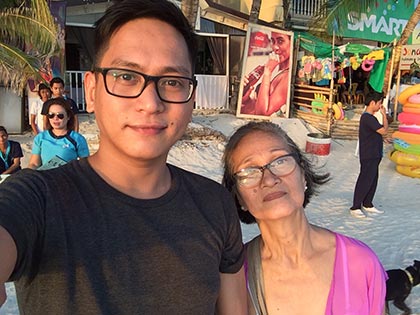 "My parents separated when I was a child. My dad went to live with his new family, and my mom worked in the Middle East to make ends meet. Much has been said about the heartbreaks of being an OFW, living far away from your loved ones in a country that could never feel like home.
If you sum up all her years spent abroad, I think it would equal to half of my life, maybe even more. My mother, Socorro, chose to bear it all.
The love that nearly broke her was also the love that kept us going. Any #hugot-driven millennial can tell you about how hard it is to "get over" or "move on," but when the future of your children is at stake, you wouldn't really have the time. You just allow yourself to feel the pain, then you pick yourself up, and then you go forward.
She may have flown far away, but she didn't leave us behind."
***
Rome Sta. Ana, 24, copy editor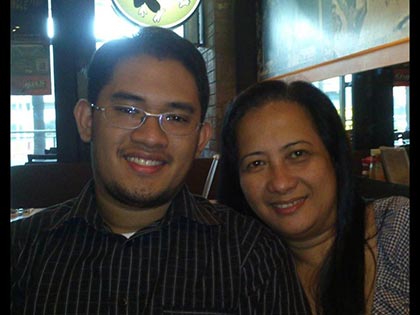 "I am an only child raised by a single mom who was forced to give up her teaching position at a prestigious Catholic university because of her pregnancy. My father never married my mom because his only concern was to marry a woman with enough money to let him live a life of luxury and comfort abroad. Since then, my mother singlehandedly raised me while trying to manage her own one-man design and construction firm.
In the early 2000s, she was diagnosed with a brain tumor that left her with a speech impediment and balance problems. The doctor gave her five years to live. Despite all that, she worked hard to give me a good life.
Fast-forward to 2017, my mother is still well and remains to be the strongest person I've ever known. Her love and determination continue to inspire me. She taught me to remain strong, confident, and humble despite challenges in life. She is, and will always be, my hero."
Follow Cheekie on Twitter.