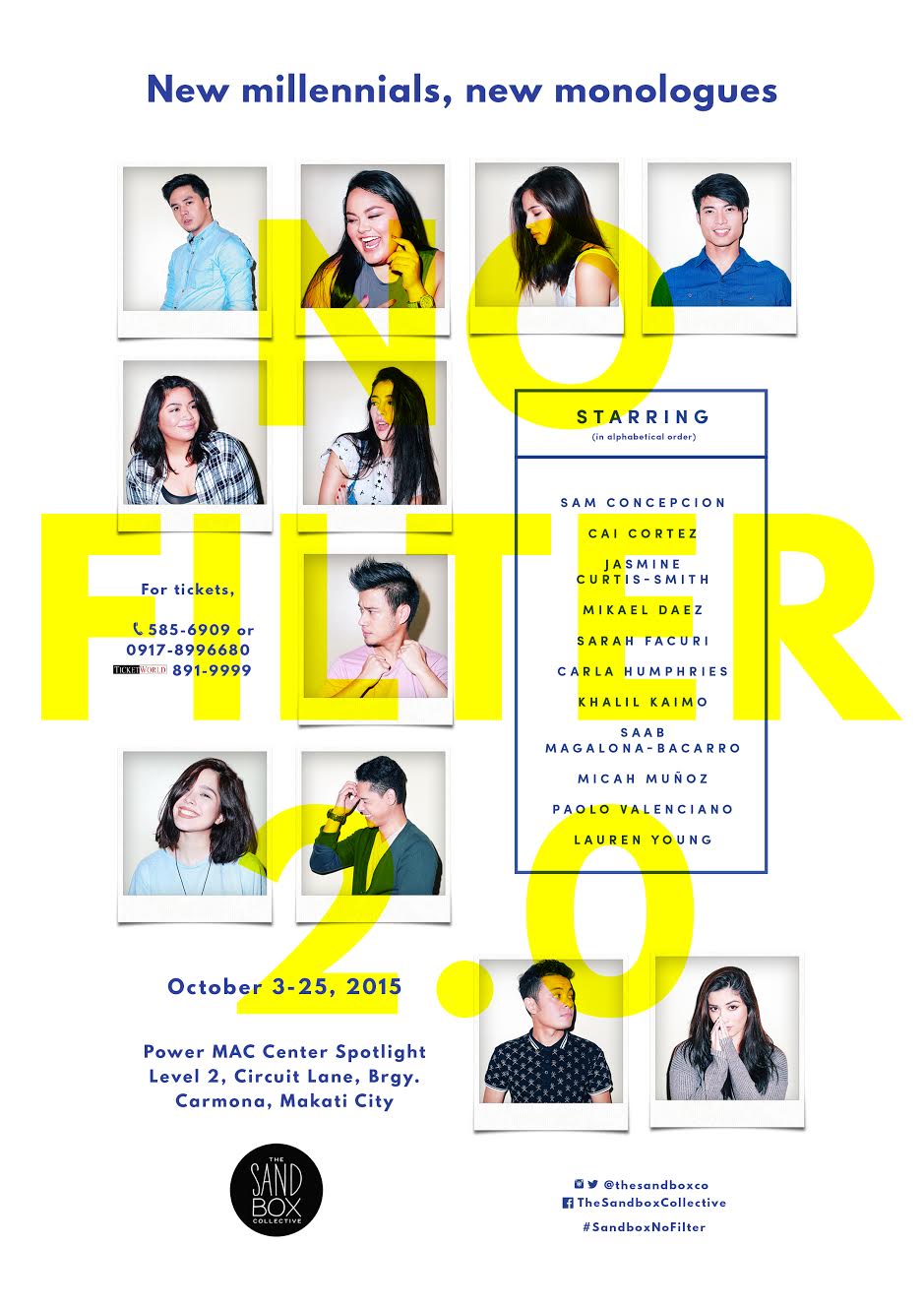 No Filter 2.0 is a play composed of a series of monologues and multimedia performances on what a millennial is and what it's like to be one. It's directed by Toff de Venecia, a twentysomething creative—a millennial himself—who is the managing artistic director of The Sandbox Collective, the performing arts group that's currently staging the play.
No Filter 2.0, as the title suggests, is the second run of No Filter: Let's Talk About ME which showed in July. It's a timely play, since millennials are now being ridiculed by older generations for being spoiled and self-centered, for not knowing how to make sacrifices, for not knowing how to toil, and for wanting everything to happen now because #YOLO. 
What does the play have to say about the criticisms against today's twentysomethings?
Before we get to that, let's note that No Filter 2.0 portrays millennials as the youth of a certain class: the bourgeois, from the upper middle class all the way to the top. Their problems are clearly burgis, like finding a fulfilling job (instead of just "a job"), about wanting to follow one's dreams in spite of whatever odds there are, about being able to support one's art while still having a day job, and keeping up with a social life that includes frequent partying. Is that intentional? There's no sign that it is, since the characters themselves don't seem aware that they're having first world problems or that they are "privileged" as they go on with their monologues. There's no mid-sentence realization of sorts, like when you say something silly out loud and become aware of how you just sounded like. (Let's not forget that self-awareness is necessary in getting to the middle of a personal issue.)
The millennial is also portrayed as a creative type. A former arts major or just a frustrated artist. Sure enough, No Filter 2.0's characters include a designer/illustrator, a writer, and a musician. Apart from that, he seems to be a bit of an intellectual, or someone who tries to be, as he name-drops philosophers like Jean-Paul Sartre and Simone de Beauvoir for, not a philo oral exam, but to talk about a personal problem without relating (or even mentioning) those thinkers' ideas or concepts to the problem.
So here's the inevitable question: What about the other twentysomethings out there who tolerate a corporate job, who have financial problems, who might be working more than one job just to support oneself? What about the science lovers out there who're trying to get a step closer to, say, becoming an astronaut? Or those working in NGOs or have taken to teaching in private or public schools? Is the term "millennial" precisely for the relatively well-off twentysomething? No word on this.
Continue reading below ↓
Recommended Videos
In spite of where the play falls short, No Filter 2.0 does vividly show, whether intentionally or not, the cost of this kind of privilege and of being born into it. There's the fear of losing it. And it is rightfully a cause of concern for anyone, especially for kids who are suddenly thrown off into a world and forced to deal with disconcerting realities, like not having all the time and money to do what one loves, or sacrificing something when committing to a decision. Suddenly one's lifestyle, maybe even identity, is threatened. So how could a millennial not talk about their problems or fret? The previous generations might be a little too hard on these twentysomethings whose lives they've helped build, and whose minds they've had a hand at molding.
The play presents other pressing problems of millennials, like finding love in the time of social media and Tinder where everyone has become ridiculously picky but also very guarded (we don't show our weak points), to the extent that there's no intimacy when that's what we really want. What's truly remarkable is its smart handling of the millennial's question, "Should I pursue my biggest and wildest dreams?" For this the play alluded to the story of Icarus, who in Greek mythology flew too high that the sun's heat melted his makeshift wings so he fell into the sea. Icarus was warned by his father not to fly too high, which is similar to some of us being told to live a certain way or follow someone's footsteps, which can seem pretty mediocre. But like Icarus, some of us dare, and some of us want to dare, to take the risk of having a damaging fall because "that's what life is all about" or not doing so "isn't living." When was being too risky still okay, though? Still, the play doesn't suggest that we all forget about dreaming, by reminding us of another part in the Icarus story: Don't fly too low, or else the water will soak the wings.
It succeeds in showing that some of the millennials' concerns are reasonable. They know they are young and full of potential, and privileged in this regard. So how could they not want to chase their dreams when they know they can? They don't want to grow old and find that they wasted their lives, that they didn't do much, and that there's nothing else they can do—this last one is a true sentiment that's pretty dramatic, since one doesn't stop living when she's 50 and still alive. (Millennials need to realize this.)
Does No Filter 2.0 say that millennials are terrible? No. It presents these creative, wealthy twentysomethings for what they are, a mix of faults and saving graces (like any other person out there). The portrayals are surprisingly spot-on if you're a creative, a party-goer, or a Tinder or Instagram addict. You won't be able to stop yourself from laughing out loud or squirming on your seat at how the cast got you right (so right you could've been the one on stage emoting or venting). It's a fun watch that strives to make you think about yourself, but this time instead of just yourself, it's of yourself and the world.
No Filter 2.0 stars Cosmopolitan's October cover girl Jasmine Curtis-Smith, along with Sam Concepcion, Cai Cortez, Mikael Daez, Sarah Facuri, Carla Humphries, Khalil Kaimo, Saab Magalona-Bacarro, Micah Muñoz, Paolo Valenciano, and Lauren Young. It runs until October 25 at Power MAC Center Spotlight, Level 2, Circuit Lane, Brgy. Carmona, Makati. For more information, visit thesandboxcollective.com.
Follow Stephanie on Twitter.
RELATED:
7 Money Habits Millennials Should Start Working On Today
I Am Proof That Not All Millennials Are Incompetent And Terrible