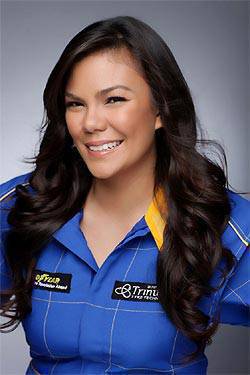 Pia Boren
is thriving in a world dominated by men—first, by making her mark in sports broadcasting as courtside reporter for
San Beda College
and as co-host of Studio 23's
NCCA College Hoops.
And as if playing with the big boys of basketball and sports journalism isn't hard enough, Pia is recently being recognized as one of the female racers in the country.
Racing, she says, is an exhilarating experience since it allows her to
"control the uncontrollable."
But more than that, it allows her to
"do what others think is impossible."
Only a year after she started racing professionally, Pia was first noticed in the local racing circuit when she won major prizes in the
Alaska Fresh Cadet Division of the Arthur Tuason Memorial Cup
in 2002. Finishing first in the 20-lap race, Pia won by a few seconds against the runner-up, thanks to the 47.790 laptime she posted during the race's fifth lap. Besides winning the coveted cup, she also got the fastest laptime in the race, an impressive feat for a neophyte racer. Today, she is regularly competing against some of the country's best racers, attaining considerable success in a field where only few women excel.
[nextpage]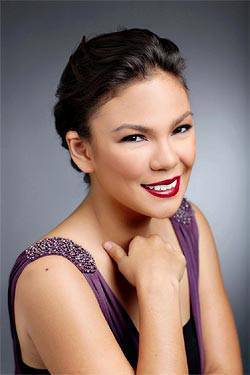 A few years after her impressive Arthur Tuason Memorial Cup victory, she was named
Fastest Lady Driver in the 2003 Ford Lynx Cup
, placing fourth. Two day later, she clinched the championship, proving she can be as fast and competitive as any other racer on the road. She also placed fourth in the 2004 Formula Toyota Series.
Pia may not always finish first, but she understands this is part of the game. "Konting palpak leads to being even better," she said.
Still, her achievements in the racing circuit are more valued than a first place finish. In 2007, she was one of the two female drifters who competed in the
Lateral Drift Championship
, and
the only female racer to reach first place
. She further upped her ante this year, when she finished fourth in the
Second Castro Underground drifting event
. Pia now has the distinction of being the
most qualified female racer in the country
. And did we mention she has her own driving school, Audio Drive?
"Even if I stopped racing, I would still be involved in something that gives little girls the chance to be race car drivers," says Pia. "I am proud that I have helped open up avenues for little girls."
Continue reading below ↓
Recommended Videos