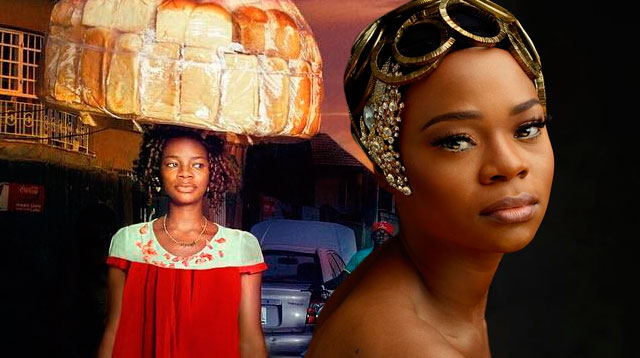 Instagram/tybello
Olajumoke Orisaguna, a bread seller from Nigeria, walked into a photo shoot set by accident and got photographed. She was at the right place at the right time, because that incident got her a modeling contract.
ADVERTISMENT - CONTINUE READING BELOW ↓
Nigerian photographer TY Bello was the person behind the photo. She was shooting popstar Tinie Tempah when Orisaguna walked into the frame. Bello recalls that Orisaguna "seemed a little confused." "Some people were asking her to walk past really quickly, others were asking her to stay, she was just in limbo," Bello explains. "I said 'Is it okay to take your photograph?' And she nodded 'okay.'"
Bello posted the shot on social media, and so many people began asking about the bread seller in the photo. "Everyone immediately thought she was a model," Bello said. "No one believed she just walked past. It occurred to me that if everyone thought she should be a model then maybe she should be one, then the search for her began."
Bello asked her followers on Instagram who the woman is and asked for their help to track her down. "I'm happy to help her build a portfolio if she's interested," Bello wrote. And soon enough, Orisaguna was found, and she and Bello made plans to work together.
Now famous and signed to a modeling agency, Orisaguna was given a scholarship to complete her education. A bank offered to pay for the schooling of her two children, aged five and one, until university age. She doesn't have to figure anymore out how to raise her family from making only less than P50 a day.
"I never expected this would ever happen to me," Orisaguna says. "My friends have told me they saw me on the TV and they are really happy. My parents cannot believe their own child can become such a success. They are all so happy."
Orisaguna, 27, has appeared in the Nigerian publication This Day Style, and she looks nothing short of amazing.
ADVERTISMENT - CONTINUE READING BELOW ↓
ADVERTISMENT - CONTINUE READING BELOW ↓
There truly are happy accidents, and they can change our lives in ways we never have expected. In the meantime, keep working hard and well.
Follow Stephanie on Twitter.