Forbes just released its annual list of the Philippines' 50 richest people, and this year finds pretty much the same names up there (Henry Sy is the richest Filipino for the eighth consecutive year). It's important to note that those who landed the top three spots had a rags-to-richest story that's unbelievable and admirable considering just how wealthy they are now.
Here are their stories, along with some of their tips on how to get there.
Henry Sy
Founder of the SM group, including SM Prime Holdings, SM Supermalls, and SM Development Corporation
Net worth: $14.4 billion
Age: 90 
How things were: Henry Sy grew up in a poor family in Xiamen, China. He followed his dad to the Philippines in hopes of becoming rich, but they weren't doing any better here, either.
What he did: He bought goods from the Divisoria flea market and carried them on his back to his dad's small sari-sari store.
How things were: World War II broke out, and the Philippine economy collapsed. In 1946 their store was burned down, and Henry's dad decided to go home to China.
What he did: He decided to stay and start his own business. He sold cheap shoes from Marikina. He was only 22.
A few years later he was able to loan a capital from China Bank, and Henry used this to rebuild his business.
How things were: He wanted to be a better business man, to improve his skills in the buy and sell industry.
What he did: He enrolled at Far Eastern University in 1950, taking up commercial studies. (He didn't finish his schooling because he wanted to focus more on his business.)
He also got his Philippine citizenship so he could continue doing business here in the country.
How things were: The economy got better.
What he did: Henry put up the first shoemart on Carriedo Street, Manila. It was so popular, he opened other outlets.
Eventually he sold appliances in his stores to offer the consumers something else. In the 1960s, he expanded his shoemart business until it became a department store. He then changed Shoemart to SM.
In 1985, he opened SM City North EDSA, his first supermall. Today he has nearly 50 malls across the Philippines with some branches in China.
Continue reading below ↓
Recommended Videos
John Gokongwei Jr.
Founder of Cebu Pacific, Robinsons malls, JG Summit Holdings, and Universal Robina Corporation
Net worth: $5.5 billion
Age: 89
How things were: John Gokongwei Jr was born into a rich Chinese-Filipino family in Cebu; he lived in Cebu's Forbes Park. His dad owned a chain of movie houses, which were frequented by a number of people, including John's friends who could watch for free.
With complications due to typhoid, John's dad passed away when John was only 13. His family then lost everything: their big house, their cars; they lost their business to the banks. (John lost half of his friends.)
What he did: He decided to work; it was the only option for him. He sold peanuts in the backyard of his small home.
In 1941, at 15, he eventually opened a stall in the market outside the city where a vendor was most needed. He sold the essentials: soap, candles, and thread. (He earned 20 pesos a day, which was enough at the time to feed his siblings and grow his business.)
How things were: He wanted to expand his business; he knew he could do it because of his experience at such a young age. When World War II ended, John saw the opportunity to trade goods. He was 20 years old.
What he did: He and his brother put up Amasia Trading, which imported onions, fruits, flour, secondhand clothes, and old newspapers and magazines from the United States.
How things were: In 1957, John, at 31, saw another business opportunity: manufacturing corn starch. But if he ventured in it he would compete with the richest and largest cornstarch manufacturers in Cebu.
What he did: He took on the challenge and borrowed money to finance the project. Upon launching Panda cornstarch, a price war happened that resulted in the closure of cornstarch companies except his, which emerged triumphant.
How things were: In 1996 he wanted to go into the airline industry, but there was Philippine Airlines already.
What he did: He established Cebu Pacific, introducing Filipinos to low-cost flights but with value. It also offered incentives to win over customers, like promo fares for as low as 1 peso. It used to only have 24 domestic flights to three places (Metro Manila, Cebu, and Davao), but now has over a hundred flights to 33 domestic destinations and 19 countries.
How things were: He also wanted to go into the communications industry, but he was late by almost a decade. PLDT was already big with a landline monopoly. 
What he did: He established Sun Cellular after careful planning. It won people over with its great deal: unlimited call and text to any Sun network each month for a fixed fee. Within a year, Sun hit a million customers and now has over four million subscribers.
How things were: He had no experience in the beverage business, but thought the market was ready for a new beverage.
What he did: He introduced C2 green tea in 2004 even if the Philippines isn't traditionally a tea-drinking country. He marketed it as something refreshing like a spa, and it caught on with consumers. A hundred thousand bottles were sold in the first month, and in three years 30 million bottles were being bought each month.

Andrew Tan
Founder of Alliance Global Group, Emperador Distillers, Megaworld Corporation, and part owner of Golden Arches Development Corporation (McDonald's Philippines)
Net worth: $4.5 billion
Age: 63

How things were: Andrew Tan was born in Fujian, China and moved to the Philippines with his family when he was 16. They lived in an old, cramped apartment in Sta. Cruz, Manila. He didn't have much. He couldn't afford a ride to school (he studied business administration in the University of the East) so he walked to school and back home. He couldn't afford a proper meal so he only had bananacue for lunch.
What he did: He became a working student to finish his schooling. He sold watches, he tutored kids in math, and he was the import assistant in a company. In 1974 he graduated magna cum laude.
How things were: He wanted to put up his own business.
What he did: To get capital he entered a partnership in a wholesale trading firm and sold home appliances like imported coffeemakers to local appliance stores. He was 25. Two years later he made his first million.
How things were: At 27, his dad wanted him to be a financial executive but Andrew kept to the business course. He acquired Consolidated Distillers of the Far East and produced liquor. But he didn't have very good luck producing gin and rum; he lost money competing with the big names in the liquor industry.
What he did: He continued to produce liquor and wouldn't stop working until his product Emperador Brandy became a household name, the leading alcoholic drink in the country. When Emperador Brandy did take off and get to the lead (after 10 years of hard work), Andrew's Emperador Distillers became the world's number 1 producer and exporter of brandy.
We're pretty sure you've picked up lessons from the humble beginnings of Henry Sy, John Gokongwei, and Andrew Tan. For the sake of spelling things out, all of these entrepreneurs had discipline. They persevered. Sure, they had to work hard, but it's admirable that they kept it up year after year after year. Others might have given up, but they didn't. They all had a clear business vision. They all spotted business opportunities, and they all plunged into competitive industries with intimidating players. 
What a feat for them to be where they are now. Their work was far from glamorous and far from easy. But there's immense fulfillment in doing one's best, and we can all bet they have that, too.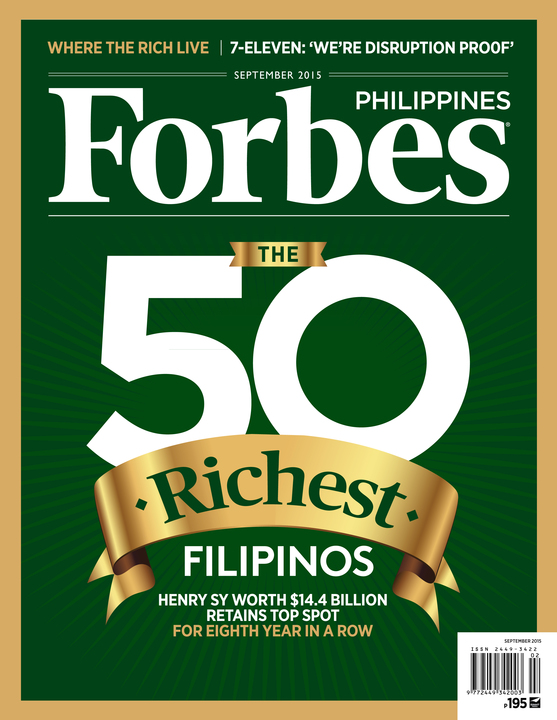 For more information on the 50 richest Filipinos, grab a copy of Forbes Philippines' September issue!
Follow Stephanie on Twitter.