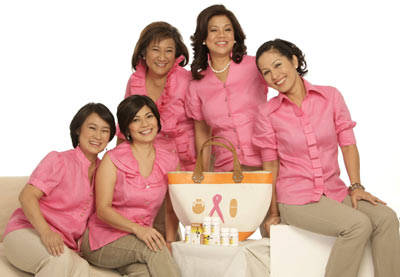 Rumalie Corvera, Jocelyn Garcia-Trinidad, Cynthia Yuhico, Angie Jularbai-Laborte, and Melissa De Leon-Joseph of Project Pink

A lot of people say challenges arise to make one a better person. Five women of different backgrounds, whose common denominator are their struggles against breast cancer, prove the statement true—and even strive to make things better for women like them.
Before they became breast cancer "conquerors," actress
Melissa De Leon-Joseph
, financial planner
Cynthia Yuhico
, family medicine specialist
Rumalie Corvera
, and businesswomen
Jocelyn Garcia-Trinidad
and
Angie Jularbai-Laborte
had been living normal lives with their families and excelled in their fields. But life somehow made a downward curve when they found out they had breast cancer.
As they sought treatment for their disease, these women thought of reaching out to others by forming a support group called "Project Pink." They met to share stories of their battles with cancer, and later sought the help of agencies who could help them reach out to other breast cancer patients.
"A support group does make the difference. You are fed not just information, which is so vital, but also positive thoughts and emotions we so badly need on the days we feel we just can't go on," says
Yuhico
. "It gives you the courage and strength to become more active in your own treatment and recovery. It gives you the hope that you will have many brighter tomorrows."[nextpage]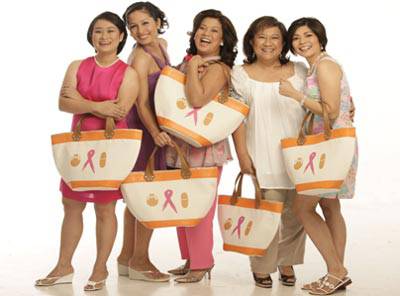 Rumalie Corvera, Melissa De Leon-Joseph, Angie Jularbai-Laborte, Cynthia Yuhico, and Jocelyn Garcia-Trinidad of Project Pink
Together, these ladies gathered the support of the Asian Hospital, The Wellness Community (TWC), and Bayer, which helped the group launch the Project Pink Advocacy Bag, the group's first campaign.
Bayer's One-A-Day Women's Multivitamins commissioned well-known bag designer Amina Aranaz to create the Pink Ribbon Advocacy Bag as a symbol of support for the breast cancer battle. For every purchase of the Pink Ribbon Bag, Bayer HealthCare Consumer Care Division—through One-A-Day Women's Multivitamins—will donate 25 percent of proceeds to the Project Pink Cancer Support Group Inc. The limited edition bag can be purchased through the
Project Pink Support Group
and is also available at the Aranaz store in Greenbelt 5.
Indeed, the fight against breast cancer remains strong with these powerful conquerors backing up fellow patients. "I will have many brighter tomorrows," vows Yuhico. "By the grace and mercy of God, I will. Because my doctors will be there. All my loved ones will be there. And because Project Pink will definitely be there."
Continue reading below ↓
Recommended Videos