Geena Rocero is Cosmo's Fun Fearless Female for 2015. She is an international fashion model and a transgender woman who has shared her inspiring story with the world. Read more about her here.
***
Dear Caitlyn,
As of this writing, I am indulging myself with the best that Vigan has to offer. What better way to conclude a productive stay in the Philippines than to hear the exciting news about your newfound freedom.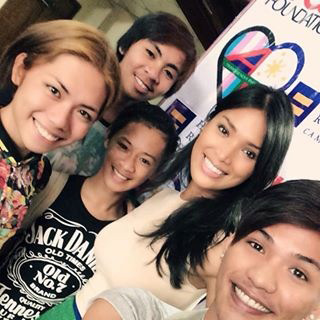 Geena with transgender youth in Vigan, Ilocos Sur in the Philippines, where Gender Proud and the Association of Transgender People in the Philippines (ATP) successfully concluded its Media Training and Power of Storytelling for Trans Advocates and Leaders.
Continue reading below ↓
Recommended Videos
Thank YOU Caitlyn for your courage to be your truest self. The impact, visibility, and conversation initiated by your Vanity Fair cover is global. 
Even here in the Philippines we are cheering for you. You look stunning!
I was eight years old when I saw a TransPinay at a local beauty pageant fiesta. Seeing her allowed me to see that one day, I can be just as beautiful as her. This is why visibility is power.
How transgender people are represented in the the media is extremely important. It will allow all young transgender people and gender non-conforming youth to know that their lives and stories matter.
When I think of you, I think of the young 17-year-old TransPinay I met in Cebu. She was bullied in high school before she transitioned. But once she accepted her truest self, she showed everyone that her truth is her power. At 17, she is an inspiration.
Caitlyn, I want you to know that your story allows people to have a conversation about Gender.
In the Philippines, for so long, we've never had mainstream conversation about Gender Fluidity. Now more than ever, this will allow us to honor and re-claim our culture of Babaylan—the gender fluid spiritual leaders in pre-colonial Philippines.
Thank you for sharing the love you got from your family. Like you, I am lucky to receive that kind of love and support. Hopefully, this will help families who are struggling to accept their LGBT family members.
At times, when acceptance cannot be found in our own homes, our second homes like our immediate LGBT communities provide the love, affirmation, enjoyment and respect that we need and deserve.
In Quezon City, I met Garner, a TransMother to an LGBT youth group in Batasan, who would mentor and nurture the kids. Her story is an example that acceptance can be found in unexpected places and communities.
Your story is an example of how we can better understand ourselves by using the appropriate words that best define and describe us.
In the Philippines, where the terms "bakla" (gay) and "TransPinay" are often conflated, your coming out was a fitting testament to how words and even language can empower or disempower a community such as ours. 
We welcome your affirmed name as Caitlyn. You must feel so validated!
I remember when I had my name and gender marker change in my California driver's license. Having a name and gender marker that matches your true self is like waking up every second of your life complete.
In the Philippines, we don't have a Gender Recognition Law, yet. In Vigan, my friend Andrea, a transgender Filipina, shared how she got rejected to be a flight attendant because her documents didn't match her true identity.
Now more than ever, people will realize the power of media, and how it can change the hearts and minds of people. We TransPeople are courageous individuals because we honor our truest selves.
Caitlyn, you've given the spotlight to so many transgender people in the Philippines who aren't as privileged as you. 
You are affirming them when at times their only affirmation is their Facebook preferred name.
This only goes to show that it is never too late to be yourself—and be fabulous at it! Enjoy this moment and hope you got to keep some of those clothes and shoes from the shoot!
Love,
Geena Rocero
***
RELATED:

How I Told The World "Hey It's Okay To Be A Transgender Woman"