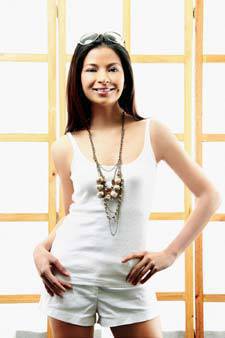 1.
Wear heels.
Slipping into a pair of at least two-inch towers (more if your calves can handle it) elongates your figure and creates the illusion of evenly-distributed fat.
2.
Work on your posture.
Stand up straight, pull your stomach in, and hold your shoulders back. This is possibly the most important tip, because bad posture can visually add pounds.
3.
Highlight your good bits!
If you have a slender neck but a bit of bulk on your waistline, draw attention to your neck with an eye catching necklace or other accessories.
4.
Buy clothes that fit you.
Wearing clothes that are too tight leads to bulges and lumps, so always try clothes on before you buy. On the other hand, choosing pieces that are too big adds to your size and makes you look fatter.
5.
Buy low-rise trousers and jeans.
They sit on your hips and don't cut into your sides and tummy. Plus, they're way sexier!
6.
Skim over areas you want to disguise.
For instance, if you want to make your tummy look flatter, move away from skintight vests, and choose a flattering tunic.
7.
Be good "under cover."
Make sure you have the right underwear for your outfit. To give the illusion of a skinny figure, go for supportive styles that help pull in the tummy. A well-fitting bra can also help create a smoother, slimmer silhouette.
Continue reading below ↓
Recommended Videos