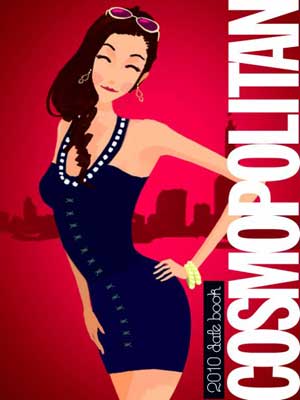 Here's one thing EVERY Cosmo chick SHOULD have in her manicured hands this year: the
2010 Cosmopolitan Date Book
, which is now available in newsstands, bookstores, and supermarkets nationwide! Aside from picking up the magazine monthly and logging on to Cosmo.ph daily, you can now take Cosmo through every aspect of your life, no matter how intimate it is, with this fabulous planner!
Gone are the crazy-hectic moments of getting lost in your schedule or missing important details of your colorful life. Instead, we're helping you get organized—the Cosmo way. Cosmotize your life further with your personalized to-dos, dates, and parties. And get to know yourself a lot more intimately with its insightful features, treats, and tips—to help you nab the career you want, find the love you seek, and live out the life you deserve.
Here are just some of the planner's fab features that you can look forward to once you flip through your very own Cosmo date book:
A super-chic daily guide to get you in control
Monthly calendars for scheduling your life's fab events
Brazen weekly dares that'll liven up your fun, fearless spirit
A period plotter to keep track of your monthly flow
Interactive articles to get you to know yourself better
Monthly life lists to help you set your priorities
A yearly planner to for remembering special occasions
Free pages to write down your innermost thoughts
Inspiring quotes and heartwarming snippets
Fashion and beauty tips to help you look your best
Features that inspire self-improvement
Freebies, discounts, and other exclusive treats for Cosmo chicks
Hot stickers to mark special dates
Continue reading below ↓
Recommended Videos

The 2010 Cosmopolitan Date Book is available in newstands, bookstores, and supermarkets nationwide for only P250.
Want to see how the date book looks inside?
Click here for the electronic teaser.