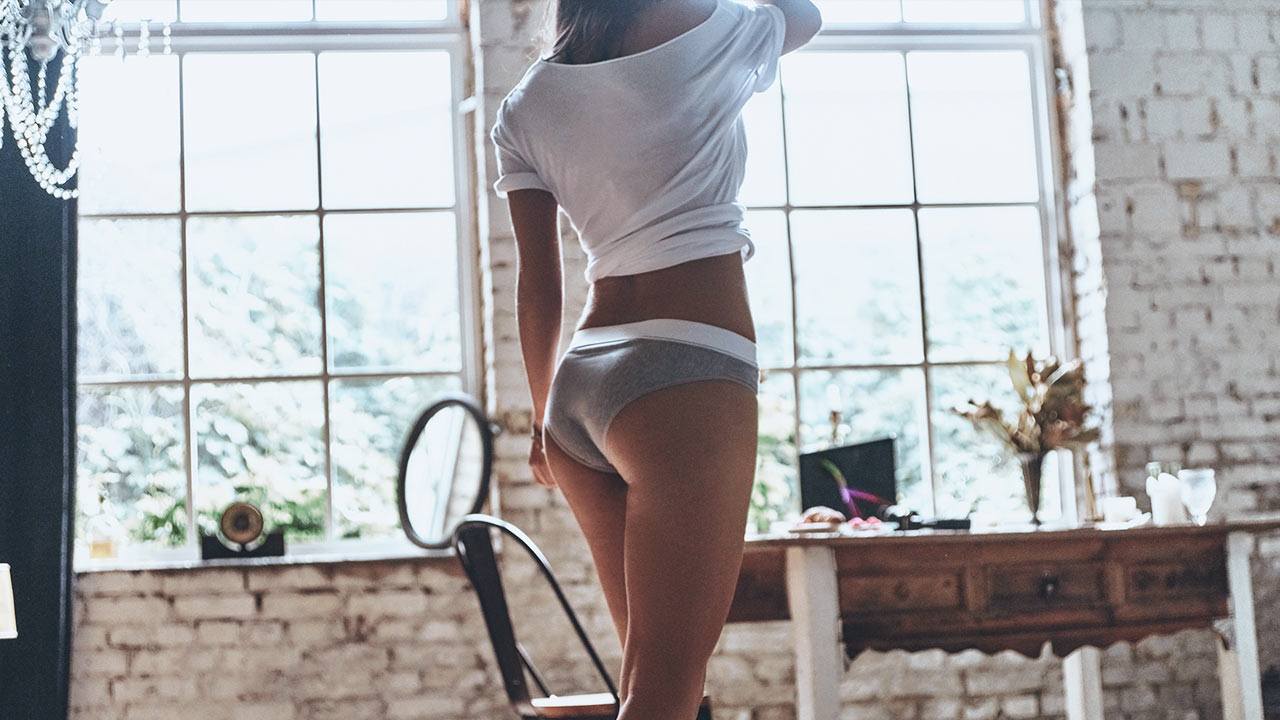 While the idea of period panties, or underwear that acts as a wearable pad and soaks up your period blood, might make you a lil' skeptical at first, there's a reason why they're gaining in popularity like crazy over the past few years. But how exactly do these undies work? Can you really ever feel comfortable and dry while sitting in up to two tampon's worth of blood? To figure it out, we asked experts from leading period underwear companies. Here, seven things you didn't know about period undies:
The magic of period undies is in the layers.

Whereas regular underwear just have one or two layers, period underwear designed specially for menstruating in, will have multiple layers. For example, THINX has four layers. Leesa Raab, a spokesperson for the brand explained that it's more about the quality of the layers than the quantity. Stacking swatches of fabric on top of each other doesn't necessarily make a more absorbent underwear if the fabric isn't designed to hold menstrual blood.

Jessica Griffiths, of Dear Kate, adds that their Tactel® fabric, is three times tougher than other fabrics and also dries eight times faster than cotton. This special fabric means that it's not only highly breathable but also soft.

Samantha Frontera, a publicist for another period undie company, Modibodi, also echoes that the efficacy of the undies is really dependent on the technology. "[If] it is just layered but does not have the proper technology then more layers will not help, and then you will feel like you are sitting in a pad."

You'll want to look for a pair that fits just like normal underwear.

No need to size up or down to find the best protection. Raab explains that with THINX, you just want to make sure the underwear fits comfortably. Since the moisture wicking and antimicrobial layers will shield against moisture and yeast, you'll be protected.


The absorbency depends on the style of underwear.

The same way that tampons and pads come in different absorbencies to fit your needs, so do period undies. With a thong, you might be able to hold around half a tampon's worth of blood, whereas fuller coverage underwear with a larger gusset will hold more.

You'll want to look for a pair that's all fabric.

While some period undie brands might use an exterior plastic lining to keep waterproof, this is bad because it's not breathable and creates a v. musty environment. THINX, Dear Kate, and Modibodi are all made of fabric.

You might have silver in your undies.

Both THINX and Dear Kate use some antimicrobial silver in their fibers to fight bacteria and odor. 

If you want to keep your laundry clean, do a pre-wash in cold water.

Experts all recommended rinsing your undies in the shower or sink. Most brands can be machine washed too, but check your label to be sure.

Investing in period undies does good for women in need too.

THINX has a giveback program where they gave over $260,000 and 5,700 pairs of their underwear to organizations working to end poverty in 2017. Dear Kate donates a pair of their undies to a girl in need for every purchase over $100. And Modibodi also has their one "Give a Pair" program, where customers can purchase a "virtual pair" voucher and Modibodi will donate two pairs of underwear to women's shelters across Australia (where the brand is located).
Follow Carina on Twitter.
***
This article originally appeared on Cosmopolitan.com. Minor edits have been made by the Cosmo.ph editors.
Recommended Videos