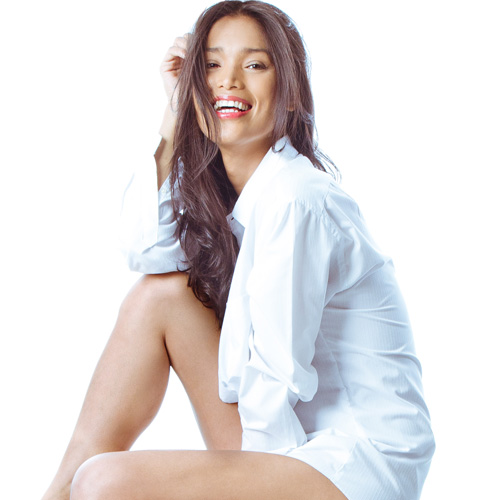 In 2005, I traveled from New York to Tokyo—where an immigration officer stopped me and asked me the most dehumanizing questions.
I was interrogated for bearing a California driver's license with a female name and gender marker, and a Philippine passport that didn't match my papers. 
I never want others to go through that situation. Right now, there isn't a law in the Philippines that allows for a change in name and gender. That's why I started Gender Proud.
Gender Proud is a global advocacy and awareness campaign for gender rights. What does it mean to be transgender in the contemporary world? 
Geena at the Democratic National Committee LGBT Gala with President Obama on June 17 in New York.
Originally, I wanted to do a film or documentary about that airport incident. But a friend of mine, Cameron Sinclaire, introduced me to the people at TED. Weeks later, I got an email saying that TED wanted me to share my story.
So on my 30th birthday last year, I decided to come out on TED. I asked myself, "What does this coming out mean?" I felt like it had to mean something.
It is very tedious to launch a group like ours—it's a lot similar to starting a business, but more challenging. Our core team is small. We are a four-person staff—me, my co-founder Allison Hoffman, and our interns. We utilize the power of social media to get our message across.
ADVERTISMENT - CONTINUE READING BELOW ↓
I am the face of the foundation. I guest in talk shows, go on photo shoots, and collaborate with creatives through art projects, film, and public service announcements. That's also why I travel to different countries. Allie is more on the operations side. She also created the website and has been doing a good job in communicating a clear, simple message of who we are and what we want to do. The interns take care of social media and organizing outreaches.
There are a lot of LGBT organizations out there, so how do we separate and distinguish ourselves? We used a crowdfunding website called Indiegogo, and found that people were willing to pay a certain amount for me to cook at their house. It was then that I hosted dinner parties—cooking chicken adobo, pinakbet, adobong sitaw and tofu—for strangers. I started a dialogue with these people.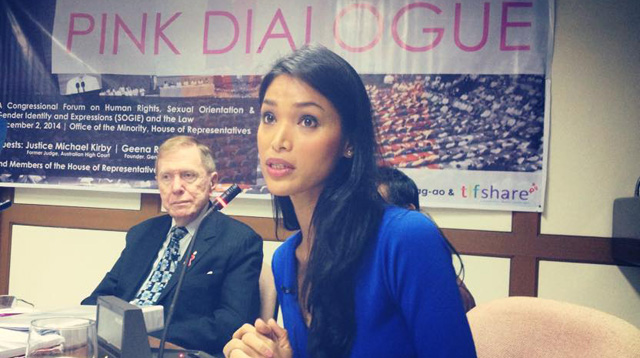 December 2014: Geena spoke during the House of Representatives Congressional Forum on Human Rights, Sexual Orientation, Gender Identity and Expression With Hon. Justice Michael Kirby, Former Judge of the Australian High Court.
ADVERTISMENT - CONTINUE READING BELOW ↓
Recommended Videos
Research played an important role in strategizing Gender Proud. We had consultations with organizations from countries such as South Africa, Philippines, and India and spoke to them about what we wanted.
To know more about gender recognition policies around the world, I spoke to policy researchers, researched online, collaborated with the Fordham University Leitner Center, and consulted with the International Gay and Lesbian Human Rights Commission. There are only a handful of countries that allow for a change in name and gender marker without being forced to go through surgery.
The biggest challenge is the Philippines, because of tradition and our Catholic culture, but it can be solved through proper communication. People tell me it isn't possible. But there are other Catholic countries like Argentina and Spain, where there's such a thing as self-identifcation and gender freedom.
Transgender people don't
have a problem. Transgender
women are women.
When a baby is born, there's a birth certificate where you indicate whether the child is male or female based on the genitalia of the baby. Genitalia—which is the sex, and gender, are two separate things. Your genitalia does not necessarily determine your gender and the gender expectations that come with it.
ADVERTISMENT - CONTINUE READING BELOW ↓
We've been led to believe that when a baby is born a boy, his color is blue. When a baby is born a girl, her color is pink. You could say it has become basic and it has been ingrained in our culture. The narrative needs to be changed.
My personal airport experience is a representation of how transgender people are treated. Ask any transgender person, and they will say they have experienced humiliation in every single form. You know who you are, you express your truth, and you live your life as a woman, but your documents do not match who you are.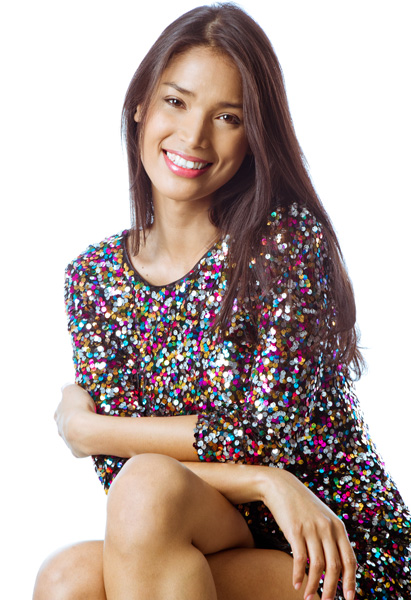 ADVERTISMENT - CONTINUE READING BELOW ↓
Let's say, I am Geena Rocero. My ID in the Philippines still has a male name and gender marker. I am applying for a job. How can I confidently assert myself if I go to my interview and the first thing I am asked is about my mismatched documents instead of my job credentials?
I want to be remembered as someone who stood up for this. I feel like I am healing as well because for the longest time, I didn't talk about my airport experience. I also wasn't "out" professionally. My friends knew but other circles did not know about my history.
I am the ultimate optimist.
In the next decade, I look forward to seeing more countries pass gender recognition laws. By that time, Gender Proud would have evolved and I may have already had a conversation with President Noynoy Aquino. No matter what, I will still pursue being an advocate.
This is who I am now. I am living my dream. I am a woman, and that is enough.
ADVERTISMENT - CONTINUE READING BELOW ↓
EXPLORE COSMO