She Talks Asia launched in 2017 with their first conference: Every Girl Can. In 2018, they continued the conversation with a Body Love conference that focused on self-love, body positivity, and acceptance. This year, they're all about "mental wellness."
On March 16, they'll be having another summit for Women's Month, with the theme: #WeAreEnough. It will focus on understanding your self-worth and extending the love you have for yourself to other people in order to maintain healthy relationships.
During an intimate media briefing at Wholesome Table, Cosmopolitan asked founders Iza Calzado-Wintle, Bianca Gonzalez-Intal, Victoria Herrera, and Lynn Pinugu about how they deal with days when they aren't feeling like the best versions of themselves.
Iza: You don't always wake up feeling like you're Superwoman. Actually, in a week, sometimes, there are more days when you question yourself. I start my day off with a gratitude journal. When you catch yourself feeling down, it's powerful to be grateful for what you already are—even for the smallest things.
Victoria: For me, when I'm down, I know it's just a phase, and I'll be up again. I let myself have that moment. I go, "Ok, tonight I'm going to sleep early. I'm going to have a hot cup of tea. I'm going to turn the aircon and have all my pillows hug me." I let myself feel. If it's sad, I'll be there, and then it goes away. I don't try to bury my emotions. I sit with it. I become friends with it. And then I move on.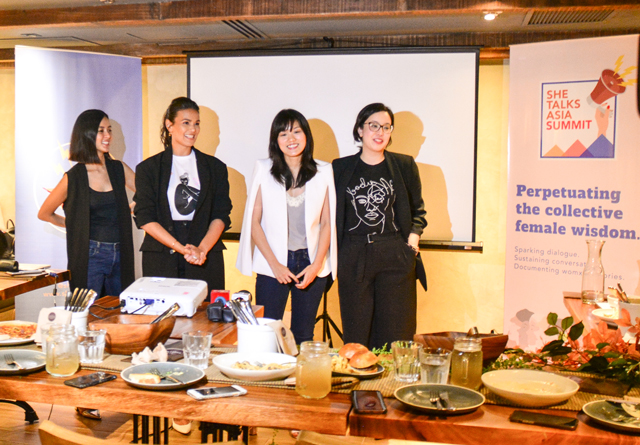 Continue reading below ↓
Recommended Videos
Bianca: I don't know how to do self-talk. Ang awkward for me when I talk to myself. It's hard because even if we feel so crappy, wala, e, kailangan natin pumasok sa trabaho. We have to take care of our kids, we have to take care of our husbands. Paano, 'di ba? I feel I have an on-and-off button. Sometimes you have to fake it just so you make it. At the end of the day, if I'm still feeling low, then I deal with it. I'll eat ice cream or watch a funny movie. But when I finish work and feel a sense of fulfilment or my daughter makes me kwento, sometimes [the negativity] goes away. When I'm in a rut, I try to be productive or help someone else. [Helping someone] never fails to work make you feel better.
Lynn: Mine is a combination of all the things [the other founders] do. One of the best pieces of advice I ever got from my mom was, "Life is never supposed to be easy. Life is going to be full of struggles. It's up to you to choose which battles you will fight." And that's a constant thing in my head. So what I've been doing, similar to Iza, I would do a list. Yes, I would feel bad, so I would list it down…and then I would list all the things that are going well in my life. And every day, the good always outweigh the bad.
If you're interested in attending the third She Talks Asia summit, here are all the details:
Follow Ysa on Instagram.