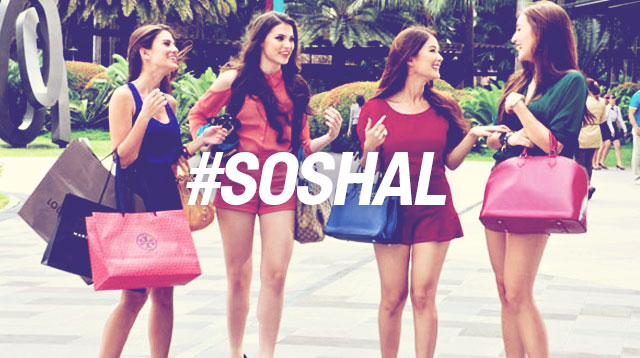 Sosy Problems/GMA Films
1. You have a driver who takes you and your friends home after a night of walwalan.
Everyone loves Mang Raul. He endures all your stupid conversations, fast food drive thrus, and post-clubbing crying. Your barkada never needs a designated driver, because YOU have a driver.
2. You also have a yaya who's been there even before you were born, who has now become your barkada's yaya, too.
ADVERTISMENT - CONTINUE READING BELOW ↓
And she's updated with the latest chismis! She knows that Tracy hooked up with Miguel while Tracy's boyfriend Mark was in the US, studying. Oh, and she also knows your barkada's favorite inuman food and go-to hangover breakfast.
3. You can fly your friends in and out of Caticlan.
Because why would you endure a long bus ride if you can be transported to your five-star hotel immediately anyway?
4. When you and your friends are out partying, you offer to buy a bottle and never just a round of shots.
#MakeItRain
5. Your friends never bother to ask you if you want to buy from seat sales because you have enough miles to go see Europe. Twice.
Thanks, Mom and Dad!
6. Zara sales are okay lang.

Because you are one of the few human beings who can ACTUALLY afford to go to Zara regularly without risking your daily meals for two weeks. (Also, you don't understand the whole concept of petsa de peligro.)
7. Your rest house/resort/farm/hacienda in Calatagan/Tali/Tags/Highlands is your barkada's default getaway spot.
Mom and dad have grown tired of the place, so why not take advantage?
8. That one time you felt like you needed a restart and wanted to go away to "find yourself," you instantly booked a one-way ticket to the US.
And your friends still give you shit about it.
9. Your idea of a perfect afternoon date/hangout is having high tea in The Penn.
Or grabbing coffee at Toby's Estate!
10. Your barkada hates it when you suggest places to eat because it's almost always expensive.
But hey, you like Jollibee, too! Nothing can compare to Chickenjoy, after all.
11. When you reveal your cheap thrills, your barkada makes fun of you.
Like that time you learned about the cheap things in Greenhills and went HAM while shopping for tops and jeans. You were so excited to tell your best friend about it, but she only looked at you with concern, and said, "Girl, tumawad ka ba? Bakit hindi mo ako sinama?"
ADVERTISMENT - CONTINUE READING BELOW ↓
12. You're the one everyone turns to when there's a concert/event because you always get last minute tickets.
Because somehow, your dad always has a friend from work who happens to have five extra VIP tickets to concerts, seven patron tickets for UAAP games, and unlimited backstage passes. Oh, and you have access to those suite boxes at the SM MOA Arena. NBD.
13. Your friends always say that they only learn about the latest fashion and beauty trends from you.
You had Stan Smiths way before they were considered "cool" and people made fun of you for wearing sneakers with your dress. #SuckOnThat
14. You've spent long weekends in Japan, Hong Kong, Bali, Bangkok, and other places that don't require flying for over six hours.
And you don't surprise anyone anymore.
15. When you go out and it's time to ask for the bill, your friends automatically give you their money because they're sure you're paying with your credit card.
ADVERTISMENT - CONTINUE READING BELOW ↓
Which also means that you have to find out first if where you're going accepts cards. Otherwise it means you have to look for a new place. LOL.
16. Your friends will never forget the day you told them you rode a tricycle and the MRT to get to work because your car broke down.
Or that time you first became friends, you didn't know how to tell them that you don't know how to hail a cab when you made takas to go to the mall in college. It still makes a good story for when you're all wasak na.
17. Your friends literally call you their sosy friend.
But you don't mind. Because you know that they actually love you. You've been through a lot together, and you're at that point in your life where you've realized who your realfriends are (aka those who don't care about how much money you have) and those who are just #userfriendly mofos.
ADVERTISMENT - CONTINUE READING BELOW ↓