Our art director told me some time ago that, before he started working, he wrote down all the things he wants to accomplish in life, and made a timeline that specified the target completion periods of each item. He'd recently taken a look at the list again, he said, and was pleased to discover he was still on track.

I realized then that I have made a similar list before--albeit of a much more frivolous nature, as it was for a project I did in high school. Some of the crazier stuff I noted down are as follows:


Own a Ferrari. Obviously, this was before I joined the automotive industry and became fully aware of such a car's total value.
Move out by the time I'm 21. Was I really so sure of myself that I expected to be financially independent by that time?
Become part of a rock band. Completely doable--as long as it's Rock Band, the game.
Publish a book by the time I'm 25. Crap, I turn 25 in 2010!
Meet the President of the Philippines. I might've written this to fool my teacher into believing that I'm a person of ambition. If I were to be given the chance now, I'll pass without batting an eyelash.
Continue reading below ↓
Recommended Videos
[readmore]
Then again, there were some things I included just for the heck of it, but ended up seeing fulfillment:


Watch the Eraserheads live. They disbanded the summer before my freshman year in UP, but I did get to see them in The Final Set. (In relation to this, I noted that I wanted to brush elbows with Ely Buendia. Close enough; I took a step back and bumped smack into him--completely by accident--one crowded night at Mag:Net in Bonifacio High Street. In the off chance he's reading this, I'm really sorry.)
Drive a BMW, a Benz, an Audi, a Volvo, and a Porsche. Four out of five counts for something, right? I'm still waiting to get my hands on a Porsche.
Have my works regularly published. This came at the expense of my becoming a doctor, which was the original plan, but no regrets.
Complete a collection of poems. My thesis has this covered, though I can't say much for the 15 pieces comprising it, except for the fact that I can read some of the poems without cringing. That's good enough for me--for now.
Drive my own car by the time I graduate from college. I have my father to thank for this, but I'm proud to say I'm taking care of the fuel and part of the maintenance expenses.

With 2009 giving way to 2010 without even the slightest pause, I figured I'd better have a game plan ready if I want this year to be more eventful than the last. What I came up with was a list of goals rather than resolutions, some of which where already in my original list circa 2002.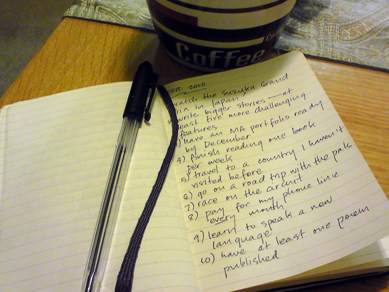 I'm now under a lot of pressure to accomplish all these things, having published it for the world to see.

For those who can't understand the messy scrawl I pass off as handwriting, here's the list:
Watch the Suzuka Grand Prix in Japan. My favorite F1 driver, the uber-cute Sebastian Vettel, won in Suzuka last year. I hope to see him win again this season live.
Write bigger stories--at least five more challenging features. Two years at work means I had better push for more. It's time to be more ambitious.
Have an MA portfolio ready by December. Like I said, it's time to be more ambitious.
Finish reading one book per week. Piled up in one stack, my backlog of books to be read is about as tall as I am. And at 5'5", I'm not that short.
Travel to a country I haven't visited before. Part of the 2002 list. It actually said, "Visit a new country each year," and I've managed that since 2007.
Go on a road trip with the pals. Easier said than done, as we're all working now.
Race on the circuit. Another 2002 original, but if there's a point in my life when I'd be most likely to do it, it's right now.
Pay for my phone line every month. I'll have to cut down my expenditures to do this, but it's high time I handle my own bills.
Learn to speak a new language. My French is coming along nicely, so I'm keeping a positive outlook for this one.
Have at least one poem published. It's not as easy as it sounds, but I'm up for the challenge.
Ten items to tick off within twelve months might not sound like much, but each thing I've listed here won't happen by itself. My 2010 list might even prove to be crazier than my 2002 one. In the past eight years, though, I've hopefully learned a few new tricks to make it all happen. For the most part, this year will be harder than the one before. Still, I'll be all the better for it.

Here's to a brand-new year. The next twelve months are all for the taking. I hope 2010 works out for all of you.