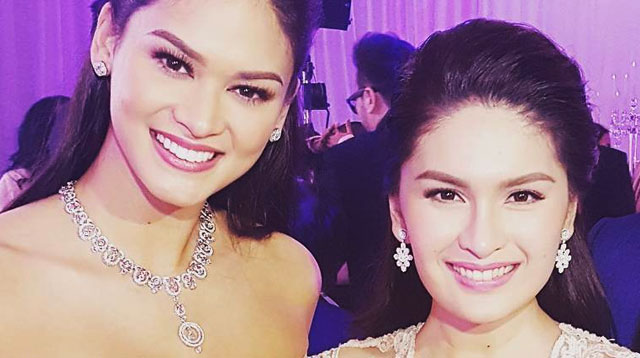 Instagram/piawurtzbach
We grow up making all kinds of friends: your ka-chismis girlfriends from high school, college blockmates, fellow weekend warriors, hobbyists, and the one-offs. If we're lucky, there are one or two who stand out from the crowd—your tried and tested friends who always pull through in the end (or give you valid reasons why they can't).
Your BFF is the Pauleen to your Pia, the Georgina to your Solenn, the Courtney to your Jennifer, and the Patrick to your Spongebob!
Read on to see if your best friend is your #BFForever or your #BFForNow.
1. She will not be afraid to call you out on your awful fashion choices.
You don't always have to dress your age, but when you have to, you're going to want to have someone who can give you sound advice. There's a fine line between being your casual-cool self and being inappropriate in the workplace.
2. She will also call you out when you make bad, decisions IRL.
Real friends won't let you drive when you're drunk, no matter how badly you insist that you can. They also won't let you disappear with a sketchy guy regardless of how cute he is. No matter how much fun you guys are having, your best friend will always make sure that you get home safely every night.
Continue reading below ↓
Recommended Videos
3. You guys are workout buddies.
Hangovers last for days, and lack of sleep makes you significantly less fun to have around. It definitely helps to have a buddy with an active lifestyle to keep you young and healthy.
4. She's not a moocher.
It's not about the money-money-money. It's about give and take. If your girlfriend's always willing to pick up the tab, let her! But make sure you also give something in return from time to time. In this case, it really is the thought that counts. Just make sure that the thought is followed up with action. The gesture of a handwritten note still goes a long way, even if you're years past elementary school.
5. Her problem-solving skills are on point. 
No one wants a clingy friend who relies on people around her for everything. She knows when to take an Uber if she's way out of the way, she can hustle without the hassle when you're on a tight sched, and she can fend for herself when you're off doing something important.
6. She's not afraid to get real.
You will mess up at least once a month in your 20s (ideally it becomes less frequent as you age)—and your bestie needs to know when to sit you down and give you a reality check when you're spiraling into the deep end. Tough love works!
7. She acts as your social media filter.
She knows when to warn you that your ex-boyfriend just started dating your ex-blockmate, but also leaves out the details that will just hurt you. (Like if he takes her to YOUR favorite restaurant. Sakit!)
Or maybe she won't! Either way, she knows you well enough to filter the things you'd want to know.
8. You take turns being in the spotlight.
There's no sidekick in your partnership. You both have your own stories to tell and moments to shine. She knows when to be the bida and when to take a step back.
9. She will talk you through anything.
Panic attacks are a regular occurrence in your 20s. Whether it's your first major pitch or your first bad breakup, she knows exactly how to stay calm when you need a soothing voice to remind yourself that you are a capable and awesome person.
10. You allot time to do nothing.
Being in your 20s comes with a lot of pressure you don't really know how to manage yet. (Please tell us this stops eventually??) Best friend time should include doing a whole lotta nothing to give your brain and your hearts a comfortable break. You guys allot time to take off your heels, order pizza, and watch a bunch of rom-coms and/or mindless action films. 
11. Competition is always friendly.
Success will come at different points in your lives. Make sure your BFF is someone who challenges you to be better, but also comforts you when you're down in the dumps.
12. You trust her judgment. 
A best friend is a good sounding board for times of uncertainty. Her opinion matters because you respect her, and you trust her to make the right decisions in your absence.
13. She's family.
'Nuff said..