Janlee Dungca talks to us about how she became secure in her identity, and how she's passionate about helping other people acknowledge and accept their own.
When did you realize you were a woman?
See, most members of the LGBT community come out once. For transgender women like myself, I came out twice—first as a gay man and finally as a trans woman. I realized I was a woman in fourth year college. I took a gender psychology class and the professor talked about the fluidity of gender, how gender is non-binary. That's when I heard the term "transgenderism." My entire life, I thought I was just a feminine gay guy, when in fact, I am a woman. The turning point was during a trip to Boracay. I was really dreading the idea of wearing board shorts and being topless because whenever I looked in the mirror and saw the body of a man, I cringed. I told myself, it's now or never.
What were the steps you took toward transitioning?
I started hormone replacement therapy (HRT) on March 7, 2013. I wanted to start early because hormone pills get less effective as you age. The younger you start HRT, the greater the effects will be. When I started, I was about three years into the workforce. I needed time to prepare myself emotionally, mentally, and financially. Depending on the dosage, hormone pills can cost around P3,000 to P4,000 a month. But of course, before that, you have to consult with an endocrinologist. That consultation fee is around P700 to P1,000. You have to go back to that doctor every six months to see how you're doing. In the Philippines, we don't have a hormone replacement therapy program. I researched online and got the U.S. program, which is the same program that my endocrinologist follows. Her name is Dr. Carolyn Narvacan-Montano and she's a resident in Makati Med! When I told her I was happy that she was dedicated to helping transgender people, she said, "Of course. You're also human. Who else will take care of you?"
Continue reading below ↓
Recommended Videos
For me, the signs were very basic. I felt uncomfortable whenever people referred to me as a guy, like when people used male pronouns or when people called me "sir." It's very internal. But it's important to know, though, that not all transgender individuals choose to transition through HRT. Some people feel like a woman, and so they dress up like a woman. And that's enough. Some people also don't do it due to financial and situational limitations. There are a lot of things to consider.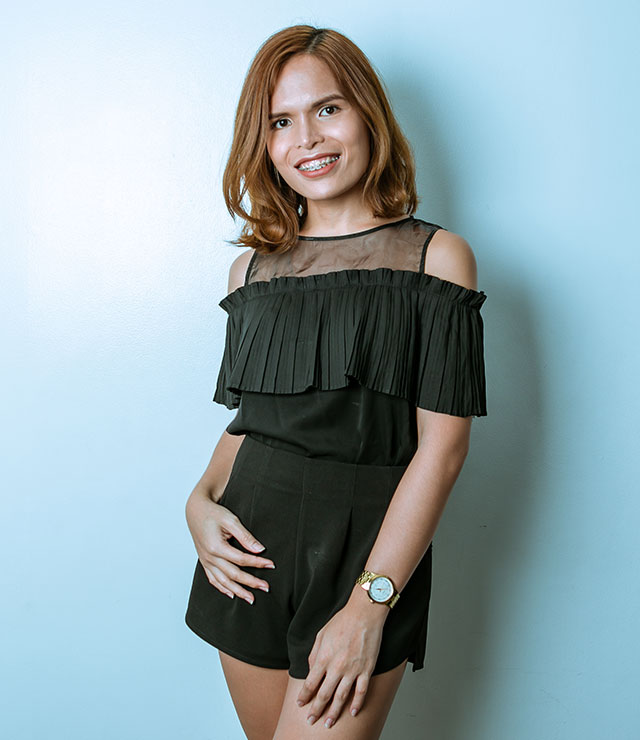 Can you tell us more about the hormone pills you're taking?
I take two types of pills: testosterone blockers and estrogen supplements. They work together to feminize the body. Your face and body become softer. Your skin feels smoother. You also have less body hair. The pills redistribute the body fat so the fats from your waist go to the hips and the breasts. Once you do it, you really have to commit yourself to it. It's a lifelong process—you'll be taking hormone pills forever.
What was it like to come out for a second time?
I didn't tell my family until two months after I started HRT. I asked them to have dinner with me. My siblings already knew, but I didn't want to leave my parents in the dark, especially because I was already so comfortable with myself. After dinner, I started opening up to my mom because I'm closer to her. When I told her, she said, "Ha? Anong difference? 'Di ba bakla ka nga?" I said, "Hindi po. Magka-iba po 'yun." My dad stepped out to smoke and my mom talked to him after. Fast forward to today, they're all very supportive. They've been with me every step of the way. Their main concern was really about the health issues, because I was dealing with drugs and my hormone levels. I assured them naman na I was being safe.
Can you talk to us about whether or not you've undergone other medical procedures?
Actually, more often than not, transgender people are not comfortable with being asked about the medical procedures they've done to themselves. If you think about it, it's also true for non-transgender people. It's so weird, awkward, and uncomfortable when somebody asks about that. It's something very private. I don't ask you about your private life, so why would you ask about mine? I know people are curious but at the end of the day, it's really about being more sensitive about the thoughts and feelings of transgender people. We want to keep our private parts private.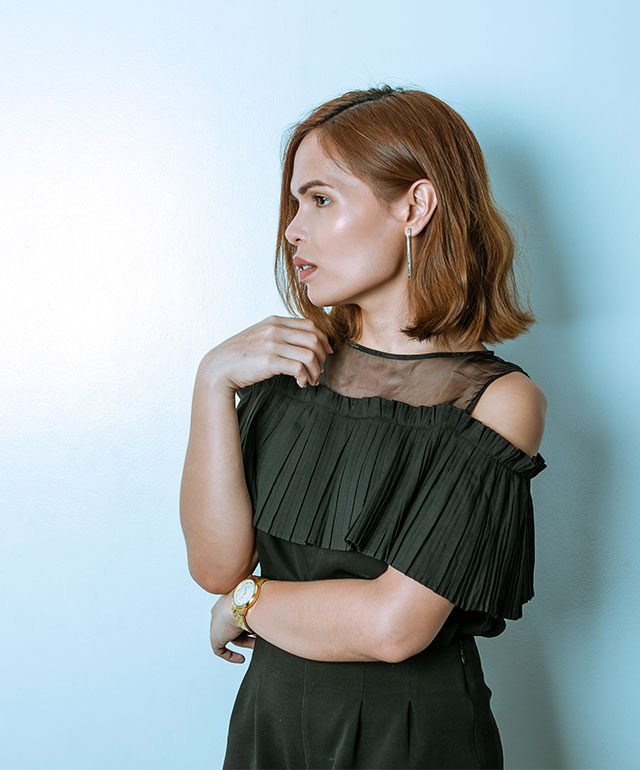 What's dating like for transgender people in the Philippines?
I make it as simple as I can, but it does get really complicated. On my dating profiles, I just put, "I'm a transgender woman." I have to admit, when I was starting with my transition, I wasn't as open about it. But then I had experiences like when I started talking to this guy and he didn't know that I'm a trans woman and when I told him, all hell broke loose. Nag-react violently. Natuto na ako. Take me or leave me. Right now, Filipino men, in general, are not as open-minded as Western men. The Philippines is very communal. Our circles matter a lot. We really care about how other people perceive us. But Western men are more individualistic. Though I've never had a boyfriend, I've dated a Western guy, but I'm not into long distance relationships. Mga lalaki naman dito, i-da-date ako pero secret lang daw. Hello? I didn't work my ass off coming out as a woman just to be kept a secret again. I'm not going to be anyone's secret. I'm too beautiful to be kept a secret! Haha! Plus, I'm super busy with work, and I'm so happy with what I do. I enjoy being single. It's not like I'm in a hurry.
What's your sexual orientation? What's your type?
I consider myself a "heteroflexible" transgender woman. It means that I'm attracted to men—all types of men gender-wise: heterosexual, gay, bisexual, pansexual. This can open people up to the fluidity of gender and sexuality since it's not common for trans women or women, in general, to be attracted to all types of men. I actually surprised myself when I realized that I'm also attracted to gay men. They're very open-minded. Also, they're already out! They don't need to hide when they date me. They're very comfortable with themselves. They understand me and my needs. We connect on a different level.
Tell us about LoveYourself PH.
LoveYourself promotes self-worth. It is a non-profit organization that promotes HIV awareness, counseling, testing, prevention, and treatment. The HIV test is free and confidential. The government requires any medical establishment that does HIV testing to have a counselor to debrief or guide the patient before, during, and after the test. When I first got tested, the counselor made a positive impact on that experience. I was scared, and I didn't know what to do. The counselor was there to listen to me and to provide support. Soon after, I signed up as a volunteer! I've been with them for a year now.
What's the actual process of getting tested for HIV with LoveYourself?
The first step is going through HIV 101. It's done either individually or in groups, depending on the number of clients on any given day. A volunteer will discuss what HIV and AIDS are, how they're contacted, how you can prevent yourself from getting it, and what your options are if you do get it. The next step is getting your blood extracted. Only the medical technician sees your result. It is then given to the counselor assigned to you. In a private room, the counselor has to fill up a risk assessment with the client. To call you in, the counselor uses a code name to ensure confidentiality. There is a pre-test counseling where the counselor asks you about your sexual experiences and the risk behaviors that you may have done in order to effectively address the situation. Counseling is not just about providing guidance and support, but also educating the client. The counselor really has to challenge the mindset of the client to make sure you understand the risk.
What's training like for those who are interested in volunteering for LoveYourself?
It's a series of weekend sessions that starts with self-assessment, skills training, and knowledge enrichment about the issues that end in a psych evaluation. That's when you get your certification!
Any advice for those who are still afraid to come out?
Identity, not just gender identity, is at the core of your humanity. How can you live your life freely? How can you be comfortable with dealing with other people if you aren't comfortable with yourself? If not for my identification as a woman, if not for my transition, I wouldn't be happy right now. Also, by coming out, I let the right people in. For all those who are still confused, let us not be defined or restricted by our genders. Gender is only one aspect of who we are. Yes, I am a transgender woman, but I'm also a PR Manager. I'm also a LoveYourself volunteer. I also love fashion and makeup. I love food. I love to travel. We should all celebrate our gender, but we should not be limited by it.
Follow Ysa on Instagram.