Here are some things you need to have: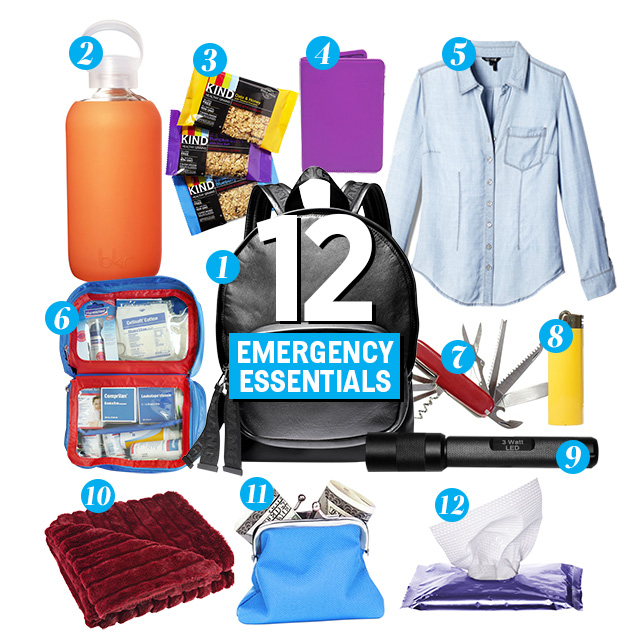 1. A "go bag"
It's a backpack or duffel filled with survival essentials you can literally grab and take with you.
2. At least two liters of water
Humans can survive for weeks with just water so this should be the first on your list. It will be the heaviest item in your bag but it's definitely important.
3. Granola bars
While others suggest packing a can opener and canned goods, you can opt to stash instant sources of energy like granola bars.
4. Photocopies of legal documents and IDs
Photocopy important documents such as your license, passport, and land titles, and have the copies in your bag. When the disaster is over, you'll be thankful you did this since it will spare you from the all the hassle of renewing lost documents and, well, proving identiy.
5. First Aid Kit
A well-stocked first aid kit should be something you have whether there's an earthquake threat or not.
6. Lighter 
The cavemen survived when they invented fire so bring the smallest and most handy source of it for your own survival.
7. Cash
Prepare cash in smaller bank notes such as 50, 100, or 500 peso bills. You don't need to pack much.
8. A Swiss knife
This handy multifunction tool can prove extremely useful in case of a crisis. It practically has everything.
Continue reading below ↓
Recommended Videos
9. Heavy-duty flashlight
When power in the city runs out and your cellular phone dies, it will be best for you to have a heavy-duty flashlight that can last for hours. Make sure the batteries are new and that you have extras. 
10. Wet wipes
Expect and prepare for the worst. Sanition may be the least of your worries, but in case you would need cleaning of wounds for example, it would be best that you don't waste your water. Wet wipes and the alcohol from your first aid kit should go hand in hand to prevent sickness. 
11. Basic clothes
You will have to accept that you won't be able to save your whole closet. But make sure to pack a whole set of fresh clothes you change into. We suggest a t-shirt, joggers, foldable shoes, and of course underwear. Make sure to roll them in your bag to save space. 
12. Blanket
A lightweight blanket is optional, but it can prove to be useful. You can turn it into a bed, a jacket, or an umbrella depending on the need. 
If you don't have a waterproof or water-resistant bag, ziplock all these items or put them in plastic bags to make sure they'll be dry.
This article originally appeared on Stylebible.ph. 
* Minor edits have been made by the Cosmo.ph editors.
EXPLORE COSMO