Looking for adventure this summer? Y'all might want to join Wrangler's True Wanderer competition!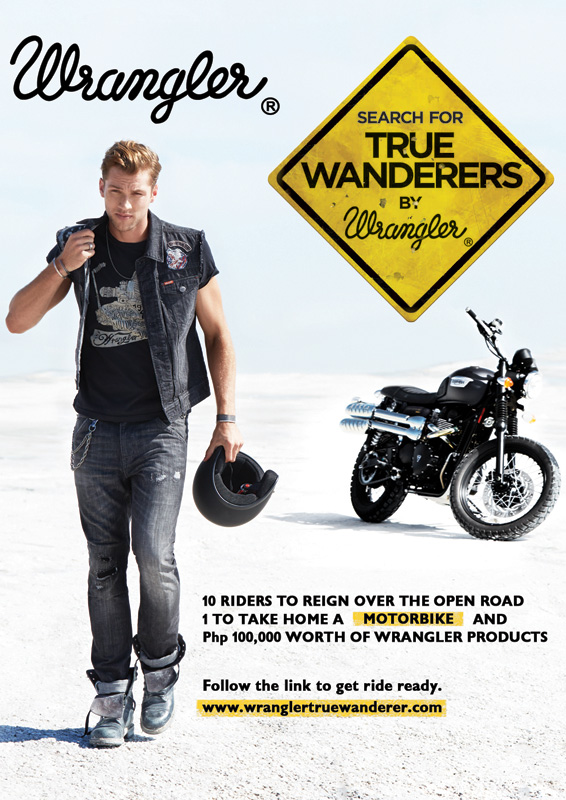 The contest is open to all Filipino bikers. All you have to do is submit a photo of you riding a bike (it doesn't even have to be your own! Our friends from Wrangler said you can just use someone else's ride) with a story on why you should be chosen as a True Wanderer.
10 finalists will be picked out by a panel of bike experts and travel enthusiasts. The finalists will then embark on a five-day journey in selected places in the country while riding their bikes and wearing Wrangler's key items. Easy!
Interested? You can join by checking out the brand's website here. Wrangler will be accepting submissions starting March 20.
One winner will be proclaimed at the end of the contest and will win a motorbike and P100,000 worth of Wrangler products. He or she will then become the Philippine representative to the Asia Pacific-wide competition, where he will go head to head with other True Wanderer winners from across Asia Pacific.

So, are you up for the challenge? Good luck!

Visit the True Wanderer microsite at www.wranglertruewanderer.com. For more updates, follow Wrangler on Facebook, Twitter, and Instagram: WranglerPH.
Continue reading below ↓
Recommended Videos