There's a darker side to Facebook status messages and it goes deeper than vaguebooking.

Facebook, the world's biggest social network with over 1.39 billion users, is addressing the issue of suicide. As first reported by the University of Washington, Facebook has launched a new feature for suicide prevention in collaboration with Forefront: Innovations in Suicide Prevention, Now Matters Now, National Suicide Prevention Lifeline (US), and Save.org.
Beginning today, March 4, a number of Facebook users will be given more options when they see a friend post something alarming. If the post refers to self-harm or depression, you may click the arrow on the top right post and choose "report post." You'll be given the option to contact the person who wrote the post, contact another friend or the person's relative for support, or contact a suicide hotline.
After reporting the post, Facebook's Safety Team will review the post and send the person a pop-up algorithm that says, "Hi [person's name], a friend thinks you might be going thought something difficult and asked us to look at your recent post. Only you can see this. Anything you do there will be kept private."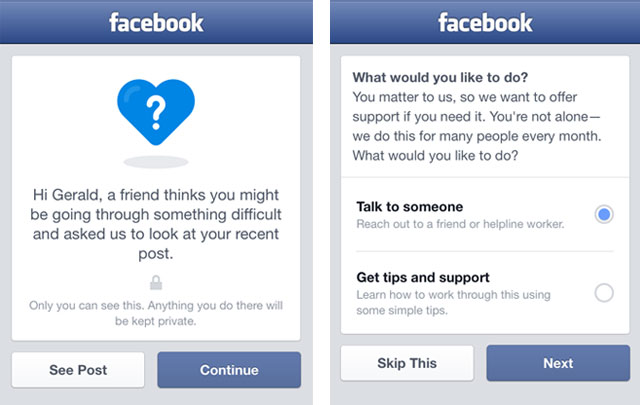 Continue reading below ↓
Recommended Videos
Then Facebook will give that person the following options: talk to someone or get tips and support. If the person decides to talk to someone, he/she will be prompted to call a friend, send a friend a Facebook message, contact a suicide helpline, or message a suicide prevention expert. Other options for support include watching videos of people who have dealt with and overcome suicidal thoughts, recommendations for relaxation techniques such as baking, drawing, going for a walk, or visiting a library, and finding a self-care expert.
According to a news report by the University of Washington, "The tools aim to both direct suicidal people to resources and alternatives and also to guide concerned friends or family members through a situation most are simply not equipped to handle."
This isn't the first time Facebook attempted to help depressed and suicidal users. In 2011 they launched a "report suicidal content" page, which was hard to locate and had limited options for helping.
Huffington Post reported that the new suicide prevention tool will be available to only 50% of US-based Facebook users on the first week of its launch. It will roll out to the rest of the US in the next few months.
Will the Philippines be equipped to handle this Facebook feature when the tool goes global? We hope so! "Depression and suicide prevention is still stigmatized in the Philippines," according to the online support group, Survivors of Suicide - Philippines. "Among all the Philippine-based suicide hotlines we tested in the past three years, only Crisis Line was consistent in answering phone calls. Many mental health advocacy groups come and go, and the main struggle is finding financial support to sustain a nationwide suicide prevention and mental health group."
They added, "Despite our country's limitations in handling mental health and suicide prevention, this Facebook tool gives us hope that distressed individuals, as well as their concerned loved ones, will be steered towards the right direction. If this tool can save a life, then it will have done its job."
Hotlines:
Crisis Line (for non-sectarian, non-judgmental telephone counseling): 
Landline: (02) 893-7603
Globe Duo: 0917-8001123 / 0917-5067314
Sun Double Unlimited: 0922-8938944 / 0922-3468776

***

Center for Family Ministries (for spiritual counseling):
Landline: (02) 426-4289 to 92

*** 
Online resources for mental health and suicide prevention:
www.suicidepreventionlifeline.org

***
RELATED:
Are You Clinically Depressed? 

Visit Kate on KateWasHere.com and follow her on  Instagram and Twitter.