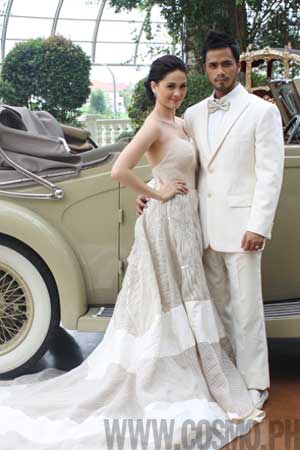 It was a top-secret matrimonial event that had us giddy with anticipation, even before the Royal Wedding happened. When it was announced that local stars Kristine Hermosa and Oyo Boy Sotto were to marry early this year, showbiz viewers waited with bated breath for details on the high-profile affair.

Tin and Oyo's love story is one that many girls dream of having. The two artistas first met in 2004 on the set of Enteng Kabisote, and eventually became best friends. Despite intrigue regarding their famous exes, the couple has remained strong and even more devoted to each other than ever. Two years ago, Kristine herself told Cosmo.ph: "I still want to get married."

They tied the knot in an intimate ceremony on January 12, 2011 (Oyo's 27th bday!) by the shores of Talisay, Batangas. And, even before the celebrations of the couple and their well-wishers died down, they've recently announced that they are expecting a child together!

For the annual Cosmo Bride supplement, we decided to feature Tin and Oyo because of their storybook romance. Editor-in-chief Zo Aguila says, "It's the first time that we're actually shooting a celebrity couple for Cosmo Bride and it's super exciting. We chose them because their story's kilig. Our readers [can relate to] friends-become-lovers kinds of stories."

To really capture the couple's dreamy romance, we ventured south to the enchanting Fernbrook Gardens in Las Pinas. Art director Red de Leon explains the concept of the shoot, saying "Our theme is new romantic, so we used a lot of different textures and light colors. Our location actually has a lot of nice, romantic themes. We shot in a vintage car [and even a] gondola."

Launch the gallery to see behind-the-scenes photos of Tin and Oyo's  fairy tale photo shoot. We promise you'll love the couple even more after seeing their naturally sweet interaction in the magical venue!


Grab the June issue of Cosmopolitan with Heart Evangelista on the front cover, and the Cosmo Bride supplement featuring Kristine and Oyo on the back cover--in stands now!
Continue reading below ↓
Recommended Videos
1268