Hidilyn Diaz carried Team Philippines on her broad shoulders to highlight another surge of golds for the 30th Southeast Asian Games host.
Hidilyn, 27, finally won an elusive SEA Games gold by ruling the women's 55 kg. class with a total lift of 211 (91 in the snatch and 120 in the clean and jerk) and stood at the forefront of a campaign that produced 16 golds for the day, including seven in arnis and a sweep of the 3x3 basketball and mountain bike downhill events.
The 2016 Rio De Janeiro Olympic silver medal winner, Hidilyn was a picture of confidence against a field of five entries, which she outclassed in front of a captivated crowd at the Ninoy Aquino Stadium.
Hidilyn's shining gold was the crowning glory on Monday for a Philippine side that continued to lord it over the medal tally with a total of 38 gold, 20 silver, and 13 bronze medals.
The gold output was more than half more than second-running Vietnam has won so far with 15, along with 20 silvers and 16 bronzes.
Malaysia kept its place at third with 10 gold, two silver, and seven bronze medals, while Indonesia and Thailand were locked in a tight battle for fourth. The Indons had six golds, 11 silvers, and 12 bronzes to the Thais' 6-9-16.
Singapore has a 3-7-7 tally although it expects the gold to finally come once swimming competitions begin. Cambodia (1-3-13) and Brunei Darussalam (1-3-3) comes next in the overall tally.
Myanmar, Laos, and Timor Leste bring up the rear as the three countries have yet to break the gold medal barrier.
ADVERTISMENT - CONTINUE READING BELOW ↓
The host country however, continues to pull away, thanks to another productive day made special by a twin kill in 3x3 basketball as the Gilas Pilipinas men (CJ Perez, Mo Tautuaa, Jason Perkins, and Chris Newsome) and women's (Afril Bernardino, Jack Animam, Clare Castro, and Janine Pontejos) teams ruled the event that is making its debut in the SEA Games.
Counting the five golds it won Sunday, arnis raised its total to 12 overall as it shares the limelight anew for Team Philippines for the second straight day.
Cycling also completed a sweep in mountain bike downhill (John Derick Farr and Lea Denise Belgira) and together with a gold in duathlon (Monica Torres) early Monday morning, the Philippines already surpassed its total gold output of 24 won during the 2017 edition of the SEA Games in Kuala Lumpur, Malaysia.
Other fronts where the host struck includes lawn bowls behind the men's pair of Rodel Labayo and Angelo Morales, Edmar Tacuel in the men's seni tunggal singles event in pencak silat, and in mixed team relay in triathlon (Kim Mangrobang, Claire Adorna, Fernando Casares, and John Chicano).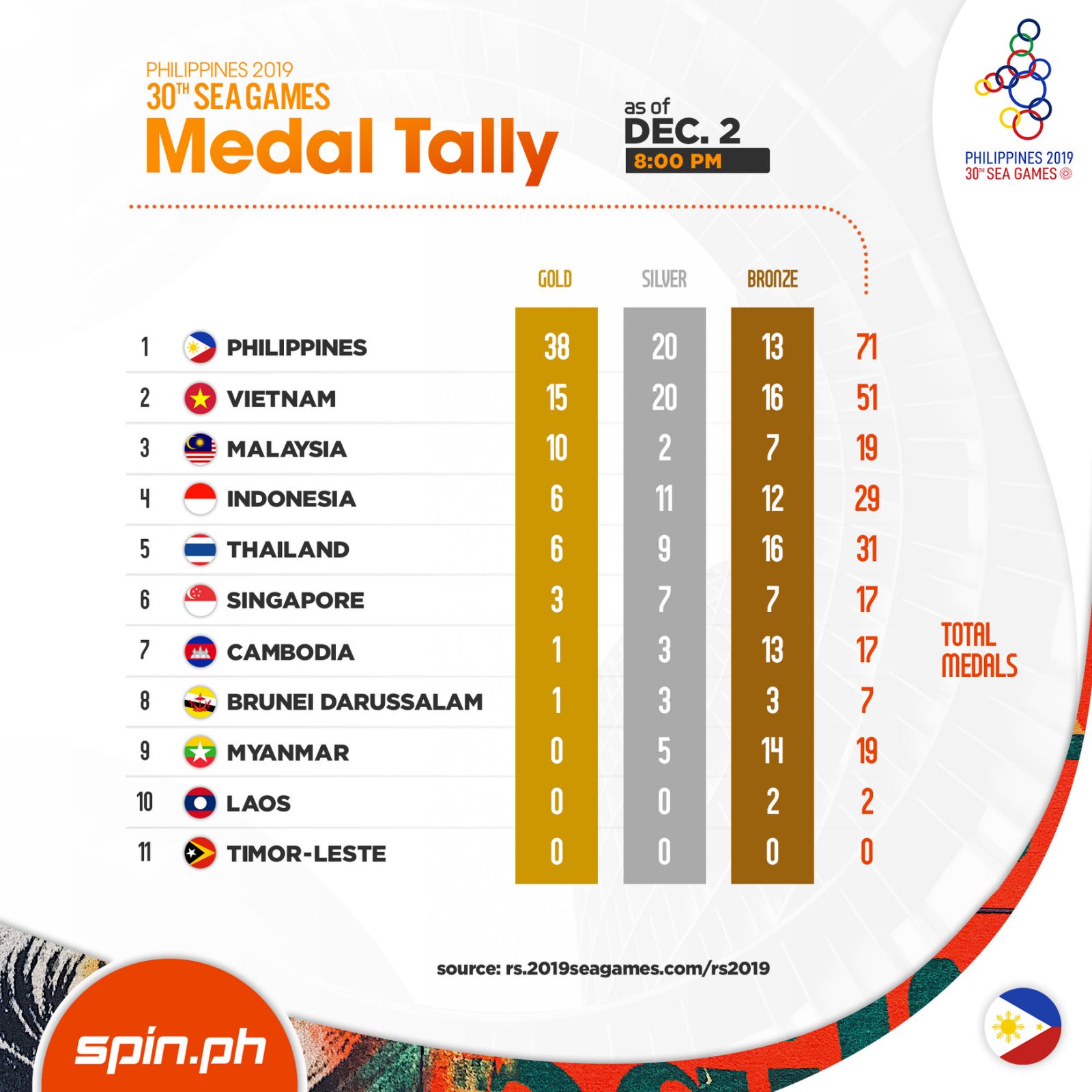 More golds are expected from the Filipinos in the coming days unmindful of the coming typhoon that's expected to hit Northern Luzon, with possible gold mines such as billiards and snooker, athletics, boxing, chess, archery, among others still to formally start their competitions.