Ateneo de Manila University Lady Eagles Gretchen Ho and Fille Cainglet have captured the hearts of fans all over the country. Amazing volleyball skills aside, these two also have perky personalities and impressive academic backgrounds. If, in volleyball, an ace is a serve that is not passable and results immediately in a point, then Gretchen and Fille are real-life aces no one could pass up. 
Both girls are on their fifth year of college—but for good reason. Gretchen, the Lady Eagles' Team Captain, just finished her double degree in BS Management Engineering and AB Communication, with a minor in Developmental Management to boot. Fille, on the other hand, is taking up her Masters in Business Administration in Ateneo Rockwell. 
Cosmo.ph got the chance to spend time with the duo, as they traded in their jerseys for girly skirts and dresses and gave us the lowdown on their personal lives, including their celeb crushes and dream dates!
You both embody the title "student athlete." How were you able to balance school and volleyball?
Gretchen: It's about knowing your priorities—knowing what you want to do and knowing what you have to do. My top two priorities are studies and volleyball. Aside from prioritizing, it's also about time management. You also have to learn how to sacrifice. Kaya wala kaming social life eh. It's difficult to balance especially in college, it's much harder. But with enough dedication, you'll manage!
Fille: I just got used to it. Even when I was a kid, I was already a student athlete. Student ka muna, before you are an athlete. The key is time management, at the same time learning to manage your energy as well. You use so much energy in training and you need energy in studying—so learn to manage your time and energy!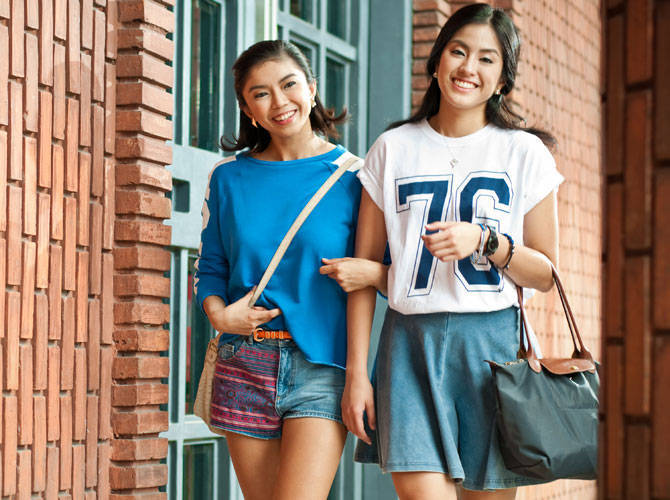 On Gretchen: White top, Topshop, P1,345. Skirt, Topshop, P1,495. Earrings, Forever 21, P225.  Watch, Promod, P1,095. Bracelet, Promod, P795. Bag, stylist's own.
On Fille: Sweater, Topshop, P2,195. Shorts, Miss Selfridge, P2,595. Earrings, Forever 21, P225. Belt, Folded and Hung, P249. Bag, stylist's own.

Of all the sports out there, why did you choose to play volleyball?
F: I actually tried basketball first. But volleyball seemed so fierce—and I wanted to try it.  My friends and I were approached to try out for the varsity, so we did.
G: I'm an athlete by nature. I was actually in basketball, but our [high] school only had varsity for volleyball. I wanted to take sports seriously, so I tried out for volleyball. I saw how good the team was, so I decided to pursue it.
If you weren't a volleyball player, what do you think you would you be?
F: A cheerleader! I used to join cheerleading before. I'm also a frustrated dancer. I used to be a ballerina, but my sister said matigas katawan ko.
G: I'd be playing basketball or running. I like running. If not sports, I would be playing the guitar, or be more active in school activities, like student council.  

Describe your type of guy.
F: Chinito, matangkad, matalino, mabait. I'm attracted to smart guys—those who are intellectually stimulating.
G: God-fearing is number one. He also has to be a gentleman, taller than me, athletic, respectful, handsome—and he should have a sense of humor, of course!
Describe your perfect date.
F: I have a boyfriend, and I think he has achieved it, during our anniversary. I didn't think things like that happened in real life, there were rose petals all over! We had dinner at Ninyo's and there were rose petals around the gazebo. I thought it only happened in movies. Kilig!
G: Mine would have to be dinner for two at the beach. A romantic candlelit dinner, with the sunset, then I want to slow dance to the music…of the waves!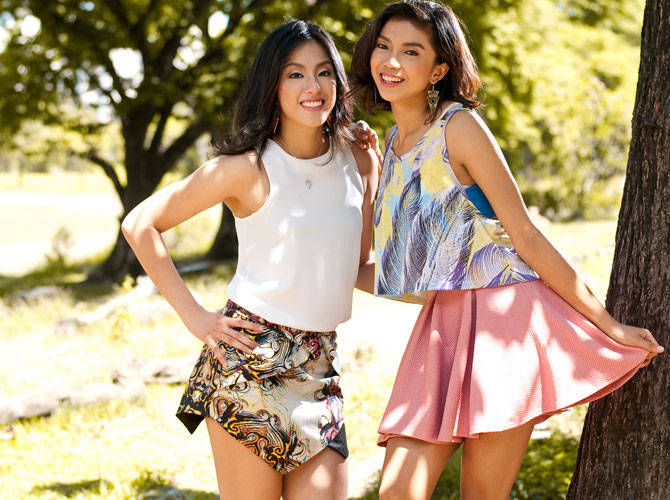 On Gretchen: White top, The Ramp, P880. Printed skirt, The Ramp, P1,700. Bracelet, Forever 21, P225. 
On Fille: Top, Forever 21, stylist's own. Skirt, Miss Selfridge, P2,395. Bangles, Forever 21, P505. Earrings, Forever 21, P225.

Any celebrity crushes?
F: Ryan Gosling—no doubt! Locally, Xian Lim.
G: Paul Walker and Brad Pitt. Sa local, Aljur Abrenica because he looks like Paul Walker!

What are your dream summer destinations?
F: Pagudpod, Ibiza, Greece, anywhere with white sand!
G: I really want to go to the China provinces—like the ones in Kung Fu Panda. They look so peaceful, like you can really meditate.

Fill in the blanks, "In five years..."
F: I would have my volleyball school or clothing shop. I want to do so many things!
G: Right now I'm trying out hosting. In five years, hopefully I would be an established host. I also want to pursue a career in Marketing. Or own my own coffee shop!
***
Photography: Jico Joson
Makeup: Sharon Malig of Shu Uemura
Hair: Benjie Angeles
Styling: Pete Rich

Ateneo uniforms, models' own.

Special thanks to Chocolate Kiss Cafe (UP Diliman Bahay ng Alumni, 921-8663)
Recommended Videos