Being the only single girl in your college barkada can be a bit frustrating. You feel kind of pathetic on nights out with all your coupled pals, you don't have anyone on speed dial when your PMS mood swings strike, and you're automatically banned from those evil group dates that you can't join because you don't exactly have a "plus 1" to bring.

But if you're only focused on these sad things when it comes to being single, honey, you're missing out! Here are a few reasons why it's not too bad to fly solo in college.
1. You'll get to know yourself more. When you're single, you have more time to think about what YOU really want. 
Continue reading below ↓
Recommended Videos
Souce: Giphy
2. It's the best time to go out and see the world FOR YOURSELF. Go ahead and join that study tour abroad and meet new people! 
Source: Giphy
3. The sweet freedom to have fun without having to explain yourself after a wild night. (But remember, BE RESPONSIBLE!)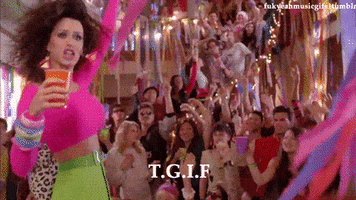 Source: Giphy
4. With that freedom, comes the benefit of being able to date around. (Again, BE RESPONSIBLE!) 
Source: Giphy
5 . Having boy best friends sans malisya. People can think what they want to think, but you and that boy you met in freshman year are nothing but best friends—and there's nothing wrong with that! You can do everything together and not mind whatever issue other people may make of your BFF status. 
Source: Reactiongifs.com
6. Friday nights in your pajamas.
Souce: Giphy
7. Tables for one. You get to appreciate the comforting feeling of sitting alone in a quaint coffee shop with a good book in hand. Having dates with yourself is a great way to instantly boost your mood, especially when school requirements are taking over your life! 
Source: Giphy
8. No needy boy drama. (Because nobody has time for that!)
Souce: Reactiongifs.com
9. Being able to motivate yourself. 
Souce: Reactiongifs.com
10. Not needing "arm candy" to look good in a party. Walk in and own that place!
Source: Giphy
But remember: When times get tough, you'll always have Ryan. 
Source: Reactiongifs.com