We've seen enough movies of people finding love while traveling to fantasize about meeting our own gorgeous stranger on the road and falling hopelessly in love against a European skyline.
While that sounds more like the plot of Before Sunrise than something that happens IRL, not only do travel romances happen, they can last.
Dr. Holly Parker, a leading researcher on love, tells Vogue: "Traveling to another destination and culture can bring uncertainty—you're out of your home territory—and a sense of adventure and excitement, which is arguably physiologically arousing for your body. Given that physically activating experiences can heighten attraction toward someone, the physical arousal that travel may bring could also set the stage for attraction abroad."
And once together, continuing to travel as a duo helps keep the fire burning for these couples who love to hit the road. "That sense of novelty, excitement and challenge is associated with the person you're around and doing these new activities with, so it strengthens your relationship," says Dr. Arthur Aron, research professor at New York's Stony Brook University.
Below, be inspired by the stories of nine couples who found each other while traveling, and go dream about meeting the Jesse to your Celine—it might just happen.
Continue reading below ↓
Recommended Videos
Chezca and Patrick
Met on a tour boat in Vietnam
Together for five years

Patrick: I was traveling on my own in Vietnam. While in Ho Chi Minh City, I wanted to do a tour of the Mekong River, so I booked a random tour with the help of my hotel.
After a few hours in a bus with a lot of different people, we reached the river and were asked to board small boats. That was the moment I first noticed Chezca who, along with her brother, boarded the same boat I did.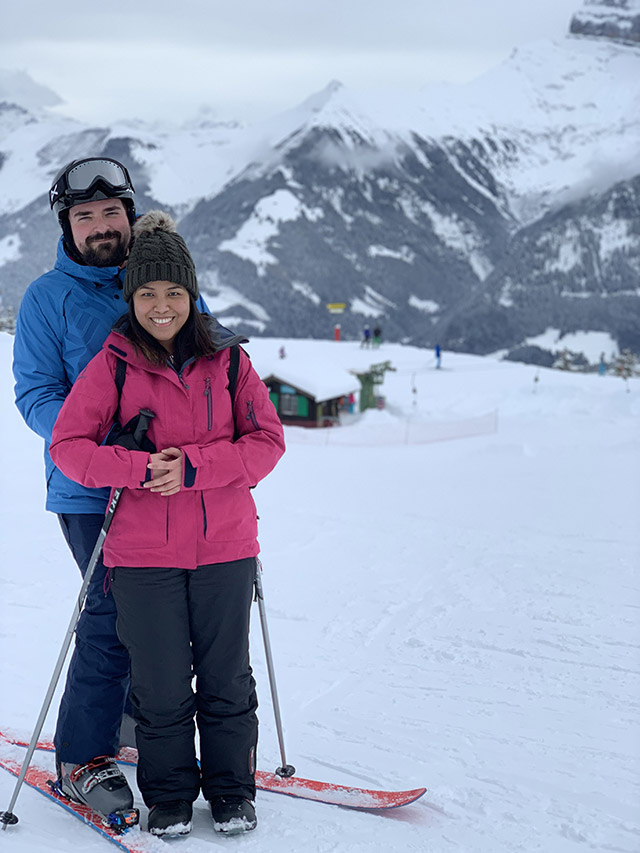 Chezca and I started talking, and along with her brother, we spent almost the whole tour together. We had a last drink together in a bus stop and shared our Facebook details before saying goodbye.
Chezca sent me a message on Facebook just after I got back to Switzerland. We started to text a lot and she slowly became a significant part of my everyday life. At this point, I started to ask myself, "Why not?"
We started with a long-distance relationship, but we knew that the distance would only get smaller with time, as Chezca already had plans to move to the UK. After one year of dating, Chezca finally moved to the UK and it was easier for me to visit her.
Just this year, I found a job in the UK to be closer to Chezca. We still don't live together, but now we get to see each other every week.
Chezca and I will soon be celebrating our fifth year together. Putting in the effort, championing each other's accomplishments, and listening to each other's good days and bad days alike, I just know in my heart that we will make it to the end.
Esmie and Gian
Met at the beach in Puerto Galera
Together for nine years, married for seven months
Esmie: In the summer of 2010, I was with my two friends in Puerto Galera. Before we reached the island, we agreed that "whatever happens in Galera, stays in Galera."
On our first day there, I was on the shore, staring at the beauty of the sunset. Someone approached me and said that he had taken a photo of me together with the sunset. I checked his camera and saw that it was a beautiful photo. He introduced himself and got my email so he could send me the photos. He then got my number and invited me to dinner.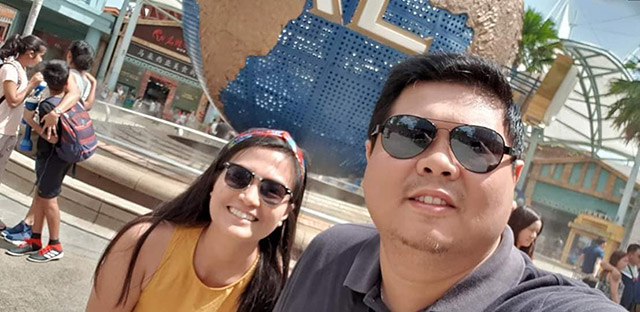 We connected instantly. We spent the night talking and drinking Mindoro Sling, and stayed up until 5:00 a.m. the next day.
"Whatever happens in Galera, stays in Galera" didn't work on us because, when we got back home, Gian and I started constantly exchanging messages and seeing each other.
Since I live in Valenzuela and he lives in Rizal, we'd see each other only on weekends. But our relationship worked because we were mature, practical, and always looked forward to weekends with each other.
Who would have thought that, out of the thousands of tourists in Puerto Galera, we would cross paths? But I know that nothing is an accident. As our song, Jonas Blue's "Perfect Strangers," goes, "Maybe we're perfect strangers…maybe we don't need no reason why."
Karina and Mustafa
Met in Darling Harbour, Sydney
Together for three years, married for one year
Karina: I was supposed to visit someone I was dating in Sydney, but the relationship ended a few weeks before I arrived there. Being spontaneous, I still pursued the trip with zero itinerary and no friends in the city.
I downloaded Tinder with my Instagram linked to my account—not for the sake of dating, but for asking locals about tourist spots. A guy messaged me on Instagram a day after I arrived and asked if I wanted to have kebabs for lunch the next day. I obliged—YOLO—and he gave me his work address so I could meet him there.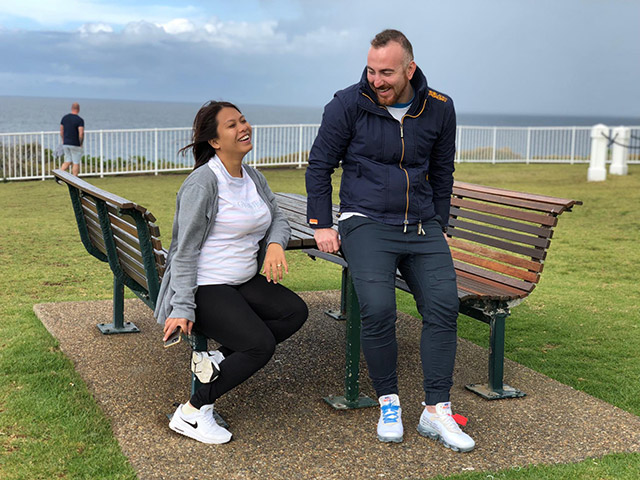 When I arrived, he was no longer responding, so I decided to have lunch on my own and sit near Darling Harbour's gondola. A man sat at my table and began making small talk. I was never good at small talk, so I just smiled and nodded at the questions he threw at me.
He then asked, "I thought you were having kebabs for lunch?" That was when I realized he was the guy I had been talking to on Instagram—he had recognized me from afar.
We did not click right away as I was not interested in dating. But he was persistent (in a good way) and toured me around the city and neighboring suburbs despite his busy schedule. I knew he was worth it when it was the first time I felt that I was deeply cared for.
Being away from each other for most of our relationship has had its challenges, but to make it work, we only needed to be mature and understand that the world does not only revolve around each other.
We are now married with one adorable baby boy, and will be living together in Sydney very soon.
Yana and Lee
Met on a bar crawl in Boracay
Together for four years
Lee: Yana and I met on that little island in Visayas called Boracay. She was vacationing with a couple of her balikbayan cousins and joined a bar crawl I was hosting.
I immediately developed a crush on her because she's my dream girl—she's both chinita and morena! I felt I had to take the charm up a notch for me to get a chance to hang out with her again. Luckily, I was able to hang out with her the following day!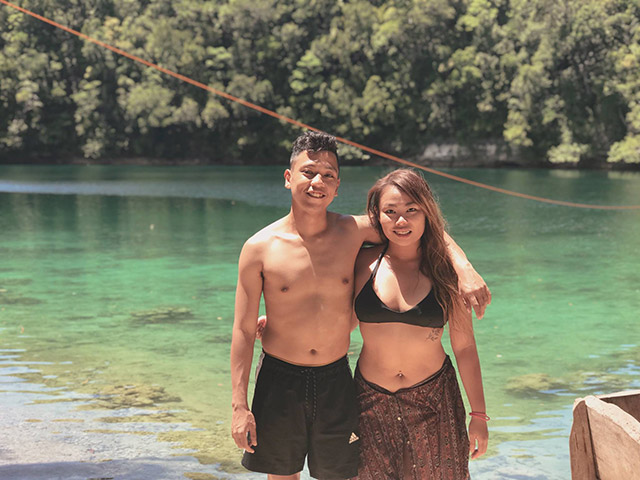 I found out that she also grew up in Davao like I did, and was based there. I immediately daydreamed of going back home, taking her out on dates, and doing all the mushy stuff young couples do. We added each other on Facebook and kept in touch until the day I left Boracay for good.
The first thing I did when I got home to Davao was ask her out on a date. I knew she was a bit guarded because I worked in Boracay and she knew what the culture there was like (completely understandable), but she took a chance on me nonetheless. The first date was a success, and after a few more dates, I mustered up the courage to ask her to be my girlfriend.
It's been a fun ride with my girlfriend for the past four years. We've had our challenges, but all in all, it's been a great relationship full of laughter, food, and beer!
Noelle and AJ
Met at the beach in Puerto Galera
Together for 12 years, married for five years
Noelle: In 2007, my barkada and I went to Puerto Galera to celebrate our birthdays. I was hesitant to join at first, because I was coming from a breakup.
One night, after having some Mindoro Sling by the beach, I got drunk! As in, tulog sa sand while my friends were still drinking.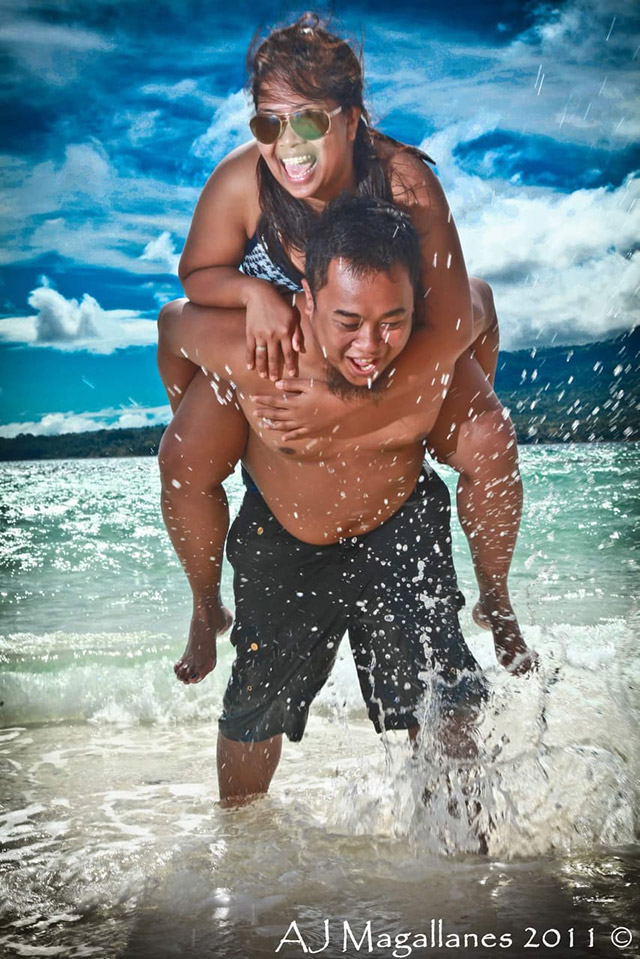 AJ and his friends passed by our group. They were holding a plate of inihaw na hotdogs, and offered them to us. Kumuha naman ako, pero I remember having just a bite, then falling back to sleep. I came to when AJ woke me up and told me na kinakain na ng aso 'yung hotdog ko.
I ended up sitting alone a few feet away from my friends and AJ's group. Some other guys approached me, and one of them kept talking to me and telling me that he would take me somewhere far. I got pretty scared and called out to my friends for help. I was surprised that AJ was the one who went over; he pretended to be my boyfriend and brought me back to my friends.
Nahimasmasan ako after that, so we just kept talking until sunrise. AJ kept asking for my number but I did not give all the digits. I just gave him the first few numbers and told him that the last four is my birthday.
The next day, I got a text message from him asking me to go out for lunch.
We've been together for 12 years—got married in 2014—and never broke up in all that time.
Catherine and Chris
Met at a hostel in Moalboal, Cebu
Together for over two years, married for three months
Catherine: In May 2017, a day after attending a friend's wedding in Cebu, I decided to make a quick visit to Moalboal. While checking in at the hostel's reception desk, I saw a man standing on the other side of the room, his gaze fixed on me.  

"Why is he staring at me like that with his big blue eyes?" I thought to myself. "This is kinda creepy."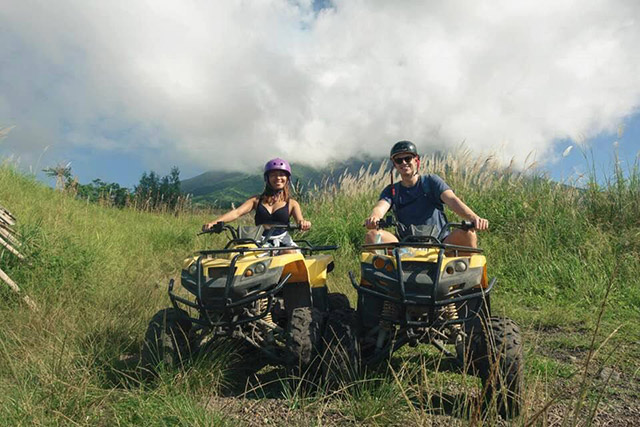 Once I was settled and was on my way to the beach, I spotted the same guy lying down on a hammock, drinking beer. I don't know what got into me, but I found myself walking towards him to say hi. 

"How's your stay in Cebu so far?" I asked.

Pretty soon, we were lost in a fun conversation. I learned that he is German and that his name is Chris. When moments before I thought he was creepy, suddenly, there I was enjoying talking to him.

We added each other on Facebook. When I came back to Manila, he messaged me that he wanted to see me again. I said sure, but that he had to come to Manila as my holiday vacation was over.
The next thing I knew, he had booked me a flight to Cebu and a ferry ticket to Bohol! I thought about it and decided to take a leap of faith: I took the flight to see him again.

We decided to give "us" a chance. When he went back to Germany, our long-distance relationship began. The more I got to know him, the more my feelings grew.
Chris proposed to me in Sri Lanka in December 2018 during our trip there. Just last April, we got married in Hong Kong.
Gabby and Gico
Met on Tinder in Amsterdam
Together for one and a half years
Gabby: We met on Tinder—but not in the way you'd expect!
In June 2017, I was on a Europe trip with my family. While in Amsterdam, I decided to download Tinder for fun.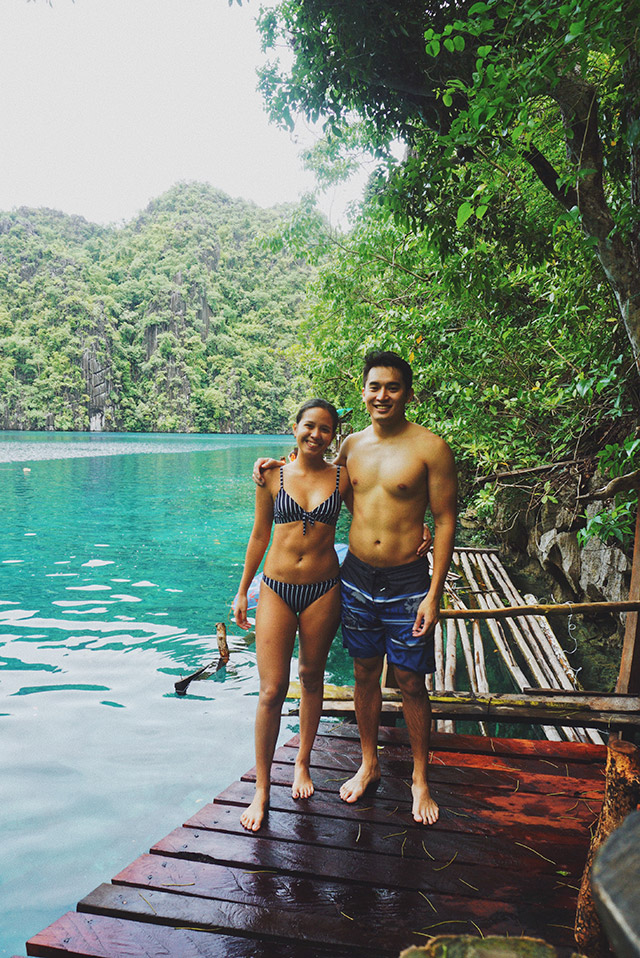 One of the first few guys I saw on Tinder was a guy from the Philippines. His profile said "Gico, 27, De La Salle University," and I got excited seeing a cute guy from Manila on vacation in Amsterdam, too. I swiped right and we matched, but since we were both busy on vacation, we never started chatting. I deleted the app as soon as I got back to Manila a few days later.
Fast-forward a couple of months to November 2017, I was on a solo trip to Tokyo. I decided to download Tinder again and saw that I had never spoken to the Gico guy I matched with in Europe. We started chatting and both realized that we were both in Japan at the time! However, we were in two different cities and wouldn't be in the same place at the same time. We decided to meet up when we both got back to Manila.
Later, I found out that we both only used Tinder on those two trips, the Europe trip and the Japan trip, since neither of us used it in the Philippines. Also, we overlapped in Amsterdam for only one night, so the chances of us matching were actually very slim!
One of the biggest surprises I got when I got to know him was that he didn't stay in Manila mostly, but lived and worked in Lucena, Quezon during the week. I guess that makes us semi-long distance, but I'd say I'm luckier than most people in LDRs to be able to see him so often.
Ruth and Allan
Met on a group trip to Baler
Together for six years, married for two years
Ruth: Back in 2012, my guy friends went to Mt. Cristobal to hike; one of my guy friends told Allan, who was on the trip with them, about me. Allan added me on Facebook, but I didn't approve his request because I don't accept requests from strangers.
In early 2013, that guy friend and I planned a Baler trip, and that's where I met Allan. I wasn't expecting to meet someone romantically back then and I didn't feel he was making moves either, so I just dismissed him as a friend. But after that, we went on a couple more group trips, and that's when I started to get to know him.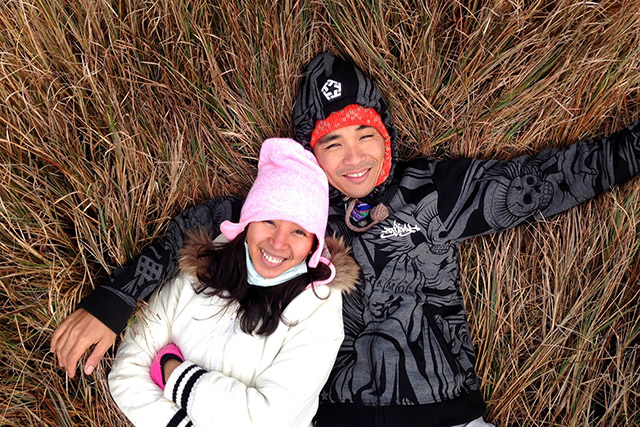 First, we went to hike Mt. Arayat with the whole team; it was funny that I was on my own at first and then in the end, he caught up with me and looked after me the whole way down the trail—mind you, it was a 12-hour hike! We also went on a surf trip in Real, Quezon and that's where I knew that I actually liked him. During a scuba diving trip in Anilao, we officially became a couple.

The incident which proved to me that he was "The One" was when we went to Masbate. I caught amoebiasis and the hospital was three hours away! He took care of me the whole time—and that was almost a week of me being very sick.

We got to know each other more, especially through traveling. Now, we are two years married. I couldn't have found a better partner to be with in this stage of my life than Allan.
Belle and Samuel
Met at a hostel in Dumaguete
Together for five years, married for three years
Samuel: Our love story began five years ago in a small hostel in Dumaguete. Belle was traveling with her girl friend and I was with seven other guys I met at a hostel in Manila.
We did not immediately connect, because at that time there were simply too many people around us and it was difficult to have privacy. Belle secretly decided to escape the situation and take a boat to Siquijor. It felt like an invitation to follow her.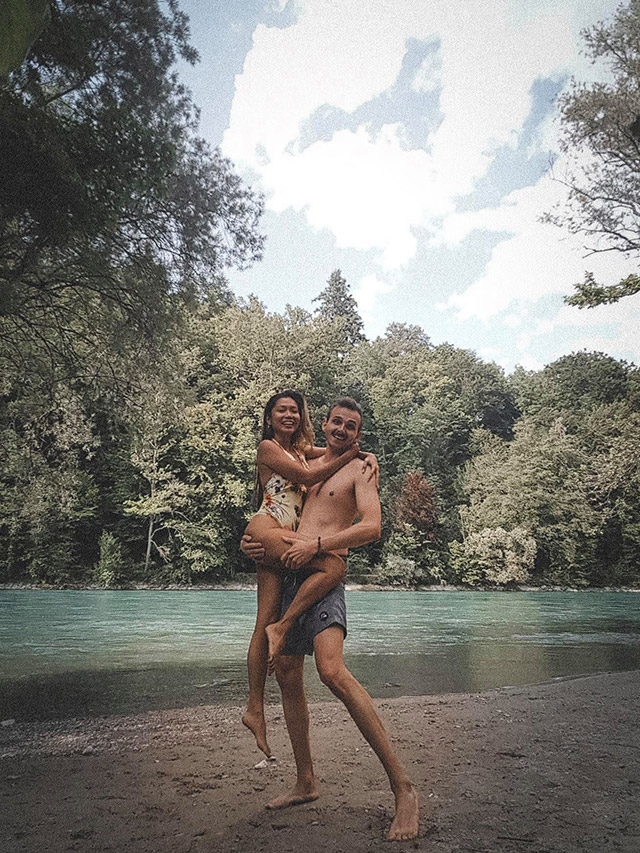 What followed then could have been straight out of a beautiful dream: starlit nights lying together on a white sand beach, counting shooting stars and listening to the crackling of a bonfire, our best friends laughing and dancing in the distance. This went on for three weeks, enough lives lived to fall in love for eternity.
After a nine-month long-distance relationship, I moved to the Philippines to stay with Belle for as long as I could. After a few weeks of being back together, I asked her to marry me. Soon after, we traveled to Switzerland, where our relationship was tested like never before.
We learned the hard way that trust for each other has to be earned and that it can get lost if not cared for. We had to find and love ourselves first, before we were able to fully love each other.
And every now and then, we still end up underneath a starry sky, counting shooting stars, silently remembering why we belong to each other.