With every Pride Month that has come and gone since the Stonewall riots of 1969, marriage equality remains out of reach for many LGBTQ couples around the globe. In a world that continues to deny them of this basic human right, it's important to keep trumpeting the truth that love is love—no matter what your identity, orientation, or expression is.
During Pride Month 2018, we shared the real-life love stories of nine LGBTQ couples; in 2019, we're sharing nine more touching tales that prove that love knows no gender.
Pao and Rhex
Pao: Back in 2010, I was at a clubbing event when I noticed the stranger next to me. I found him cute, managed to catch a few glances, but stopped looking because I was not sure whether he was straight or not. Suddenly, this stranger reached out to shake my hand, and while I was taken aback by the gesture, I thought, "Wow, what a gentleman."
ADVERTISMENT - CONTINUE READING BELOW ↓
The next day, as I was telling my mom about the guy who shook my hand at the party, I received a friend request on Facebook—it was the guy at the party, Rhex. Turns out, we had been introduced just short of two months before by my good friend who happened to be his ex—an incident I did not recall, thanks to a vile mix of shots and cocktails—which was why he remembered me!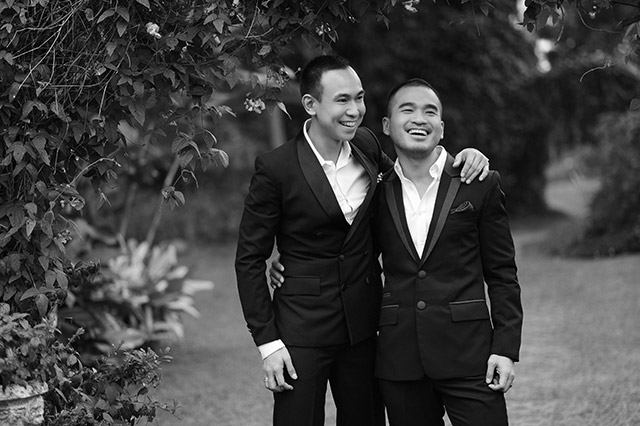 ADVERTISMENT - CONTINUE READING BELOW ↓
Recommended Videos
And turns out, he knew me even before we met in 2010: When I was a freshman at Manila Science, he was a senior. How many times can one meet a soulmate?
We officially got into a relationship only weeks after our first date, and got engaged only a few months after. In Boracay, I proposed to him with a makeshift ring from D'Mall, a bent knee, and a glorious sunset in the background.
In 2015, in the presence of our family, life mentors, officemates, and friends, we celebrated our holy union in Tagaytay; then, we flew to Napa Valley for our legal marriage in the company of our parents, godparents, and closest friends from around the globe.
A year later, two became three when Pablo, our son, made us a family.
Lora and Faith
Lora: We met online through the now-defunct Downelink, a social media site for LGBTQs, in 2015. We were both Filipinas living in Sydney; Faith added me as a friend, and I accepted her request.
ADVERTISMENT - CONTINUE READING BELOW ↓
After weeks of chatting and exchanging messages, I invited her to watch a football match. After that first date, we soon became a couple.
Back then, I was not out with my family. For the longest time, I had kept to myself. But when I met Faith, I knew that she was the one who was worth "coming out" for. Coming out wasn't easy, particularly when it came to my family and the relatives I was then living with in Sydney. But later on, my mom said, "Ako pa ba ang hindi tatanggap sayo? Ako mama mo."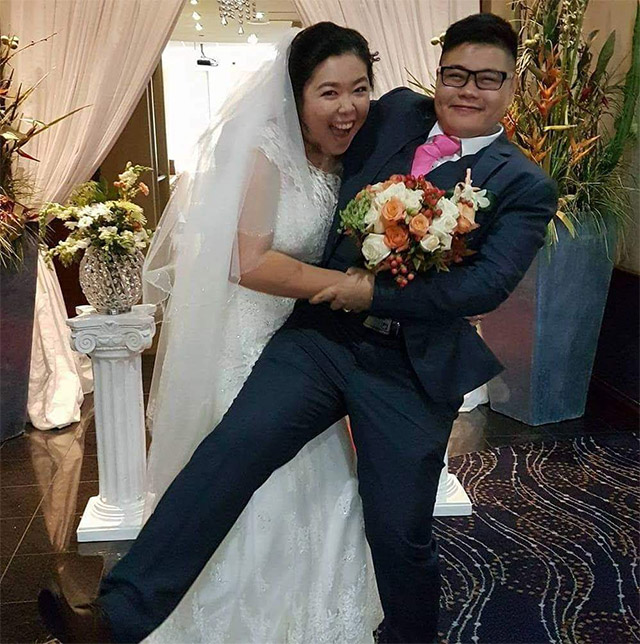 ADVERTISMENT - CONTINUE READING BELOW ↓
Although things were okay between me and my mom, who was back home in the Philippines, things were a bit awkward between me and my relatives in Sydney. I felt I had disappointed them, and this took a toll on me: I lost my appetite, lost weight, tired myself out from working too much. One day, I went to a GP and just started crying.
That's when I realized I was in a dark place and had been thinking of harming myself. I confided about it to Faith, and she told me, "Paano ako 'pag nawala ka?"
After the trip to my GP, my relatives began to see how I was struggling. They reached out to me and made an effort to get to know Faith. They saw what a good person she is, and now, they welcome her.
Faith and I first met on May 9, 2015. She proposed to me on May 9, 2016. Finally, we had our civil union on May 9, 2017.
ADVERTISMENT - CONTINUE READING BELOW ↓
Alex and Nat
Alex: We were both working in Malaysia, him a Filipino engineer and me a British teacher, when a mutual friend suggested we hang out as Nat was to be undertaking a project near where I lived. 
After a lovely but slightly embarrassing first date (I had left my wallet at home!), it was clear that there was something between us. Unfortunately, Nat had to move on to another project in another city. That didn't stop us from finding ways to spend time together, however. We began going on adventures around Southeast Asia together—even if we had to fly from different cities each time.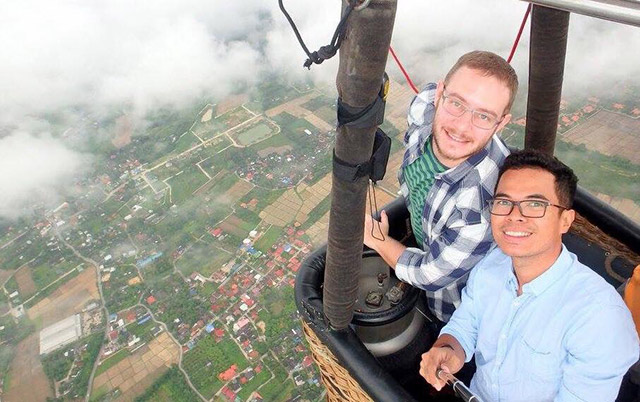 ADVERTISMENT - CONTINUE READING BELOW ↓
After a year, we decided to make plans for our future. Nat had a condo in Manila and a job waiting for him back home, so we decided I was to move to Taguig to join him. It was a risk, as I might not get a job here. Luckily, it has all worked out, and over the last few years, we have built a home together.
Just before Christmas last year, I spoke to my parents and told them of my decision to propose to Nat, and they were very supportive. When we visited them over the Christmas holidays, they surprised me with two gold rings that had been passed down from my grandfather.
As we are a couple of two countries, I wanted the engagement to connect our two homes together. While on our flight back to Manila from London, I put the flight map on the screen and said to Nat, "Do you think this is a special place?"
ADVERTISMENT - CONTINUE READING BELOW ↓
Unprompted, he replied, "Yes, it's halfway between London and Manila."
With that, I placed a ring in his hand and said, "Now it's even more special."
Karlos and Seb
Karlos: Seb was an Italian working in Manila as an architect when we met four years ago through a common friend. No sparks flew that first meeting, but weeks later, as I was handling an event and needed to fill the venue with people, I found myself inviting him. He showed up, we got buzzed, we ended up making out.
After a few months of hanging out, I joined him on a week-long trip to El Nido. There, we became exclusive.
We had been living together for over three years when Seb started to feel lost and confused. He wanted to go home to Milan. Because LDR was not an option for us, I started looking for ways to go with him and start a life on the other side of the world.
ADVERTISMENT - CONTINUE READING BELOW ↓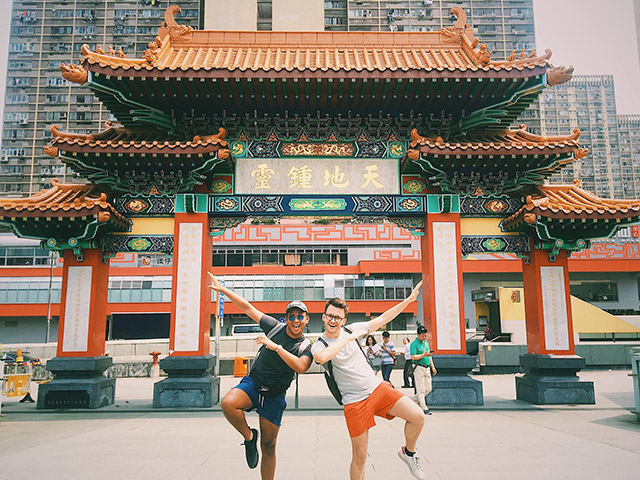 When I was granted an internship in Barcelona, we were thrilled, because I would be closer to him! He booked his flight home, and I was to follow a month later.
Right before I was to leave, my internship got revoked. We had no choice but to be in an LDR. Seb had begun to feel better once back home, but by then, it was me who felt lost. Many times, I'd have panic attacks and episodes, and it was hard going through them hearing his voice only over the phone.
ADVERTISMENT - CONTINUE READING BELOW ↓
We would have long phone calls where we'd try to break up, but it never happened. Something inside us told us to keep fighting.
After eight excruciating months of LDR, Seb surprised me by flying to Manila before my birthday. During his trip, we decided that we had had enough of LDR—we were going to get married.
After a long process of fixing our papers, I'm happy to say that I've just arrived in Milan. And bitch, we're getting married this month!
Kim and Fidji
Kim: I met Fidji through an online dating website in 2016. I had been online for months yet hadn't met anyone with whom I connected; meanwhile, Fidji, a Filipina who was then taking up her MBA in Los Angeles, had only been online for a week when she first messaged me.
A week later, we made plans to meet. After having to cancel our first date because something came up, Fidji made it up to me by planning a date in Long Beach.
ADVERTISMENT - CONTINUE READING BELOW ↓
Pulling up into what looked like a mall parking lot, I began to worry that this was going to be just another mismatch. But that thought changed when I saw her standing under the palm trees waiting for me.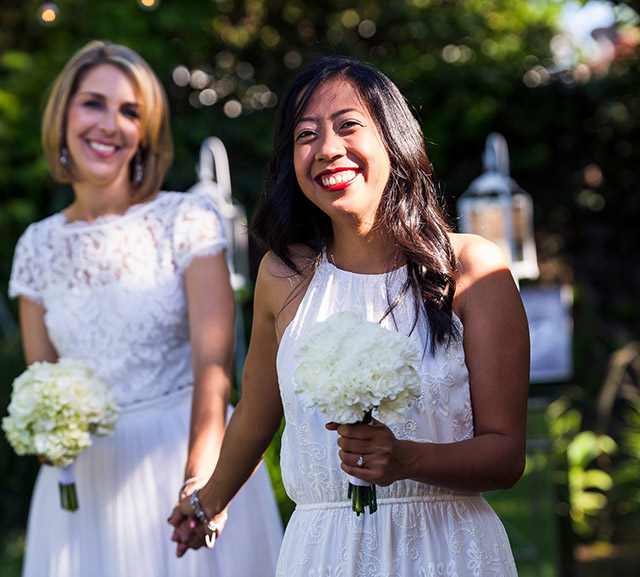 We went for a walk along the beach, followed by dinner and ice cream. Driving away after a first date that lasted five hours, I knew that Fidji was different.
ADVERTISMENT - CONTINUE READING BELOW ↓
It didn't take long before I knew that Fidji was the one for me. There was just one problem: She planned on returning to the Philippines after her studies ended, while I had a loving and accepting family and a great career in Los Angeles and wasn't looking to move.
Nervously, I brought up the issue. Nervous herself, Fidji laughed and said that she would be willing to stay for the right person. I told her that I hoped I was that person. 
After three months of dating, Fidji told me that she was going to stay, and that she was going to marry me. The following year in April 2017, we were engaged; in May 2017, we had a beautiful intimate wedding. In July 2018, we traveled to the Philippines, where her family welcomed me.
Cris and Garrett
Cris: Since I was a child, I've always loved fairy tales, and I wished that I could have my own happy ever after. But growing up, I never had a boyfriend because of my self-worth issues. I was afraid that any person I liked wouldn't be able to accept me as I wasn't born a biological woman.
ADVERTISMENT - CONTINUE READING BELOW ↓
Everything changed when I learned to love myself more. In my journey, I realized that there are people who do not care about gender—they care about character, morals, and values.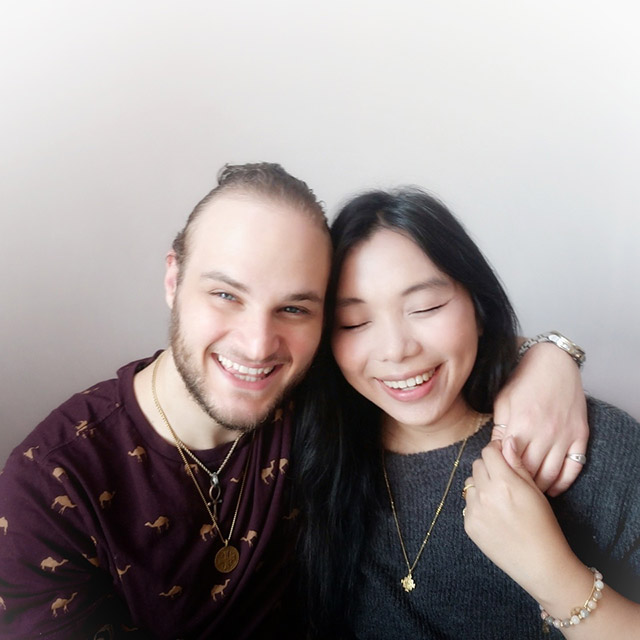 I met Garrett online last year, and we started out as friends. We would exchange messages daily, talking about our common interests and sharing our thoughts on life. As time passed, our friendship grew into love.
ADVERTISMENT - CONTINUE READING BELOW ↓
One day, Garrett surprised me by saying that he wanted to visit me in the Philippines. It would be his first time to travel outside the US. It meant so much to me, him mustering up the courage and making the effort just to see me. Right before he flew here, we made it official. He became my first boyfriend.
Garrett stayed here for two weeks that first trip in September 2018. Everyone liked him because he was very kind, hardworking, and funny. I tend to be serious most of the time, and he taught me to enjoy life more and to smile more. He loves Filipino culture and often uses Tagalog terms of endearment, particularly "mahal ko." He has since returned last April for another visit.
I've always wanted to meet someone who would love me unconditionally, beyond appearance and gender, with all my flaws and imperfections. It took me 27 years to meet my silver-eyed prince, but the long wait was worth it.
ADVERTISMENT - CONTINUE READING BELOW ↓
JC and JK
JC: JK and I were mere acquaintances from college until a common friend introduced us through Facebook. At the time, I lived in Germany, while JK lived in California.
Through constant conversation online, we began to secretly harbor feelings for each other. We decided to jump into a long-distance relationship, cautiously hoping that this relationship would stand the test of time and distance.
We had been officially dating for five months when JK proposed to me while we were on what I thought was just a regular vacation in Hawaii. Turns out, he had secretly gathered our friends to witness his proposal.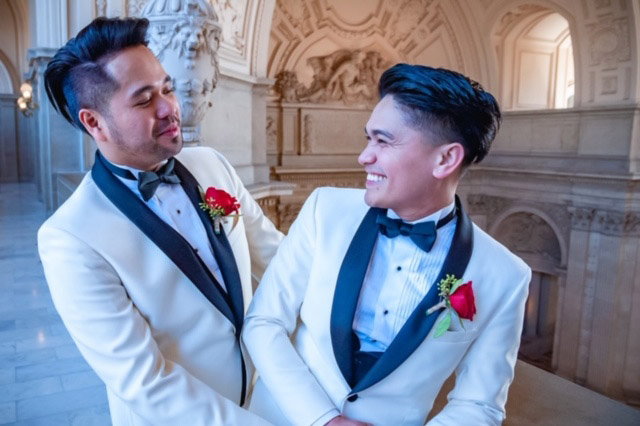 ADVERTISMENT - CONTINUE READING BELOW ↓
I was astonished by everything that happened that day. Besides the sheer effort he put into asking me to marry him, our friends from around the globe had sacrificed whatever they had going on back home just to be present during that momentous event. And I never truly believed that this sort of thing could happen to me; I felt I was not ready. But who was I kidding? Of course I said yes!
Since then, it had not been an easy road ahead. The pressure started to creep up on us; we started arguing more than usual. For one, we argued about who would move where? Would we live in Germany or the US?
After much debate, I ended up moving to California. The big move was not without stress, but we survived all the struggles. Last February, we tied the knot in a ceremony again witnessed by friends from all over the world—they could not pass up the chance to experience their first gay wedding!
ADVERTISMENT - CONTINUE READING BELOW ↓
Now, as one-half of a happily married couple, I can honestly say that I could not ask for a more beautiful journey than this.
Augustine and Ray
Augustine: Ray and I found each other on a dating app, and after a few days of talking, we met up for dinner.
Ray wanted to cook for me, so we went to the grocery and bought food. Once at his place, we cooked, ate, and just talked until 2:00 a.m.—sober.
That first date was unlike any first date I had ever had. While simple, it was such an honest, raw moment of connection and understanding, even though Ray and I couldn't be more different: He's from London, while I'm from Davao; he's a cyclist, while I'm an artist; he was brought up to survive, while I was brought up to live.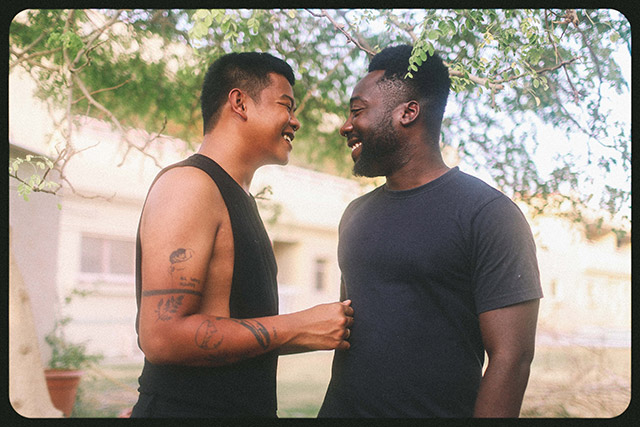 ADVERTISMENT - CONTINUE READING BELOW ↓
Looking back now, that first night somehow defined what we were going to do and be in each other's lives. Now living together, we've made a happy routine out of cooking for each other, eating together, and doing the groceries together. We've welcomed a cat into our home, Elizabeth James, named after the Queen and Ray's best friend. Currently, we're obsessing over turning our home into a jungle, so whenever we have extra money and time, we go to garden centers and buy plants together. And this home we now share that has seen these moments of uncomplicated bliss, we lovingly call it "The Love Motel."
We've also settled into—and grew to bask in—our differences. He's been to all my art shows and talks, while I wake him up for his cycling training every day.
While it hasn't always been easy, as we're both overseas workers, we lean on and support each other through thick and thin.
ADVERTISMENT - CONTINUE READING BELOW ↓
I've never loved anyone like I love Ray, and I've never been loved the way that he loves me.
Duds and Roi
Duds: Roi and I met one fateful day in September 2015 at a 7-Eleven store in Rizal. It was raining hard that day, and we were both wet and had gotten stranded at the convenience store.
Seeing him out of the corner of my eye, I mustered up the courage and made the first move. I clearly remember delivering this pickup line that shocked him and made him laugh: "If you want to feel warm, sit beside me, because I'm hot."
Roi and I ended up exchanging numbers that day. After three months of texting and dating, we were officially boyfriend and boyfriend.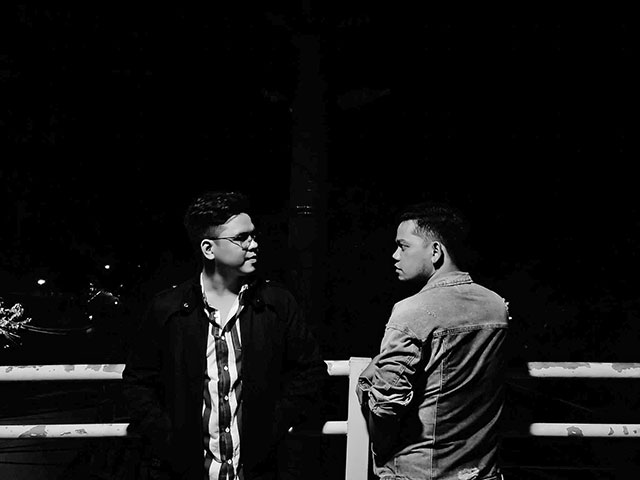 ADVERTISMENT - CONTINUE READING BELOW ↓
I love how our relationship is steady and solid despite both of us not being the overly romantic, publicly affectionate type. I love how, after three years, we still have that private world that makes us feel kilig every time.
Roi and I grow and learn from each other as our differences complement us. Despite my busy schedule as a chief video editor, we still make it a point to spend time together. And after three beautiful years and six dogs together, Roi and I are stronger than ever. For us, true love is not just about giving and receiving, but also about simply being comfortable with each other.
I love that our love is like home, something you choose over and over on any given day. I love that despite everything, despite all the negativity and ridicule we've suffered because of who we love, we still chose to be together.
ADVERTISMENT - CONTINUE READING BELOW ↓
EXPLORE COSMO