We millennials wail on and on when some guy doesn't reply to our texts or doesn't follow up a great first date—sucks, right? But just imagine if we had lived half a century earlier, when nobody had cell phones so you could barely get a hold of that guy, let alone set that first date. CUE PSYCHO THEME MUSIC.
Here, we got five couples to share what dating was like for their parents or grandparents back in the day and compare it to what dating is like for them as millennials. Prepare to marvel at the way things were for these older couples, feel lucky that you live in a time when technology has made things easier,  and maybe hug that guy you're with who does reply to your texts a little bit tighter.
Jed, 27 and Bridge, 27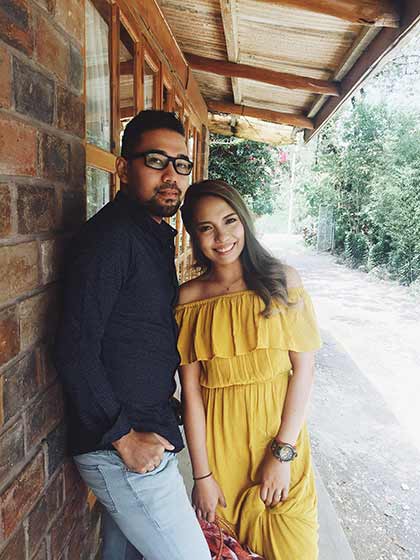 Continue reading below ↓
Recommended Videos
Bridge's parents Arnel, 57 and Nonie, 59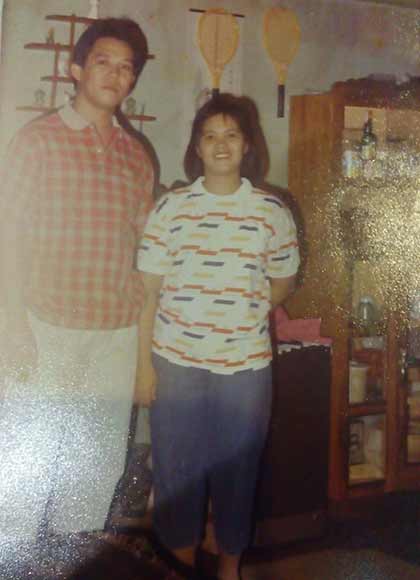 Bridge: When I asked my mom how they used to date in the past, she tried to remember if they really went on the types of dates today's couples go on, like eating out at fancy restaurants, going to the movies, or traveling together. She remembered that she and my dad watched a movie once and that was the ONLY time they went on a movie date.
I admit that I felt a little sad when I learned that. I couldn't imagine how they managed to just be together and not go on the kinds of dates we take for granted today. But then again, communication back then was a lot more difficult so setting up a date was not easy. Unlike these days, when you could easily set up a date with your partner who's just a text away. Or maybe my parents were just more practical compared to today's couples.
When my husband Jed and I would set up a date, we would just text each other if we wanted to try a new resto in town, watch a new movie, or plan for another trip—a lot different from the way my parents did it. Being practical is also a challenge for us now since as a couple we also want to experience new things together, and that means spending money on those experiences.
Now, as I look at this photo of my parents, I realize how simple dating was for them. So this Valentine's Day, I'm definitely booking a special dinner for them and buying them tickets to the movies!
Kath, 32 and Jet, 34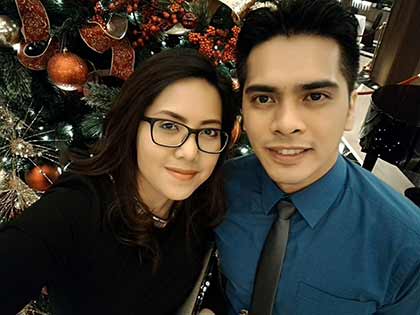 Kath's parents Homer, 62 and Sol, 56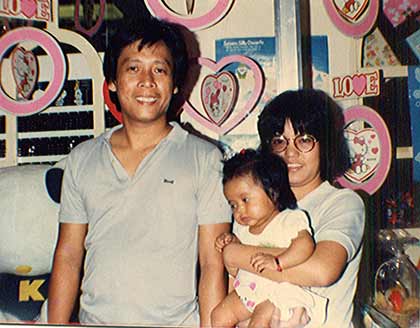 Kath: My parents, Homer and Sol, are pictured with me at one year old at SM Cubao. My parents always tell me that they would often take me to SM Cubao so I would stop crying. Then they would buy a poster of Romnick Sarmienta and Sheryl Cruz at a nearby overpass after their SM Cubao date. So yeah, I became a die-hard fan of the Romnick-Sheryl love team and got heartbroken when they didn't end up together in real life.
After 35 years of marriage and counting, with three big kids and one apo, they still like going to SM Malls and they make the most of my Dad's senior citizen discount and Mom's SM Prestige card. I guess you can call them the SM Couple, haha.
When my husband Jet and I lived in Malaysia for nearly three years, we also spent our weekends watching movies and checking out new restaurants around Kuala Lumpur. My parents loved going on "weekend warrior" road trips, and Jet and I did our own spin on it by traveling to nearby countries in Asia so we could make the most of his paid leaves. Jet and I are also more adventurous than they are when it comes to cuisine, and we love dressing up, social drinking, and salsa dancing (at least, we try desperately) with what I like to call the United Colors of Benetton crowd (expats from around the world).
Now that we are back in Manila and have a three-month-old baby boy, surprise surprise, his baptismal reception will be held at an SM Mall, haha. I guess it's true what they say: When you get older, you begin to see your parents in yourself.
Red, 29 and Ria, 29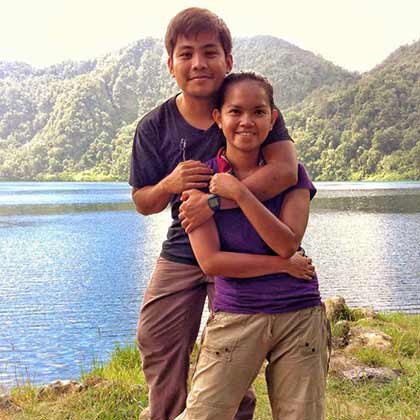 Ria's parents Jonas, 55 and Eva, 62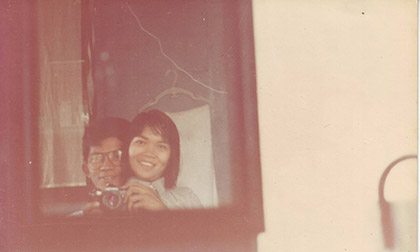 Ria: My parents met at "work"—work for them meant the activist movement during Martial Law. When they first started dating, each didn't know where the other lived; they were not allowed to disclose their addresses for safety reasons. So in order to go on dates, they would have to meet at a predetermined location, then before going their separate ways, would have to set the next date and its location. Written communication was discouraged then because it could be traced or intercepted, so everything was arranged verbally. You just had to show up on schedule and expect the other one to show up as well. (They got married after less than a year of dating. This picture was taken during their honeymoon.)
My husband and I knew each other since we were college freshmen but only started dating during our senior year. We texted for one whole sem break then dated as soon as the sem started. We'd have to thank cell phones and unlimited texting for getting our relationship started.  
I can't imagine dating for months without instant messages, texts, or even letters. But somehow, my parents made it work.
Vincent, 33 and Hannah, 31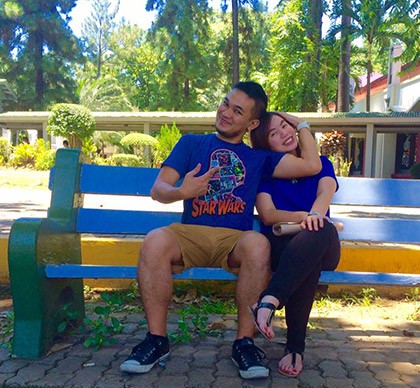 Hannah's parents Sharon, 53 and Jojo, 54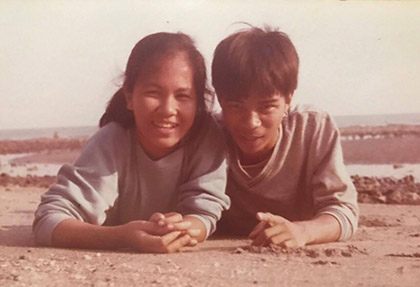 Vincent: My girlfriend's parents met each other in college. Her mother, Sharon, was a student scholar, a double major in economics and sociology, while her father, Jojo, was an engineering student. Jojo found a way to connect with Sharon through mutual friends, veiling his pursuit by asking her to tutor him in Spanish and other subjects; consequently, she asked him to tutor her in Math and other related subjects. The rest is history. They bonded over common interests like photography, and often frequented soda shops and beaches.
Hannah and I were law school classmates. I remember gaining interest in her after we chatted on Facebook about film and music; I then realized that not only did she possess undeniable beauty, she also had incomparable brilliance. As law students, we bonded over cold pizza and binged on film.
Now that we have both become lawyers, we still binge on film, but we prefer our pizzas warmer now. Now seven years strong, date fuel still consists of happy talks and long walks.
After contrasting our dating activities with that of her parents', Hannah and I concluded that dating now is made easier by technology—of mobile phones, and of airconditioned malls. Yet whatever the means, dating can never be too difficult for as long as a couple keeps the interest in each other alive. Everything else lovely just follows.
Yana, 26 and Lee, 28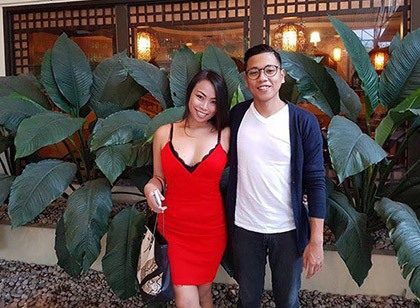 Yana's grandparents Juanito, 86 and Lilia, 79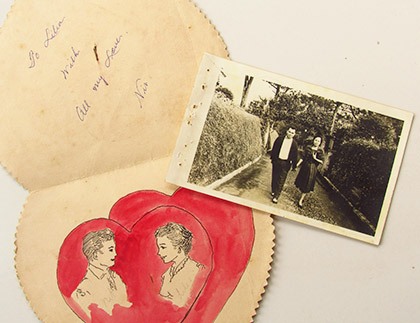 Yana: The photo was taken while my grandparents were on a date in Baguio, where my lola had visited my lolo while he was working there. As for the card, I found it while I was going through some family albums; it took me a while to realize that the sender was my lolo as it was signed with his childhood nickname.
I remember reading poems that my lolo sent to my lola when he was still courting her, really long four-stanza poems about love. He wrote her poems before they even started dating. He would tell me that he would woo my lola, who came from a conservative Chinese family, with words so she would agree to go on dates with him, because back then he had no money. They shared 45 happy years together before my lola passed away.
Now, my boyfriend Lee and I have been dating for two years. He would also give me little handwritten notes, which I find cute. Whenever he gets the chance, he would randomly surprise me with flowers, food, or coffee to go with them.
Dating is not as hard as it was for my grandparents because it's easier to make plans (thanks to technology!). A simple message to set up a date is acceptable and more convenient for both parties. But with new technology also comes new struggles, so of course my relationship with Lee is not completely conflict-free. I just hope that no matter what hardships he and I may go through in the day and age we find ourselves in, I make my grandparents proud by hanging in there as steadfastly as they did in their time.
Follow Cheekie on Twitter and Facebook.