Part of the fun of being a bride are the pre-wedding planning, on-the-day primping, and GGSS photo-taking you get to do with the girls who make up your entourage. But what if your closest friends are guys? Do you keep with tradition and find females to fill up your half of the bridal party? Or do you think "Screw it!" and get your guy pals to don those satin bridesmaid's robes instead?
Pinay bride Myx Ledesma-Bandong did the latter—and she's got the satin robe photos to prove it!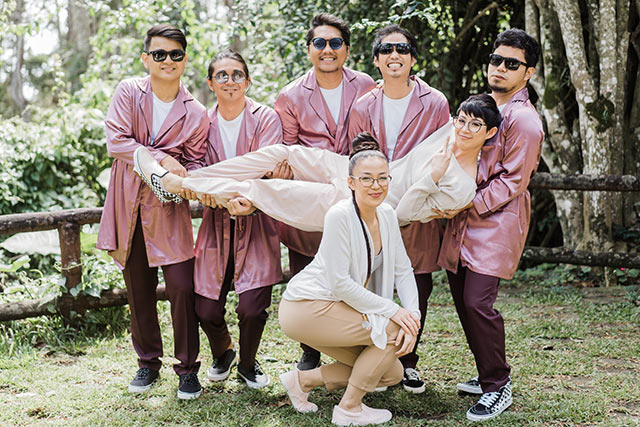 Myx and her husband Francis, who are based in Singapore, tied the knot last January in their hometown of Davao City in a lovely celebration made even more memorable by having her closest guy friends as her bride tribe.
Continue reading below ↓
Recommended Videos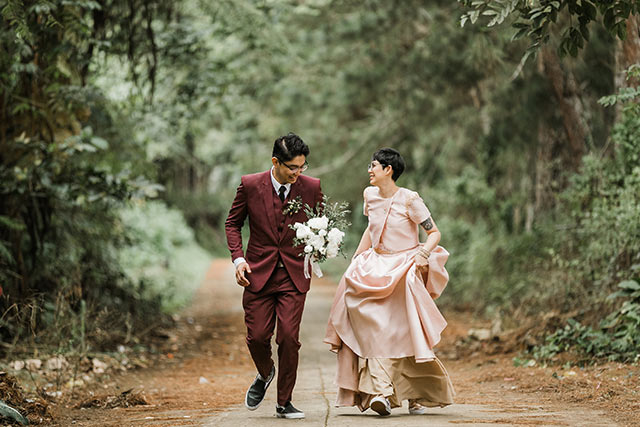 Having bridesmen instead of bridesmaids wasn't a complete one-eighty for Myx, who was no girly-girl growing up.
"When I got to high school, I told myself that being 'girly' simply isn't for me," Myx says. "Having been bullied in grade school, I wanted to prove that girls aren't merely pushovers—we can 'rough it up' as well. I eventually had more guy friends in school. And I enjoyed how guys poke fun at one another in a rough but friendly way."
Myx would remain the boyish type in adulthood. In college, she solidified her friendship with her would-be bridesmen when she joined their band. Now, as an interior designer working for IKEA Singapore who does physical work on the regular, she has no qualms roughing it up.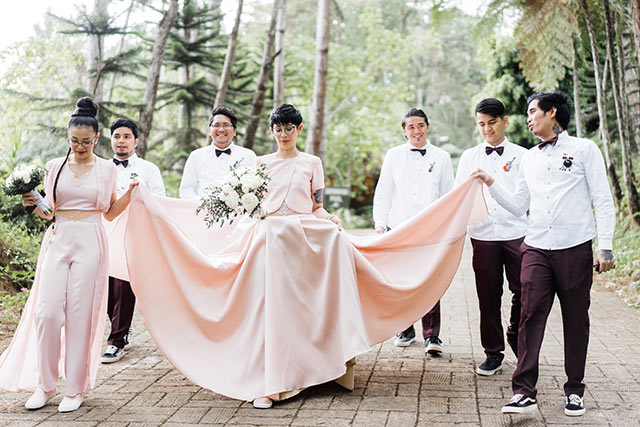 Besides going with a bride barkada made up of mostly men, Myx also went the unconventional route in her sartorial choices. She donned a no-frills three-piece gown in blush instead of the traditional white, while her sister and maid of honor, Louise, wore a two-piece jumpsuit in the same hue. Since her bridesmen were also her bandmates, they each wore custom-made clay bar pins in the shape of the instruments they played in the band. Myx and Francis also kept it cas by wearing sneakers, and encouraged their guests to do the same.
Read our interview with Myx to find out what it's like to have bridesmen instead of bridesmaids, and pick up tips from her if you're thinking of giving your boy besties the same honor!
Why she decided to have bridesmen instead of bridesmaids:
I thought it was right to show people that my bridesmen were some of the most important people to me. Plus, it hadn't been done by anyone I know, and it would make our wedding extra-special.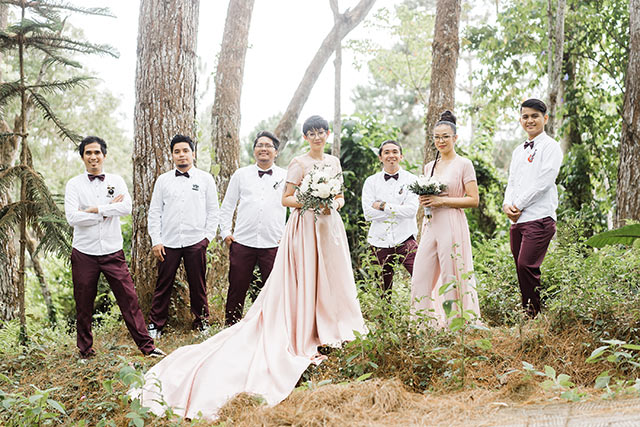 Francis was supportive of the idea, and he hinted at having groomsmaids as well, haha. In the end, he let me do my thing, which has always been how we treat each other—we respect each other's individuality.
How she chose her bridesmen:
I chose those five friends of mine because I am closest to them. They were my bandmates and played a huge part in my growth as a person. You know in your 20s, you feel you're always evolving? I felt that they were with me the entire way. We went through a lot of hardships; we even stayed in Manila for two years as a band trying to earn a living, and that was no joke. 
How her bridesmen felt about their role in her wedding:
They were very excited. They instantly cleared their schedule. They wanted it to be the best experience for me. They looked into the details for their look, up to the last detail.
During the photo and video shoot, they were very absorbed! What's best about it was that there were no pretenses—it felt as though we were simply hanging out, only with cameras following us this time.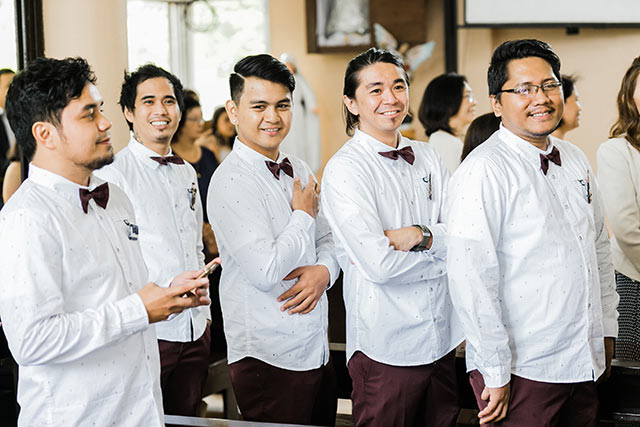 Her bridesmen's duties and responsibilities:
To be honest, they had minimal responsibilities since our wedding organizer was pretty much on top of all things for our special day, and Francis and I were based overseas anyway. They only focused on making themselves the most dashing and handsome bridesmen on our wedding day, haha!
Since they were my bandmates, I did request for my bridesmen to peform during our reception—to which they gladly obliged.
How the wedding guests reacted to her bridesmen:
They were surprised! We knew it was unusual for them, but once they knew that my bridesmen were my bandmates, they totally understood my decision. Some of them actually thought it was pretty cool. My parents didn't even question my decision having them as my bridesmen anymore. 
Tips for other brides considering having bridesmen:
I think it's not a matter of bridesmen versus bridesmaids. Rather, it's about the bond and relationship that you have with them. It was our way of honoring our friendship all these years. Screw those traditional rules; if you have guys as your entourage, why not? If they're the ones who helped shape you into the person you are now, why follow tradition? That's what I kept in mind when we started planning. 
I was sure that they would not let me down and would keep their word, which was quite the assurance for me as a bride. And as a bride, that's one less thing to worry about.