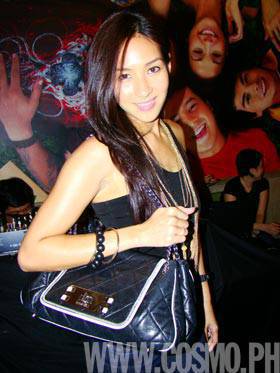 Girls may envy Mikaela Lagdameo-Martinez for being the only rose among the thorns in John Lloyd Cruz's Greenwich TV ads. But it actually took some time before she landed the coveted role.

"I've actually been in the Greenwich commercials for the past four years—[endorsing] the pasta, chicken, and the pizza, but not with the barkada. It's only last year that I became part of the barkada," she told Cosmo.ph in an interview.

Mikaela also shared that her professional relationship with her Greenwich co-stars has evolved into a great friendship.

"It's fun because they really have become my friends," she said. "Actually Lloyd [Zaragosa], [known as] Bruno in the ad--I've known him since high school. So, it's special na we all work together and we're friends."

Not only did she gain new friends, she also gained more popularity because of the Barkada campaign.

"Sometimes [people would] say 'Level up!' I really became known when we had the 'Button' commercial and we were, like, pulling down our pants. That was when I was really seen [as] part of the barkada," she said.

Aside from being a Greenwich endorser, Mikaela is also the face of Blue Water Day Spa, along with Sam Milby. She also appears in Pond's Flawless White and Block and White advertisements.

This professional model is also an entrepreneur: She owns ELAN Models International, Gourmet Pao, and a lifestyle magazine. She's also a loving mom to two beautiful kids.

As an insider's treat for you, Cosmo chicks, now that it's Fashion Month, we're giving you an exclusive peek at what this  model/businesswoman/mother carries inside her chic Chanel purse to keep her always gorgeous and put together. Launch the gallery by clicking the button below.
Continue reading below ↓
Recommended Videos
787