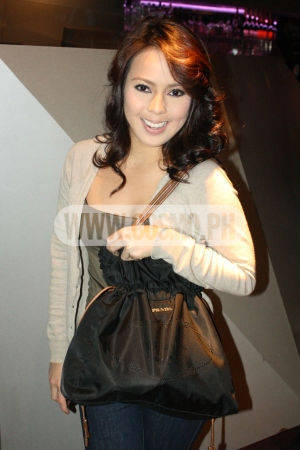 It seems Andi Manzano is everywhere these days! After conquering the airwaves with her sweet DJ voice as Andi-9 of Magic 89.9, she's now also seen in Party Pilipinas as a regular VJ, in events across the metro as host, and in several ad campaigns! Cosmo took notice of her hard work and excellence in her field, and named her one of the Fun, Fearless Female Awardees this year!

This 24-year-old media darling has such a hectic life, so at her Cosmo shoot, we asked if we could raid her casual Prada drawstring tote to see what essentials she brings on a regular work day (we suspected it would be a lot!). We love how the bag matched her simple cardigan, tank top, and jeans ensemble.

You may recall Andi's other Prada bag, which was featured in 2010 (and made it to your top 20 celebrity bags list!). While she admitted she likes to indulge in designer items once in a while, this girl is all about comfort and functionality; you'll see just how much she's able to pack in this trendy but practical designer tote!

You'll notice that some of the essentials you saw in her bag last year are still in her purse: her iPhone, BareMinerals makeup, and L'Occitane lip balm. Andi must love these products! But, aside from these faves, we noticed that she had even more mineral makeup, eye definers, lip products, and makeup tools.

Her fully-stocked bag also contained an external hard drive, since she brought her MacBook with her to the shoot.

Launch the gallery to see all the items we found in Andi's bag!
Continue reading below ↓
Recommended Videos
1555