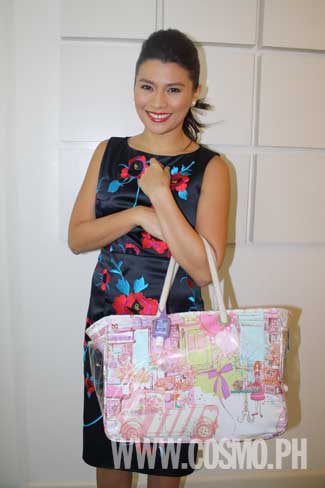 Actress Mylene Dizon knows all too well the importance of pampering and taking care of herself. And it shows in this single mom's glowing skin and smashing figure. She never let raising two sons Tomas, 6, and Lucas, 1, cramp her style. In fact, they make her feel like the most beautiful woman on the planet, as she declared in the March 2011 issue of Cosmo, in the feature "They're All Single Hot Mommas!" (with Jennylyn Mercado and Valerie Concepcion).

This is how she does her balancing act between herself and her sons: "When I have free time and I know that I have given enough time for the kids for that week or that day, there is a lot of Mylene time," she told Cosmo in her interview.

Even the contents of her colorful bag, which looks very kid-friendly, speak of her amazing balancing act. Mixed with all her beauty essentials are care products for her sons. How cute!

Get an exclusive peek inside Mylene's bag and know the beauty products she uses to stay fabulous all day long, as well as the products she uses for her kids. See if you use the same products--or if you can try what she uses! Launch the gallery by clicking the button below.

Grab the March 2011 issue of Cosmopolitan, with Lovi Poe on the cover--in stands now.
Continue reading below ↓
Recommended Videos
1022