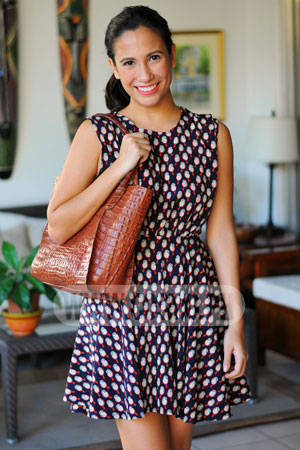 The name Stephanie Zubiri is probably familiar to a lot of you--maybe because she shares the same surname with public official Miguel Zubiri, her brother; perhaps because of her print and TV modeling stints; or it could be because she's the beautiful face behind the restaurants Modern Epicurean Kitchen and Atelier 317.

It is this last bit that got our attention, and made us decide to feature her in our Whip It Up section. The Le Cordon Bleu-trained chef welcomed the Cosmo team into her home and her very own kitchen, where we shot the "Al Fresco Feast" feature (found on p.174 of the April 2012 issue).

During our chat with her, we found out that this girl's other passion, aside from good food, is great fashion! We wanted to see some of her favorite pieces, so after cooking up a feast for our shoot, Stephanie changed into her favorite printed dress (or what she calls her "Angry Birds dress") from Singapore and posed with her brown tote that she bought from an Indian seller here in the Philippines.

"When it comes to bags, I don't really care about the brand. As long as it's nice, the material is sturdy, I'm okay with it," says Stephanie.

Her bag was rather full that day, and we asked her to show us what's in it. Launch the gallery to see this lovely chef's daily essentials.
Continue reading below ↓
Recommended Videos
1915