Given how quickly even expensive shoes can wear out, it can be difficult to justify spending a lot of money on them. But just because you are shopping on a budget doesn't mean your shoes have to look cheap. The key is knowing what makes a shoe look cheap in the first place and realizing that what may look good on an expensive shoe doesn't necessarily look good on one that is P500.
1. The platform is too high.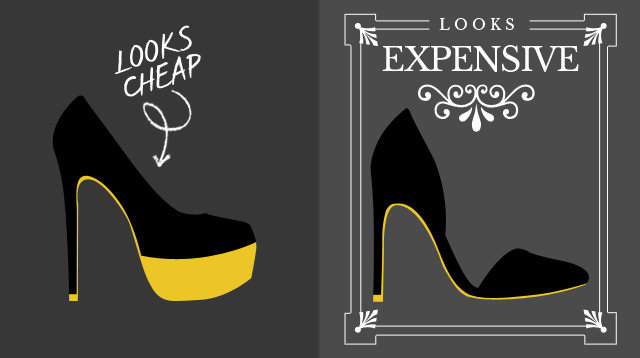 Unfortunately, the higher the platform, the cheaper-looking the shoe, especially in the case of a hidden platform, which often ends up looking more like a hoof with a high heel on the back than an actual shoe. Shoes without any platform tend to look the chicest and most sophisticated. They also tend to be super uncomfortable. If you want the look of a no-platform shoe without the discomfort, look for shoes where the platform is smaller than the actual sole of the shoe. That way it won't be so obvious when viewed from above. If you can't find a recessed platform that works for you, stick to shoes with smaller platforms—about half an inch or less—and in both cases, add a gel insole to the toe area for extra cushioning.
Continue reading below ↓
Recommended Videos
2. They don't fit.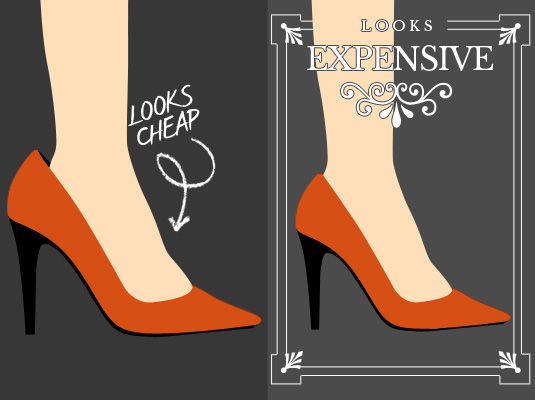 A bad fit not only looks awkward, it affects the way you walk and carry yourself.
No matter how gorgeous a shoe is, if the fit is not perfect, don't buy them. Sure, you could stretch them out a little or add padding to make them more secure, but do you really want to go through all that? And what if it's not enough? Now you've not only wasted your money, but also your time.
3. They've got way too much going on.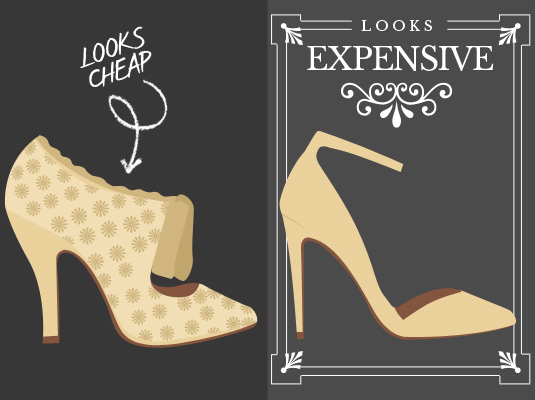 Embellishment is always tricky. Even expensive embellishment can look cheap if it is not done in just the right way. Resist the urge to blow all your money on some sort of wild statement shoe. When you see a really crazy shoe that you like, figure out what the one thing is that you like about it most, and then go online and find a shoe that showcases that attribute best. Choose a clean, classic shape in the color you like, instead of one with a bunch of extras all over it.
4. There are too many prints.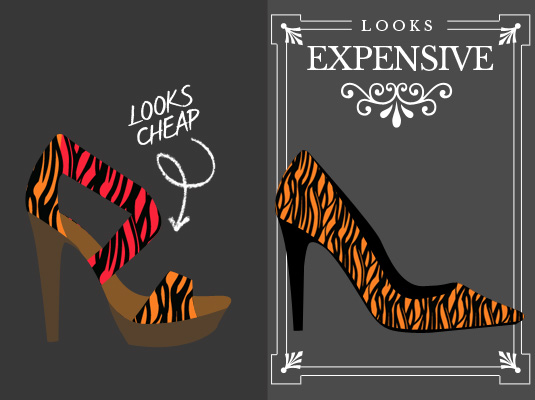 If you are into animal print, choose a shoe with one all-over print instead of a shoe that mixes a bunch of different textures and colors.
5. They are worn out.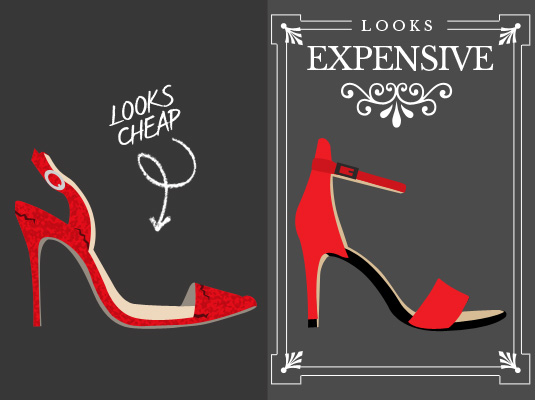 There is nothing sophisticated about walking around with the metal shank sticking out of your heel because you have worn off the little black plastic heel nub. And if you notice a scuff or cut on your shoe, it's safe to assume other people will notice too. Scuffs on suede can usually be buffed out with a toothbrush. You can help pointy-toed shoes maintain their shape longer by stuffing the toes when you are not wearing them and you should use scissors to trim any loose threads that start to poke out around the edges of your shoes.
6. They are too shiny.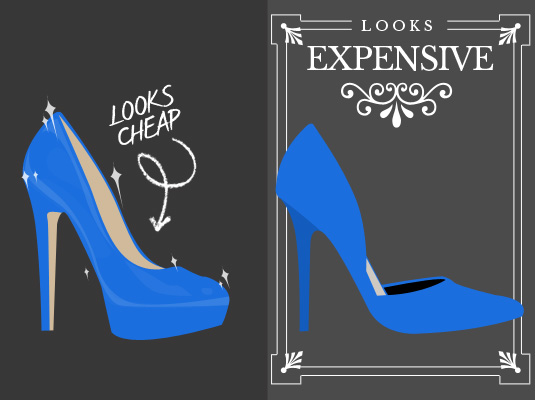 Flat or patent leather looks great in black, white, and tan, but it can start to look really gross really quickly in saturated colors like cobalt blue, deep pink, and dark brown. This is especially true if it is faux leather, instead of the real thing, which is often the case when you are shopping on a budget. If you want your bold-colored shoe to look expensive, stick to suede. Suede holds color really well and faux suede looks almost exactly like the real thing—certainly much closer to it than faux leather looks to real leather.
***
This article originally appeared on Cosmopolitan.com. Minor edits have been made by the Cosmo.ph editors.