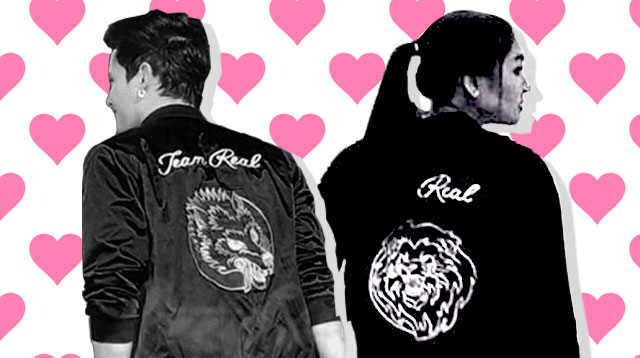 It's probably old news to you that Nadine Lustre and James Reid have killer couple style—they always manage to coordinate in the best ways possible! So when we found out that the two are in the States for the JaDine High On Love tour, we expected sneaky paparazzi shots featuring their outfits to come pouring in. We were not prepared, however, for this:
Matching shirts are sooo last year, you guys. If James and Nadz are any indication, customized couple jackets are the It item to wear with your bae! JaDine's silk souvenir jackets (American soldiers brought this style back as souvenirs from Japan after World War II) come emblazoned with their signature emblems: a wolf for James and a lion for Nadine. And yep, you read that right: Stitched along the top of the jackets is "Team Real" (because JaDine is OBVS not just for show, okay). Kilig!
James debuted his at one of their concerts, while Nadine wore her jacket while out in Las Vegas. They've yet to wear them as a couple, but we're hoping it happens soon!
Here it is from the front:
Now for a super important question: Where can we score one of these??? We're not the only fans who want them!
We need our very own version of this Jadines, calling all the talented jdf hihi#JaDineHighOnLoveWorldTourUS pic.twitter.com/tyxdnp2vs8

— JaDine Wolves (@JaDinexWolves) May 14, 2016
Follow Patricia on Instagram.
Recommended Videos