If you looked at me, you wouldn't think I was a prime candidate for waist training, that fitness trend popularized by the Kardashians that involves wearing corset-like shapewear to cinch your waist. I'm just five feet tall, and at the time I got my first corset, my weight was 104 lbs., and my waistline, 25.5 inches. I'm also the type of girl who loathes working out (PROOF: I wrote this piece) and can never follow a diet plan because she gets hungry every hour. To catch my attention, give me a method that promises results with zero to minimal effort, and I'm all ears. 
So when a friend who runs Waist Trainer Davao in Davao City where I'm based offered to let me try one of her products, I said yes, thinking it might be an interesting challenge to try.
My first waist trainer was a black latex contraption with three rows of hooks down the front that pushed my stomach in and my boobs up; I could barely move in it once my friend and I had secured it all the way up my torso. (Yep, it took two people to fasten the thing on the first try.) I started wearing it for a measly two hours each day, yet had to put it off when I went on a beach trip. I couldn't possibly wear it with a two-piece in Siargao, could I?
Weeks later when I decided to write about my waist training experience, I got the polyester variant since it was more suited for everyday wear (the latex one was recommended for working out). The polyester corset had the same three rows of hooks as the latex one, but it was more flexible, more breathable, and more comfortable, and I could hook it up on my own without a sweat. I was glad to have gotten it because I doubted I'd have time to work out with the latex one anyway, as a single mom who works 12-hour days as a freelance writer and PR girl and basically just collapses into bed once the day is done.
Now, from what I've read so far about waist training, there's no consensus on its effectivity. Medical professionals say it's just a quick fix and doesn't really work, yet people who've actually tried it swear that it does. What better way to find out what the corsets actually do than to try one out myself, right? Plus, I wanted to see what results—if any—it would get me, considering my built-in resistance to diet and exercise.
Continue reading below ↓
Recommended Videos
So there I was, all fastened up like a 16th century damsel. MY BODY WAS READY.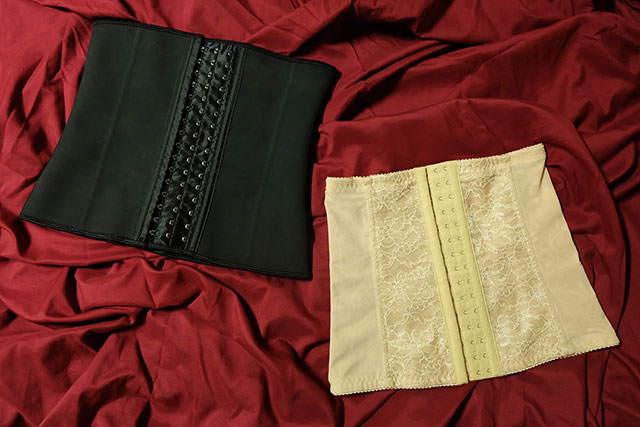 Day 1
I wore the polyester waist trainer for two hours the night I got it. I had worn the latex one—let's call it Letty—for a full day that day, and switching to the polyester piece—let's call it Polly—I felt like I could breathe better, although it was still restricting my movements.  I couldn't slouch because the corset kept my spine straight, and since I was normally the kind of sloucher that would make Quasimodo proud, that was a good thing.
Days 2 – 4
I started wearing Polly before noon so it would help limit my food intake from lunch to dinner. I noticed that keeping Polly on during mealtimes made me more aware of how much food I was shoveling into my mouth because the more I ate, the tighter it felt. And while I continued to snack away throughout the day, I felt full faster.
I went ahead and wore Polly for the ideal length of eight hours a day instead of two, and added an hour each day as recommended for beginners. I didn't feel like I needed to start low because I had been wearing Letty on and off by then anyway (although mostly off than on).
On Day 4, Friday, I was anxious about wearing Polly because Friday is always the busiest day of the workweek for me. I forced myself to keep it on for a full eight hours even though I was a cranky mess by the end of the day and the constant pressure around my core was not helping. Once I finally took Polly off in the evening, it felt like sweet, sweet joy. Like angels were singing down to me from the heavens.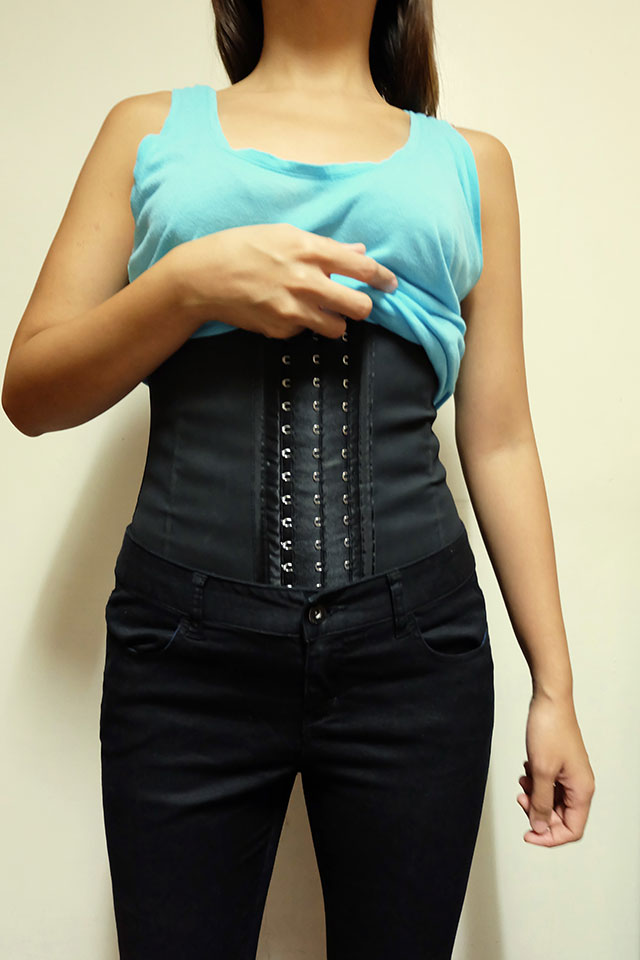 Days 5 – 6
It was a weekend, and in my rush to go off for errands that Saturday, I forgot to wear Polly. Once I was home and had the chance to wear Polly again, I just didn't. After having worn it every day for the last four days, it was starting to feel like work to me. Also, I meant to wear a crop top to a night out with the girls, and I couldn't possibly go out with a band of girdle peeking out.
I felt guilty about slacking off on waist training, though, so I wore Polly for about six hours the next day. It wasn't even a person, and already it knew how to guilt trip me.
Day 7
Day 7 was a Monday, and I went back to wearing Polly for eight hours after that weekend lapse. After a whole stressful day of working, I had to help my son study for his exams in the evening, and for a time I just lay in bed as my son answered math drills, just dying to rip Polly off and sleep already.
Day 8
I felt confident that I could move on to Polly's second row of hooks, so I did. I chose to wear a bodycon dress because I knew I'd look great in it with Polly underneath. I wore Polly for 12 hours straight while out at meetings and events, feeling like a foxy little thing all day.
I couldn't help but check myself out every time there was a mirror in sight. I looked goooood. But upon closer inspection, I noticed that the way Polly lifted my A-cup boobs tended to create a cavity in my bra cups that was super obvious in a body-hugging outfit. Sigh. If only Kim K's boobs came with the package.
Days 9 – 11
I continued to wear Polly for eight hours straight each day. As Friday loomed again, I was more confident that I could keep Polly on even as I scrambled to finish work. But I could feel myself starting to rebel against it because it stood in the way of the comfort I needed to be able to work productively. I'm the type of girl who puts her feet up on the chair while working (at home, of course), so anything that messes with my comfort, you can bet I'll be grumbling about it.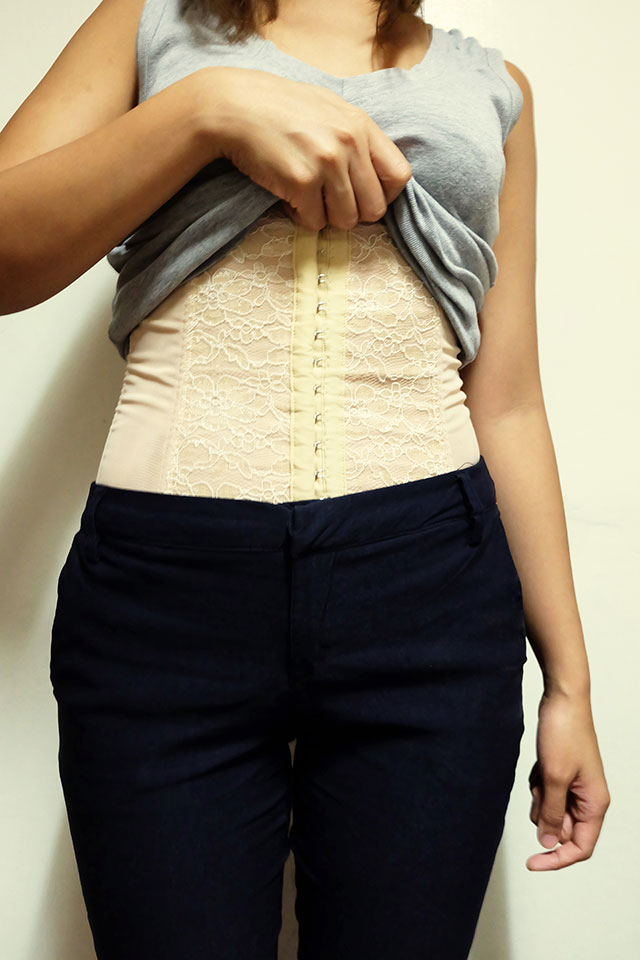 Days 12 – 13
Once Saturday rolled round after a particularly exhausting Friday, I didn't wear Polly at all. I had a lot of work pending, didn't feel rested even though it was a weekend, and I just didn't want Polly fogging up my mood even more. The next day, a Sunday, I got up feverish and feeling like death itself, so Polly had to take a break again.
Days 14 – 15
The two weeks I had promised myself to wear Polly were set to end right around this time. However, I knew there were times I had slacked off on wearing it—hell, I didn't even work out once even though it was a recommended part of waist training—so I decided to wear it a few days longer. In the name of journalism and all that.
Day 16
This was the last day I'd be wearing Polly, so I thought I'd make it count. I advanced to the third row of hooks with no problem and wore Polly for 11 straight hours in a day filled with meetings, errands, and client photo shoots.
As I stopped by a store in my black tank top and A-line skirt, a saleslady chirped about my "sexy" figure. Like a magician demonstrating an illusion, I lifted my top with a flourish to reveal Polly, and she literally gasped in awe. And as I walked trim-waisted and straight-backed around Davao's Chinatown, catcallers called out or suddenly broke into song. Normally that would've pissed me off and made me flip the bird, but that day, I took it as an opportunity to understand Polly's power.
As soon as I got home, I hurriedly took Polly off—11 hours is no joke. I then checked my weight; I had lost 4 lbs. from the time I started. I checked my waistline; I was down to 25 inches. Pretty good for someone who didn't follow a diet or exercise AT ALL.
Days 17 – 19
I was relieved to be done with my two-week waist training run, especially since Friday was nearing again. So I sat at my home desk, slouched once again, put my feet up on my chair, let my modest muffin top spill over the waistband of my bottoms, and stress-ate my way through the following days.
LEFT: With the waist trainer; RIGHT: Without the waist trainer
I guess not having Polly around made me careless about my eating, because the next day…
Day 20
…I stepped on the scale, and voila! I had gained back the four pounds I had lost over the course of my waist training journey, and my waistline had gone back to 25.5 inches.
Did the waist training corset help me lose weight, even without exercise or a conscious diet plan? Yes. But would I continue to wear it daily even when it compromises my comfort? Probably not.
On the upside: I know now that I can count on it to help me shed a few pounds quickly, say, when there's a beach trip coming up or a wedding I have to attend. And now that I've seen how fantastic it makes me look in a tight dress, Polly's definitely staying in my closet. Polly and I, we've had some good, whistle-bait times together.
Where to get waist training corsets:
Slimming Corsets PH, Active Woman (Cebu), Waist Trainer Davao (Davao)
Follow Cheekie on Twitter.