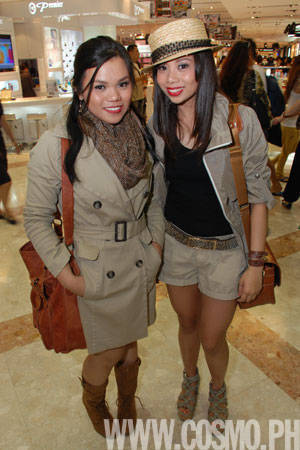 If there's one thing that's certain about Cosmo girls, it's that we looove to shop. And what better way for us to put your shopping skills to the test than to offer up a FREE shopping spree in Hong Kong?

We brought two Cosmo readers to the shopping capital of Asia for an exciting contest that took them all around Hong Kong. The "Visa go Hong Kong Super Shopper" contest provided Gianina Mae Goño and Jacqueline Antonio (a.k.a. Giai and Jacqi) HK$20,000 worth of Visa credit to create a complete fab new look for themselves.

The catch? They only had eight hours to shop, and they had to stick to a randomly chosen theme. Giai and Jacqi got the "Gearing Up For The Outdoors" motif, and spent an entire afternoon hunting for great deals around a city they'd never been to before.

We're giving you all a look into the shopping bags of these readers, as they splurged the money they were given for new outdoor looks. The girls took advantage of the fab finds in local shops around hotspots like Island Beverly and Granville Road, but they also picked up pieces at international retail stores like H&M, Zara, and Marks & Spencer.

They bought everything needed for a total makeover, including clothes, shoes, accessories, cosmetics, and gadgets. Their most extravagant purchase: an iPad 2 for each of them!

Launch the gallery to see all the things the girls bought with their HK$20,000 in Hong Kong!
Continue reading below ↓
Recommended Videos
1480