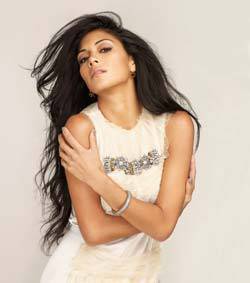 She's a woman who commands full attention wherever she goes. Once the spotlights are turned on, the stunning lead of all-girl pop group
Pussycat Dolls
(PCD)
Nicole Scherzinger
belts out hard-to-reach notes and performs sensual dance steps alongside four other sultry ladies. But aside from her stage presence, it's her gorgeous face, undeniable sex appeal, and upfront style that keeps her audience (both men and women) captivated.
We've seen her in just about any outfit. Chameleon-like, Nicole can transform from a seductress to an enchanting goddess. When performing, you often see her in
skimpy plaid pleated skirts
or her signature tight-fitting
latex leggings
. Her
midriff-baring tops always accentuate two of her best assets
: her decolletage and uber sexy abs.
Meanwhile, when it's time to walk the length of the red carpet, Nicole turns herself into a classic beauty in
elegant designer gowns
.
In the inside pages of Cosmo's April issue, however, we veered from tight-fitting, stretch fabrics we normally see Nicole in, and dressed our cover girl in this season's breezy trends. Nicole wears
comfy dresses and light, flowy ensembles
that give her a more subtle yet still oh-so-sexy appeal for our inside pages.
You, too, can get her style with enough boldness and open-mindedness. Dare to take risks—mixing and matching bold and statement pieces and prints, and always experimenting with different silhouettes and fabrics. And you know that any outfit will look absolutely great on you if you wear it with your fun, fabulous, and fearless confidence, just like Nicole.
To know more about our April 2010 cover girl and see more of her Cosmo fashion, grab Cosmo's latest issue, in stands now!
Continue reading below ↓
Recommended Videos