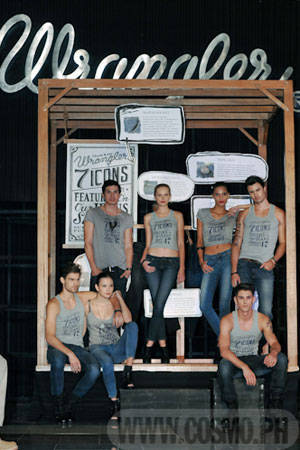 No matter what fashion forecasts predict, there's one wardrobe essential that never goes out of style: basic denim jeans. Available in a variety of cuts and washes, this versatile piece of clothing has been known to flatter any figure and go well with most, if not all, kinds of tops. Whether worn with sneakers, heels, or wedges, any Cosmo gal can totally work this closet must-have, no matter what time of the year.

As the fashion world reveals its latest collections this season, Wrangler recently introduced its newest advertising campaign, "Find Your Edge - Boundless Travel", which unveils functional, comfortable, and travel-perfect outfits that anyone can wear from night to day. The event was hosted by Australian lifestyle TV host Kim Jones.

From comfy tees to checkered polos, tummy-baring tanks to layered tops, and reliable neutrals to splashes of tangerine--matched with chunky heels, wedges, or boots--we saw practical yet edgy ensembles that spell subtle, laidback, and sexy.

Want to see the combos that sizzled on the runway during the Wrangler fashion show? Launch the gallery and see what looks you can pull off from their fall/winter 2012 collection.
2169