Summer is officially in session—and what better way to kick off  the season than with a trip to the beach with the barkada! 
This week, we'll show you how you can make your own lace cover-up perfect for your next weekend getaway. We sought the help of  New York-based Pinay blogger Kirsten Nunez of Studs and Pearls to help us with this project.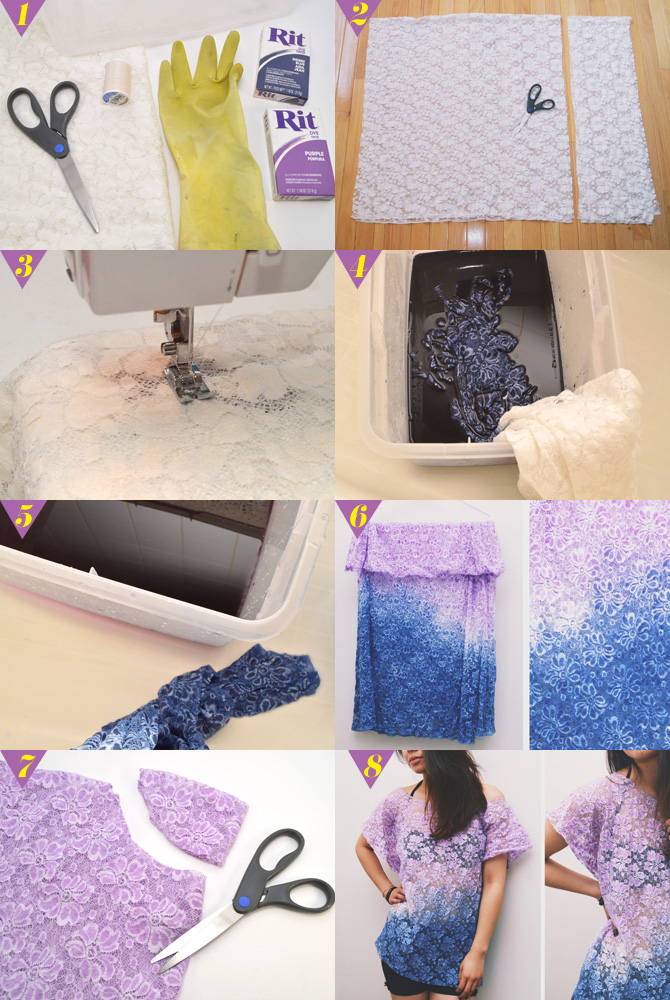 Step 1. You'll need the following supplies: lace cloth, a pair of scissors, two boxes of fabric dye (Kirsten used purple and blue), thread and needle/sewing machine, and a bucket of water.

Step 2.  Fold the lace in half, so the edges meet at the bottom. Cut about 7-9 inches from the side, depending on your desired size and fit. "You can trim the bottom if you want. I wanted my cover-up to be a tunic, rather than  a dress, so I trimmed about three inches from the bottom, too," Kristen says.
Step 3.  About 10 inches from the top fold, sew all the way down to the bottom. Your stitch should be about 1.5 inches away from the side edge, as indicated by the dotted line. Do the same on the other side. 

Step 4. Now for the fun part! Put on rubber gloves, and prepare your dye—dipping half of the lace into it and letting it sit there for 30 minutes.
Step 5. Do the same for the other half of the lace, but use another dye color.
Step 6. Rinse your fabric under running water until you remove the excess color. Toss it in the wash by itself for one cycle, and use regular detergent. "This will rinse out all of the leftover dye from hand washing," Kristen says. Then, hang to dry.
Step 7. Fold the fabric in half—with the left and the right sides meeting each other. Cut out a half circle from the top folded corner, which will be your neck hole. 
Step 8. Rock your new cover-up!
***
For more DIY Style ideas, y'all can hop on over to Kirsten's blog and get crafty!
Continue reading below ↓
Recommended Videos