There are hundreds of conditioners in the market today. And almost all of them claim to hydrate, nourish, smooth out, and treat damaged hair after a few days/washes. That's a lot of claims, right? Which is why we were shookt when Dove made a *bigger* claim by saying their conditioner could do all those things after just one minute.
Meet the Dove 1 Minute Serum Conditioner! You're probably wondering if it does transform locks in just 60 seconds. Well, to find out we tasked one member of the Cosmopolitan Philippines team to try it out!
Tester
Name: Mixi Ignacio
Product tested: Dove Intense Repair 1 Minute Serum Conditioner
Hair Type: Dry, damaged, and colored
Haircare Routine: I shampoo my hair every day, but I only use a conditioner every other day. I use a hair mask once a week when my locks become too dry and stiff.
What is the Dove Intense Repair 1 Minute Serum Conditioner?
I chose the Dove Intense Repair 1 Minute Serum Conditioner because it is infused with coconut, almond, argan, and sunflower oils, and vitamin E. These ingredients will be able to thoroughly and intensely nourish and treat my thick and damaged mane. How? It reverses the results of hair damage—which can be from bleaching, dyeing, and heat-styling—by helping rebuild each of the strands' structure. This leads to the locks becoming stronger, healthier, and more resilient.
Continue reading below ↓
Recommended Videos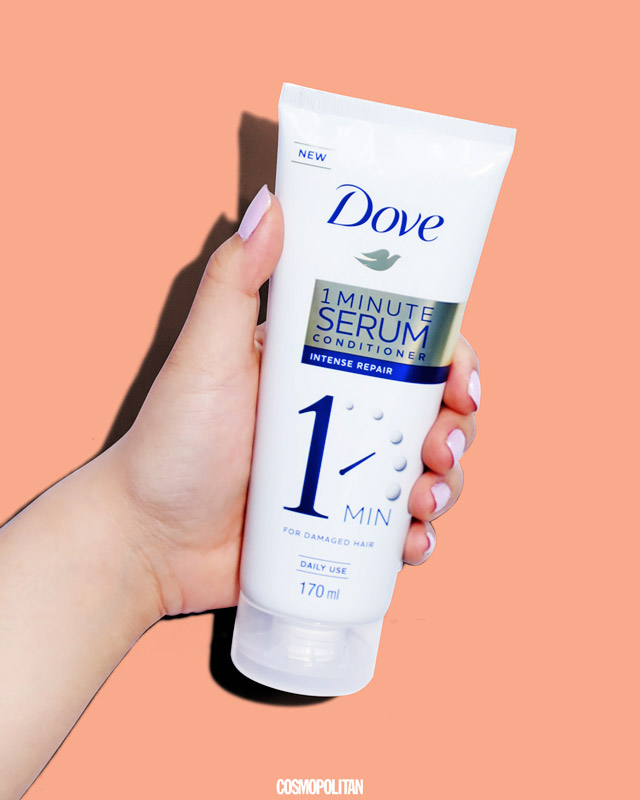 But if you have a different hair type than mine that requires a lighter formula, don't worry! Dove has two other variants: the Dove Ultra Light Repair 1 Minute Milk Gel Conditioner is perf for those with normal to dry, damaged hair; and the Dove Weightless Repair 1 Minute Foam Conditioner is suitable for those with fine strands.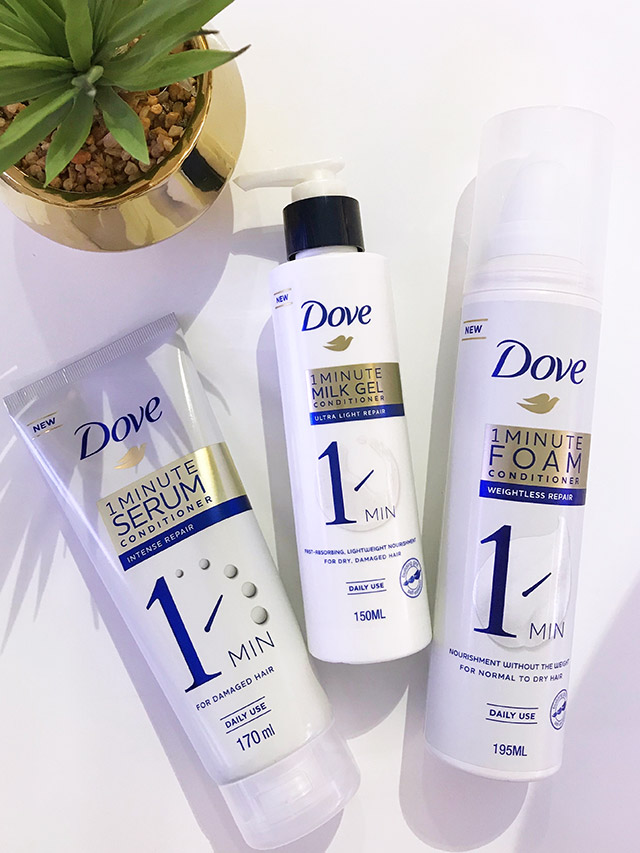 Price
The Dove Intense Repair 1 Minute Serum Conditioner costs P159 for 170ml and P269 for 340ml.
Where to buy
You can buy it at all supermarkets nationwide, Lazada, Watsons, SM Beauty, Robinsons Department Store, Landmark Department Store, and Zalora. 
Scent
The Dove 1 Minute Serum Conditioner (unsurprisingly) smells like their classic bar of soap, and its scent reminds me of freshly washed clothes. The fragrance is something that will make you feel comforted and nostalgic. It's not overpowering or too heavy which makes it a dream to apply on the hair.
Texture
When I hear the words "nourishing conditioner," I automatically assume it will be a thick, heavy hair care product that needs to be thoroughly washed off in the shower. Emollient conditioners clog hair follicles and make the hair greasy—two things I hate. The Dove 1 Minute Serum Conditioner is filled with hydrating ingredients and oils, so I was skeptical at first. I am relieved to report that the Dove 1 Minute Serum Conditioner is not like that at all! Its texture is really lightweight and once it's washed off, it doesn't leave a slick residue.
Ingredients
Water, Cetearyl Alcohol, Dimethicone, Behentrimonium Chloride, Dipropylene Glycol, Glycerin, Perfume, Gluconolactone, Trehalose, Helianthus Annuus (Sunflower) Seed Oil, C10-40 Isoalkylamidopropylethyldimonium Ethosulfate, Sodium Sulfate, Tocopheryl Acetate, Argania Spinosa Kernel Oil, Cocos Nucifera (Coconut) Oil, Prunus Amygdalus Dulcis (Sweet Almond) Oil, Mineral Oil, Amodimethicone, Disodium EDTA, PEG-7 Propylheptyl Ether, Phenoxyethanol, Cetrimonium Chloride, Cyclotetrasiloxane, Magnesium Nitrate, Methylchloroisothiazolinone, Magnesium Chloride, Methylarachidic Acid, Methylisothiazolinone, Sodium Chloride, Acetic Acid
How to use it:
After washing your hair with your favorite shampoo, rinse it well, and squeeze out the excess water. 
Apply the Dove Intense Repair 1 Minute Serum Conditioner from the middle to the ends of your hair. (Ed's note: The scalp doesn't really need conditioner because it has natural oils that are enough to keep the top region of your hair healthy.)
After one minute, wash the product off.
Either air-dry or blow dry your tresses to feel and see the difference.
Experience
I spent my whole weekend swimming in the beach and drenching my strands in saltwater. My hair was a knotted mess, and it looked like it was dying for hydration. I thought it was the perfect time to test the Dove 1 Minute Serum Conditioner. I'm not going to lie, though, I didn't have high expectations for this product because I thought it was just ~another~ conditioner with pretty packaging.
So on Monday morning, before I went to work, I took a shower, shampooed my locks, and used the Dove 1 Minute Serum Conditioner. After, the most amazing thing happened between my hairbrush and my mane: The brush easily glided through my strands! No tangles, no pulling, nothing! 
I air-dried my hair in front of a fan and once it was no longer damp, the texture of my locks was the softest and bounciest it has ever been. Wow! It looked a lot less buhaghag and more manageable. It also looked more voluminous, and it didn't feel heavy at all. I couldn't even get over how my tresses smelled. The scent was so fresh, my locks looked "alive!"
When it came to commuting, the Dove 1 Minute Serum Conditioner proved how capable it was at protecting your hair from pollution and sweat. Before, my hair would become stiff once I sweat. (I don't know why that happens, it's just my hair's texture.) But after using Dove, that was not the case. My strands still felt soft and smooth. *Mind blown*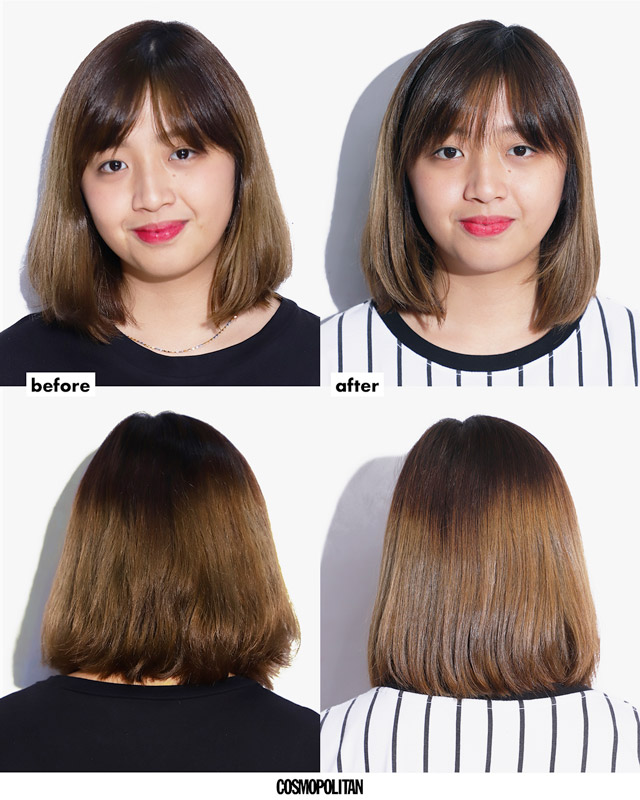 And this may be a little TMI, but as of writing, I haven't washed my hair in over 30 hours and it still smells and looks GREAT. 
Is the Dove 1 Minute Serum Conditioner worth it?
Of course! It's a lightweight conditioner that I learned worked better than both my old conditioner and hair mask. Its formula doesn't make my scalp and hair greasy, which is perfect because why would anyone want to have slick strands in our weather?
Would I repurchase it?
Definitely! It may be on the pricier side, but its formula is so potent that I don't actually need a lot to coat all my strands. So as someone with shoulder-length hair, I'll actually be able to get a lot of washes out of a single 340ml bottle. ;)