Over the years, we've spotted so many products proclaiming in BIG, BOLD LETTERS that their shampoos, conditioners, and masks contain ~keratin~. It's as if this "magic" ingredient is the secret to answering all of our hair woes. 
But, we're sure a lot of you are asking: What exactly is keratin?
Keratin is actually a protein that's naturally found in hair, skin, and nails. For hair, specifically, keratin is the "structural building block" that strengthens the locks to prevent breakage and damage. 
If you often color your hair, chemically treat it, or heat-style it, then keratin-infused hair products are perfect for you to keep your hair in top shape. Keep scrolling to find out why!
It repairs damaged hair.


Regularly subjecting your tresses to dyes, chemicals, and hot hair tools can lead to brittle and damaged hair. Using a hair product like the Cream Silk Triple Keratin Rescue Ultra Conditioner can help replace and rebuild the keratin your strands lose to restore it to its healthy state.

ADVERTISMENT - CONTINUE READING BELOW ↓

It eliminates frizz.


Frizz is often caused by constant heat-styling or lack of moisture in your locks. Nourishing keratin-infused hair products can tame your strands by smoothing down the cells that make up your hair follicles and making them more elastic and bouncy.

 

It leaves hair softer and shinier.


Products with keratin are able to treat your tresses from within, so over time, this will lead to softer, and healthier-looking mane.

Hair becomes more manageable = less heat-styling.


If you often (we mean every day) use a hair straightener to reduce frizziness, try using a keratin-infused shampoo and conditioner. They can smoothen out your tresses so you won't have to spend a lot of time straightening your locks. And the less time your strands spend under extremely high temperatures means your follicles won't be as dry and brittle anymore—yay!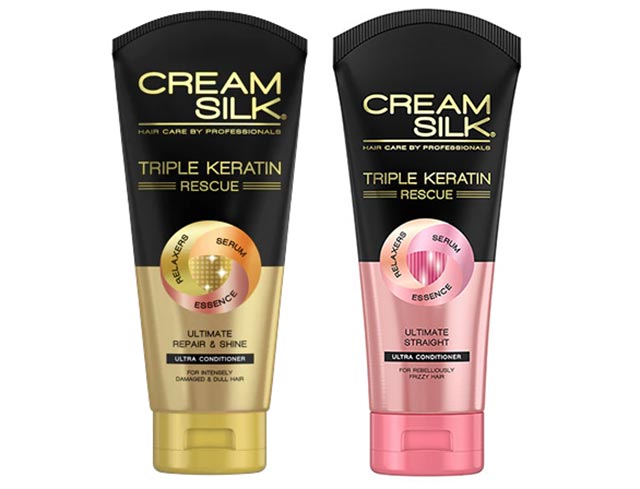 The Cream Silk Triple Keratin Rescue Ultra Conditioner is available in two variants: Ultimate Straight and Ultimate Repair & Shine. You can buy them at Watsons, Lazada, and leading supermarkets nationwide for P149/170ml and P259/340ml.