Studio 23's popular lifestyle show
F
may have wrapped up ten years ago, but the three women who hosted it back then remain among the country's most remarkably stylish women. Olay Total Effects had the idea of hosting a reunion for
Daphne Osena-Paez, Cher Calvin, and Angel Aquino
recently at The Manila Peninsula. The three ladies were all excited to see each other again and to talk about one of their favorite topics, beauty, as they did a decade ago.
Looking fresh, fit, and fabulous as they did ten years ago, the F Girls spoke of how they maintain their youthful beauty. And since reunion season is upon us as the year draws to a close, Cosmo asked these reunited ladies
how to be at your beauty best when you face old classmates, friends, and family
. They shared some easy beauty tips so you, too, can look as good when reunion day comes.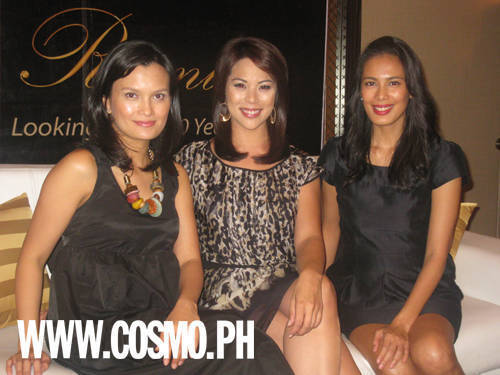 "
I exercised, ate right and light, rested and called my LA Pinoy designers to outfit me
so I could look my best before I jetted home on Philippine Airlines!" shared Cher.
Angel suggests "
a daily swim for exercise and color, a visit to the salon for a new hairstyle and  nail care, the spa for a body scrub and some relaxation the day before, and the dermatologist just to check on my skin
and complement my daily skin care regimen."
Daphne seconds Angel's suggestion to visit a dermatologist: "If you haven't yet, this would be the best time to go to a dermatologist,
get a general cleaning and ask for advice on which areas need help the most
."
Even if they have different beauty techniques for looking young and great, all three ladies agree that it's important to use an anti-aging cream. As Daphne puts it, "It's never too early to start preventing the signs of aging.
Use an anti-aging cream that is appropriate for your age and one that can multi-task—has sunscreen, anti-aging, reduces fine lines and age spots
but has no down time like Olay Total Effects."
With these simple, no-fail tips, you'll be ready to face old schoolmates and relatives in any reunion in no time. Brace yourself for the compliments.
Continue reading below ↓
Recommended Videos