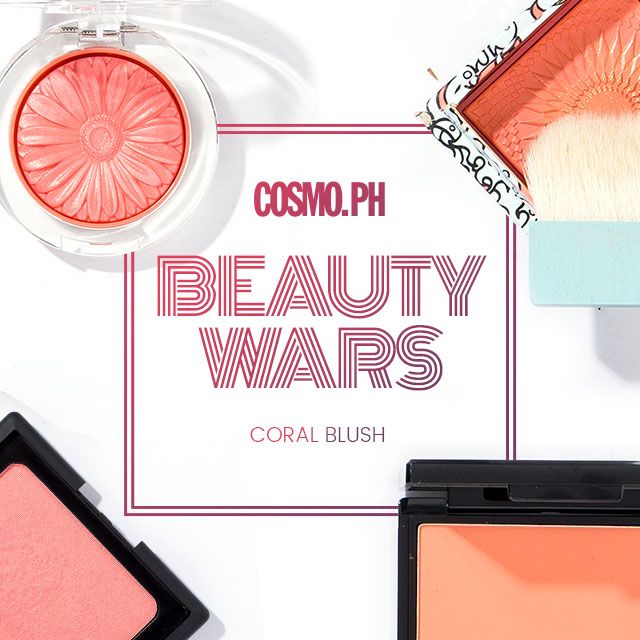 The cool weather calls for rose-toned blushes, while brightening pink tones are for gloomy days. But when it's hot and humid and the sun feels like it'll never set, it's time to bring out the coral shades—the color nicely mimics the warm tones of the sun. Yup, for our latest Cosmo.ph Beauty Wars review, we're taking on trendy coral blushes for that healthy summer glow.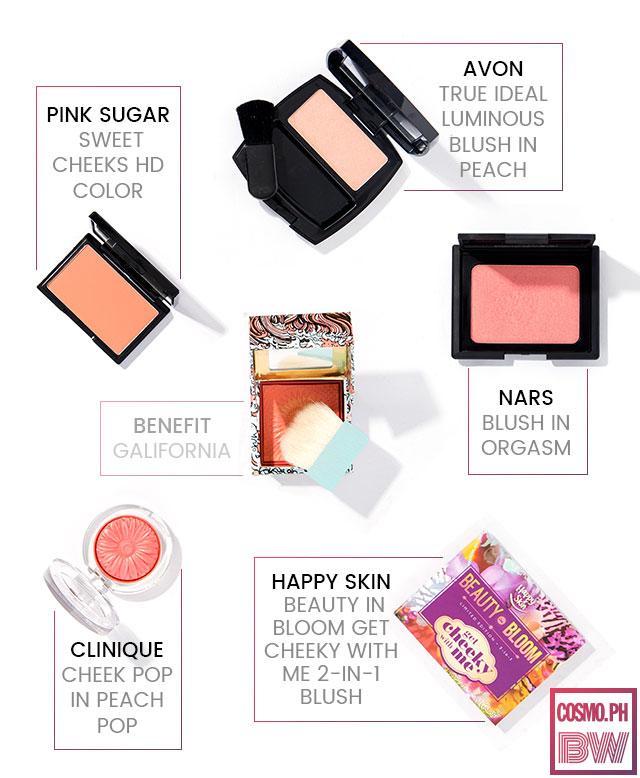 ***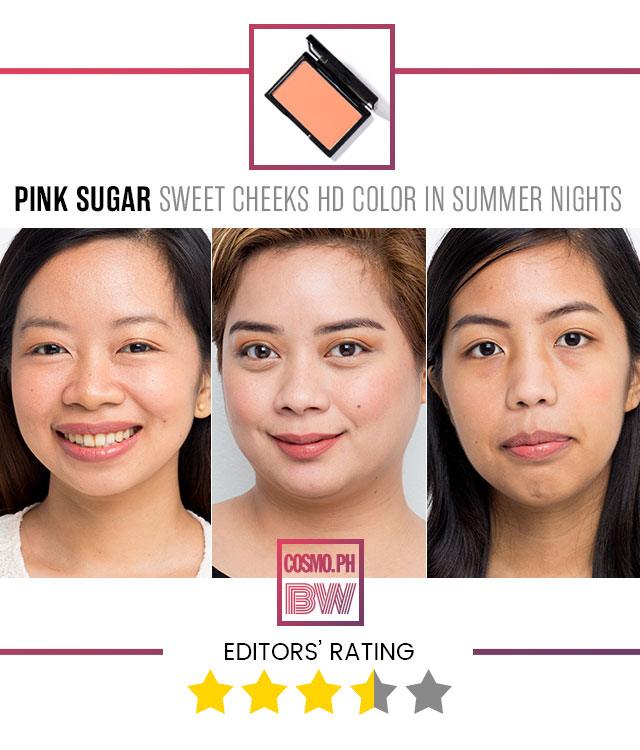 Continue reading below ↓
Recommended Videos
Pink Sugar Sweet Cheeks HD Color in Summer Nights
Price: P299
Where To Buy: The SM Store Makati
What It Is: A blush compact that's easy to store in your makeup bag! It's infused with aloe vera and vitamins A, C, and E; and it softly enhances, sculpts, highlights, and nourishes your skin for a high-definition glow all day long.
Why We Love It: Summer Nights looked beautiful on our light and medium skin tones, but on those of us with deeper skin tones? It wasn't ideal at all. And while the formula was pigmented and wore well for hours, it did kick up a little too much powder during application, resulting in coral-covered pants (that's not how we like our blushes, BTW).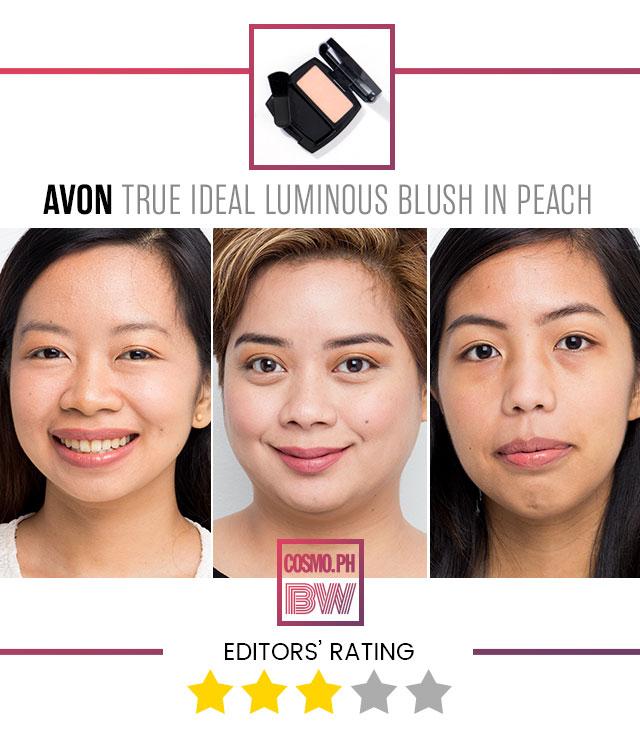 Avon True Ideal Luminous Blush in Peach
Price: P370
Where To Buy: Avonshop.ph

What It Is: Thanks to Avon's True Color technology, the shade you see in the pan is what will show up on your face. Its silky formula will instantly leave your cheeks, as the name suggests, ~luminous~.
Why We Love It: Maybe our skin tones don't suit this color because the blush barely showed up on our cheeks, even on those with light complexions! But after building it up a few times, we were finally able to achieve a soft glow on our cheeks. Yay.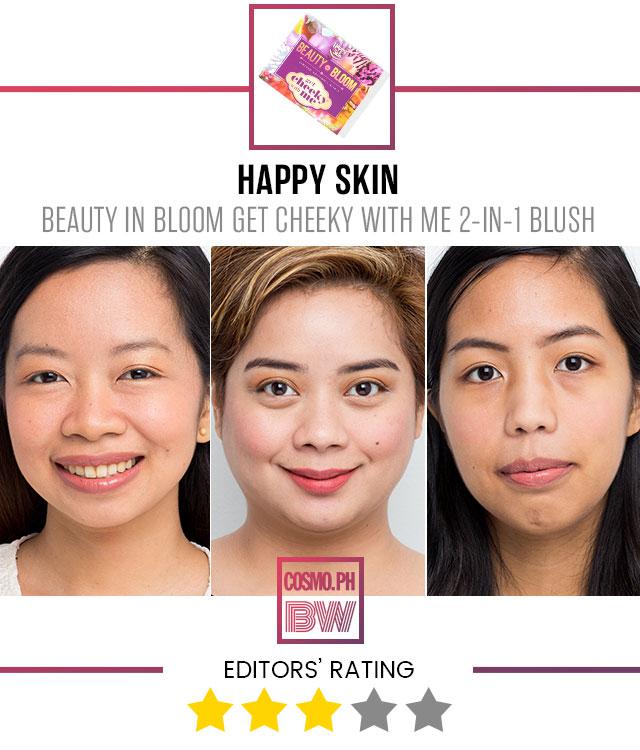 Happy Skin Beauty In Bloom Get Cheeky With Me 2-in-1 Blush
Price: P799
Where To Buy: The SM Store, Beauty Bar, Rustan's Shangri-La Plaza

What It Is: It's the ultimate blush for any bride-to-be! The combination of peach and pink shades creates a luminous coral that lasts all day long, and the formula won't dry out your skin. Plus, if you're ever in need of a blush cheat sheet, the packaging comes with one so you can achieve the perfect flush for your face shape.
Why We Love It: The color combination was gorgeous on all our skin tones, but we couldn't help but feel a little "cheated" with the size of the blush—trying to evenly coat our brushes with product was a real pain! Regardless, we thought the blush lasted a decent amount of time and had good pigmentation; in other words, it was okay. Not exactly mind-blowing, but we wouldn't mind keeping one (or two) in our makeup collection!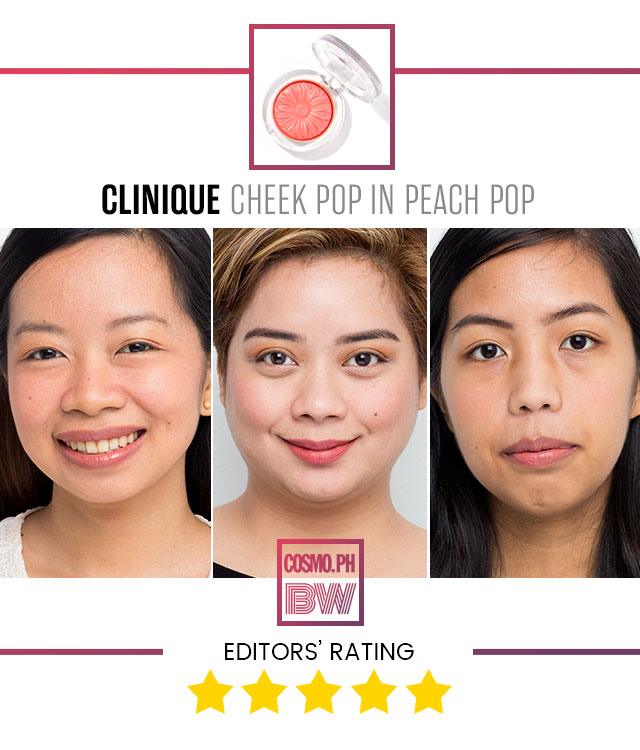 Clinique Cheek Pop in Peach Pop
Price: P1,550
Where To Buy: Rustan's, SM Megamall, SM Aura

What It Is: Vibrant yet natural, this silky blush delivers color to the cheeks to make it look like you're blushing from within.
Why We Love It: Now we know why every beauty blogger and vlogger is always raving about this. When we wore Peach Pop, a little really went a long way, and that was for all our skin tones! Plus, it stayed true to its color for hours and gave our cheeks that "just-pinched" look—making it well worth the splurge.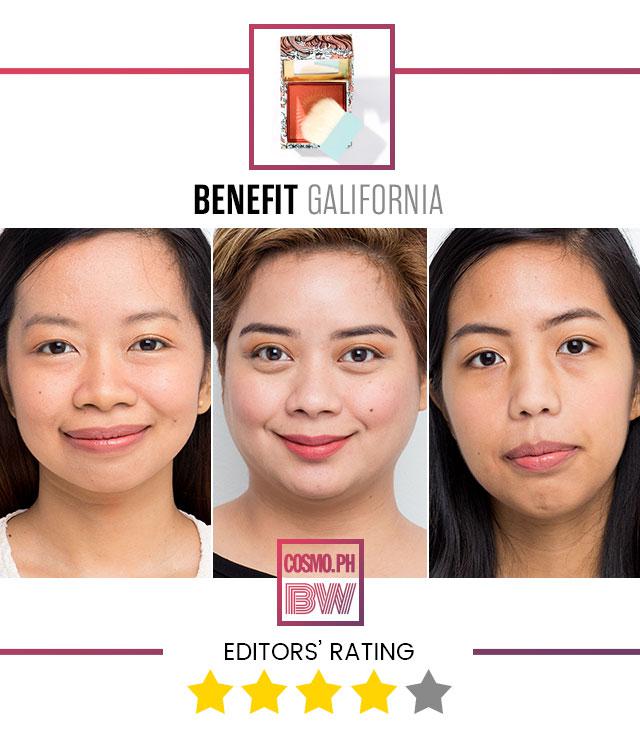 Benefit GALifornia
Price: P1,600
Where To Buy: Rustan's, SM Megamall, SM Aura

What It Is: A blush that's "part sun, part fun," GALifornia combines a bright pink with shimmering gold flecks to capture the warmth of California, USA. It comes in Benefit's classic box packaging, but the artwork on it is unlike any of their past blushes: fun, youthful, and something you would proudly put on your vanity!
Why We Love It: When we first looked at this, we couldn't help but think of a certain cult favorite—NARS Orgasm. As it turns out, we were right! Just like Orgasm, this suited a wide range of skin tones and gave our cheeks a healthy pink sheen. We also liked how it was sheer at first, so we could build it up to the intensity we wanted.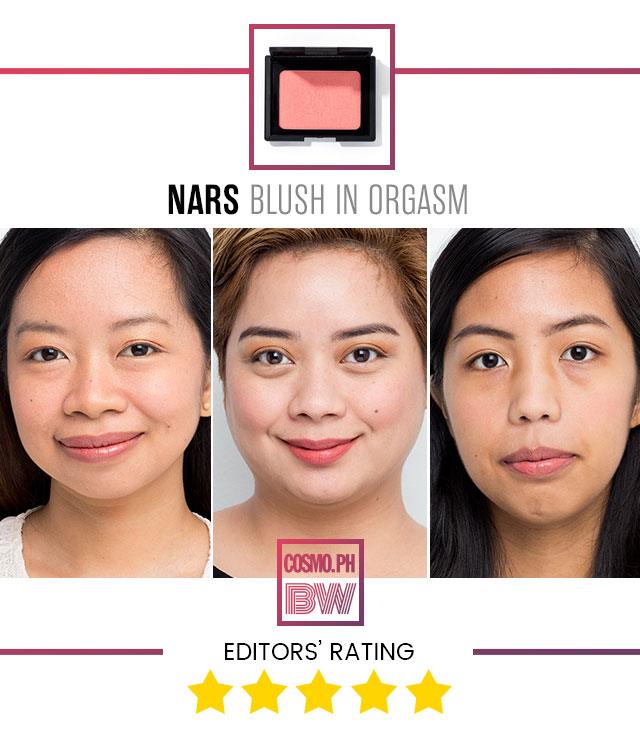 NARS Blush in Orgasm
Price: P1,700
Where To Buy: Rustan's Department Stores

What It Is: Loved by beauty addicts and professional makeup artists, the beautifully sleek Orgasm is a must-have blush because it suits fair, light, warm, and deep complexions. A light touch is all you need as that will already deliver a high-intensity hue on the cheeks!
Why We Love It: They say you should never put shimmer on your cheeks because it can emphasize pores, but we're calling BS on that claim—Orgasm is filled with golden shimmers and it didn't do that at all. Instead, its fine powders softly diffused our imperfections and left our cheeks looking healthy and illuminated.
ARTWORK: Jico Joson
Follow Tisha on Instagram.