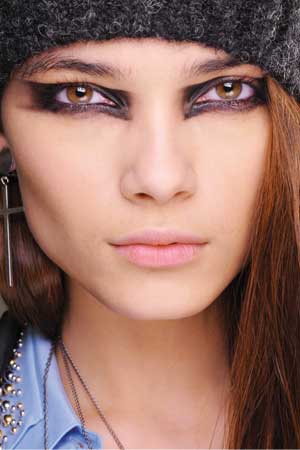 Now that August is half gone and the first of the -ber months is fast approaching, we here at Cosmo have been slowly dishing out what's hot in fall beauty. We've already listed down the season's four new makeup trends, as well as some must-have kikay picks to help you update your look.

Given the four fall faces that MAC's Director of Artistry, James Molloy, presented, Arti-Tech--the look that makes bold use of eyeliner--is one of the most deceiving. As a general rule, putting eyeliner on can be pretty tricky--be it with an eye pencil or with a liquid liner. One has to constantly deal with quivering hands and smudges that eventually have you throwing the pencil or wand away in frustration.

During our talk with James, he gave us some helpful suggestions on how to easily adapt the Arti-Tech look into your makeup and how eyeliner should really look on your face.

1. Eyeliner should not be confused with eyeshadow--it doesn't cover your whole eyelid.

"Tailor the look to your eye [shape]. Eyeliner shouldn't look like a stamp, it should look like it belongs on the eye."

2. The new graphic eye is all in the shape.

"For the graphic eye, it's applying your everyday eyeliner but altering the shape, like taking away the flick at the end and you just go for something a little bit more squared off."

3. While trends are all well and good, don't let them dictate your look.

"What I don't want people to do with trends is feel like they have to dramatically revise their makeup look. It's taking what you do naturally and altering it to give you an essence of trend."