It seems like celebs are coming out with beauty brands left and right, and the latest is Kris Bernal's SHE Cosmetics! The actress launched her makeup line in February 2019, and its initial offering is a collection of five liquid lippies: The Liquid Cushion Matte Lipsticks. Of course, we had to try it (We'd be crazy not to!)!
Read about what we think of Kris' makeup debut: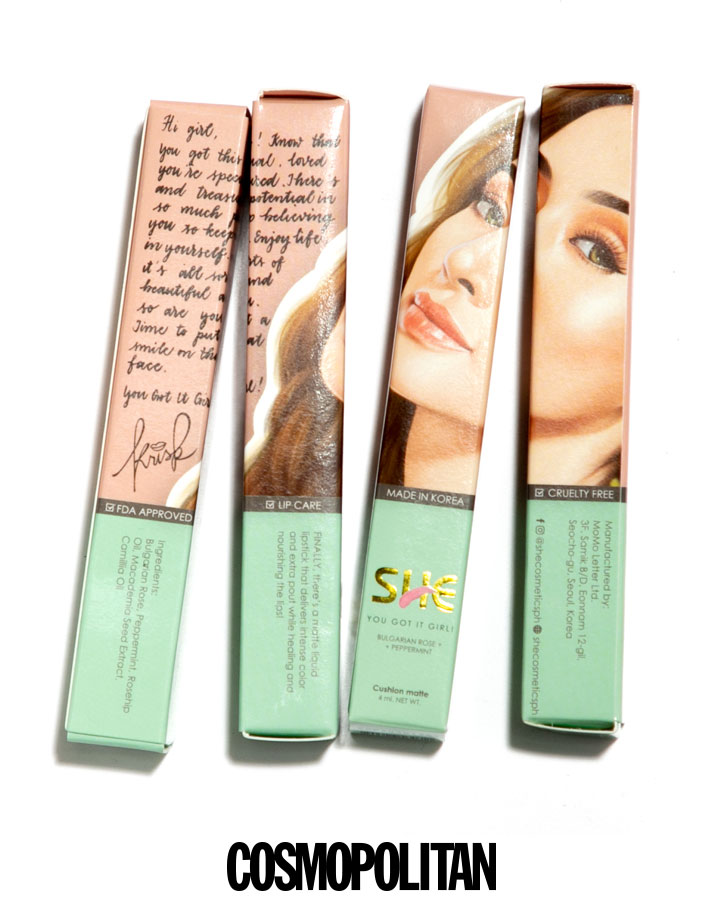 ADVERTISMENT - CONTINUE READING BELOW ↓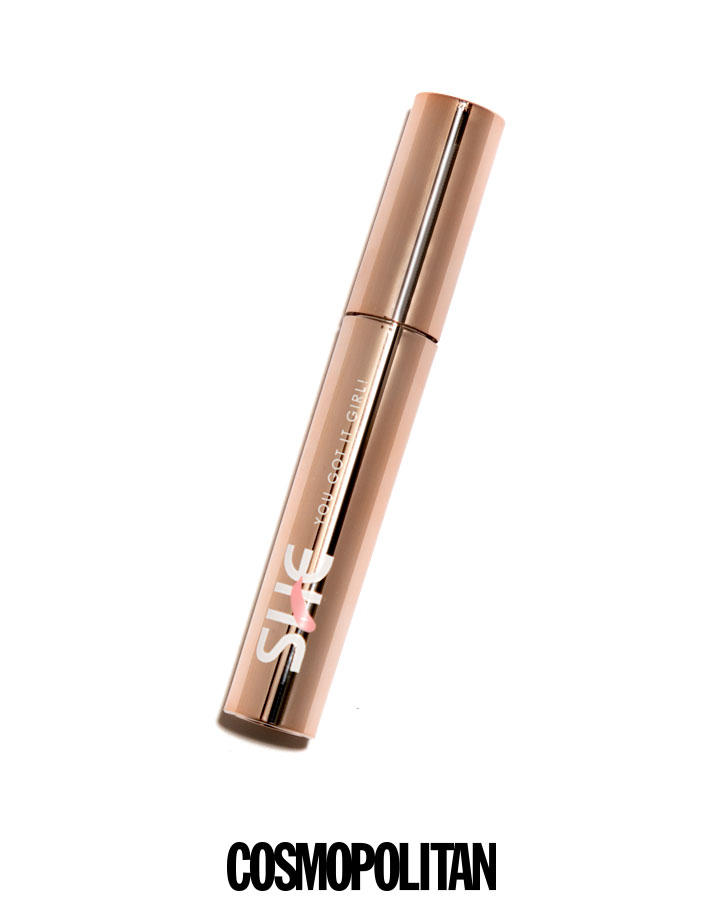 What is the SHE Cosmetics Liquid Cushion Matte Lipstick?
SHE Cosmetics is the brainchild of actress, endorser, and entrepreneur Kris Bernal. The brand's first products are the Liquid Cushion Matte Lipsticks. These lippies are all made from Korea, and are cruelty-free (not tested on animals) and paraben-free.
The SHE Cosmetics Liquid Cushion Matte Lipsticks come in five shades, with each lippie providing a pigmented swipe. We'll talk more about its formula later!
Go Girl - deep fuchsia
Off She Goes - coral pink
She Lovin' It - flamingo pink
She's On Fire - ruby red
So She-ic - cinnamon brown
What are the ingredients of SHE Cosmetics Liquid Cushion Matte Lipsticks?
Kris calls it a two-in-one product because the SHE Cosmetics Liquid Cushion Matte Lipstick provides color and lip care. Each lipstick contains lip-loving ingredients that provide hydration and nourishment. 
Bulgarian Rose extract - This provides a lovely scent and has antioxidant properties, too.
Peppermint extract - Aside from the minty sensation, this gives lips a natural plumping effect.
Rosehip oil - A powerful naturally sourced ingredient that aids in healing and improving skin's elasticity.
Macadamia seed extract - A nourishing ingredient that helps in hydration.
Camellia oil - This floral oil moisturizes lips without the heavy feel. 
Vitamin C - This acts as an antioxidant.
Like any other product, it's best to do a patch test first on your skin to see if you'll have an allergic reaction. This has macadamia seed extract, which may be an allergen for those with nut allergies. 
What does it smell like?
Since it contains Bulgarian Rose extract, you'll have a whiff of sensuous rose with every swipe of SHE Cosmetics Liquid Cushion Matte Lipstick. 
How does it feel on the lips?
Once the product touches your lips, you'll get a tingly sensation, thanks to the peppermint extract. Although it has a matte formula, it doesn't feel drying on the pout at all.
Is it easy to use?
Because of its diamond shape applicator, you won't need a lip brush to precisely apply the lipstick on your lips. It also picks up enough product, so you'll never find yourself with a messy blob you need to wipe off. The formula easily glides on the lips, making application effortless.
ADVERTISMENT - CONTINUE READING BELOW ↓
How much does each She Cosmetics Liquid Cushion Matte Lipstick cost? Where can we buy it?
Each lipstick costs P399 each, and you can buy it from their official website, shecosmeticsph.com. Hopefully, Kris eventually gets a spot in a department store so we can swatch the lipsticks in person!
See our review of the SHE Cosmetics Liquid Cushion Matte Lipstick here:
Ira
Lipstick preference: I'm into pigmented liquid lipsticks more than the bullet types. I also like bold hues, because it changes my look with little effort. But when I'm wearing bright pink eyeshadow, I would swipe on a warm nude lippie to balance my MOTD.
First impressions: I've tried tons of liquid lipsticks, but the SHE Cosmetics Liquid Cushion Matte Lipstick is the only gloss-free lippie that has a minty sensation and plumping effect. The tingly feel will only last a few seconds, so you'll experience comfortable wear the whole time it is on your lips.
Favorite shades: I'm partial to Off She Goes, She Lovin' It, and So She-ic. I believe these hues flatter my medium skin tone. I'll wear Off She Goes (coral pink) on days I prefer to do a no-makeup look. She Lovin' It (flamingo pink) can be paired with my signature Barbie pink eyeshadow look. So She-ic  (deep reddish brown) can be my power lippie. Its toasted cinnamon hue can boost my mood and confidence on days when my schedule is full of meetings.
Overall experience: Each lipstick envelopes my lip with rich pigment. I just needed one layer to coat my entire pout! Although it kind of faded after eating, the formula left a stain. There was no pressure for me to re-apply.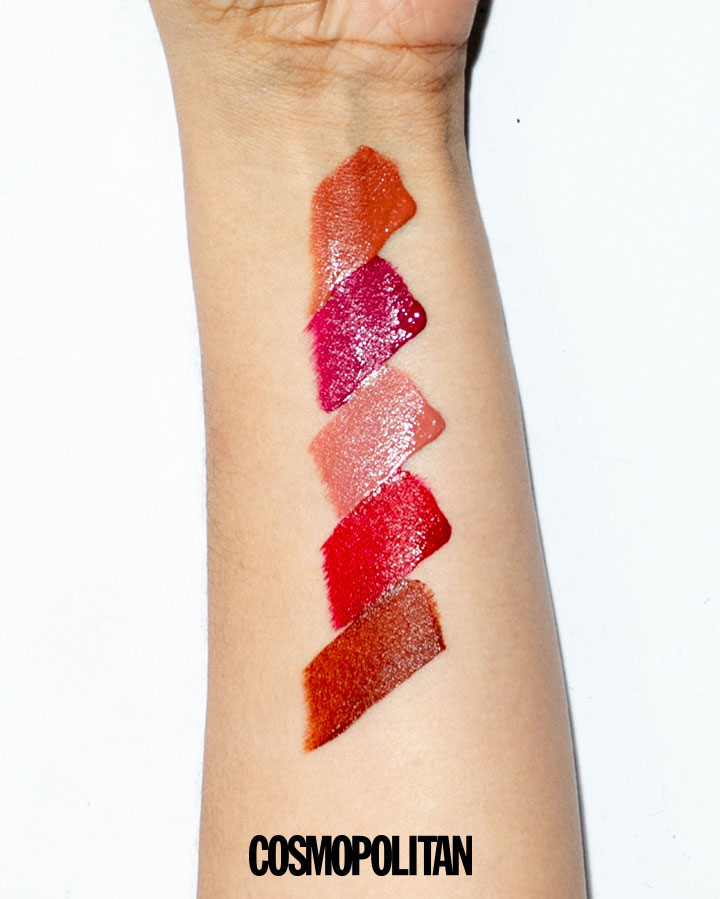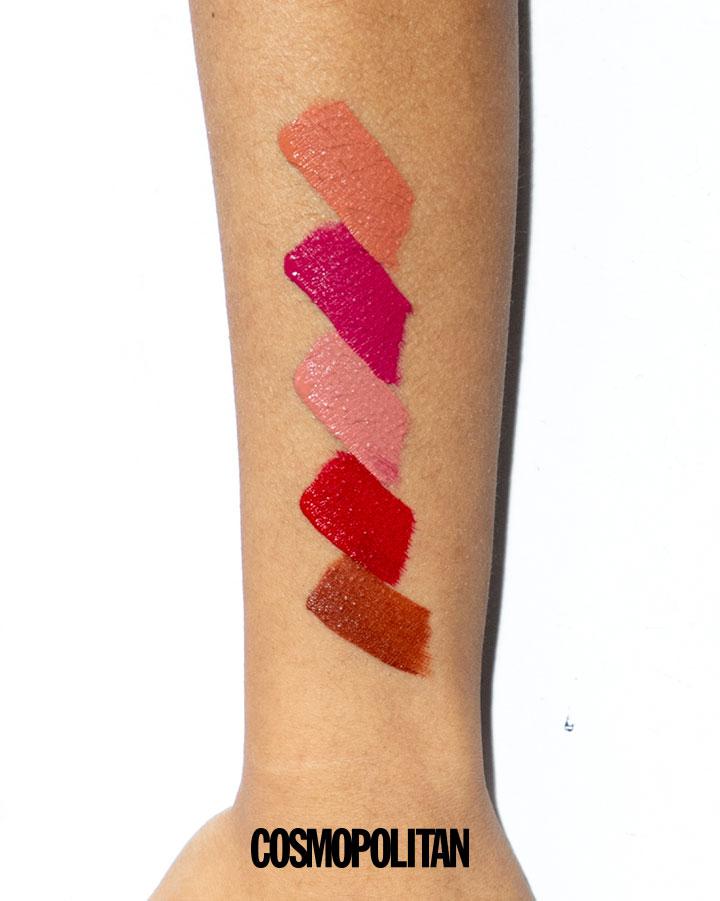 ADVERTISMENT - CONTINUE READING BELOW ↓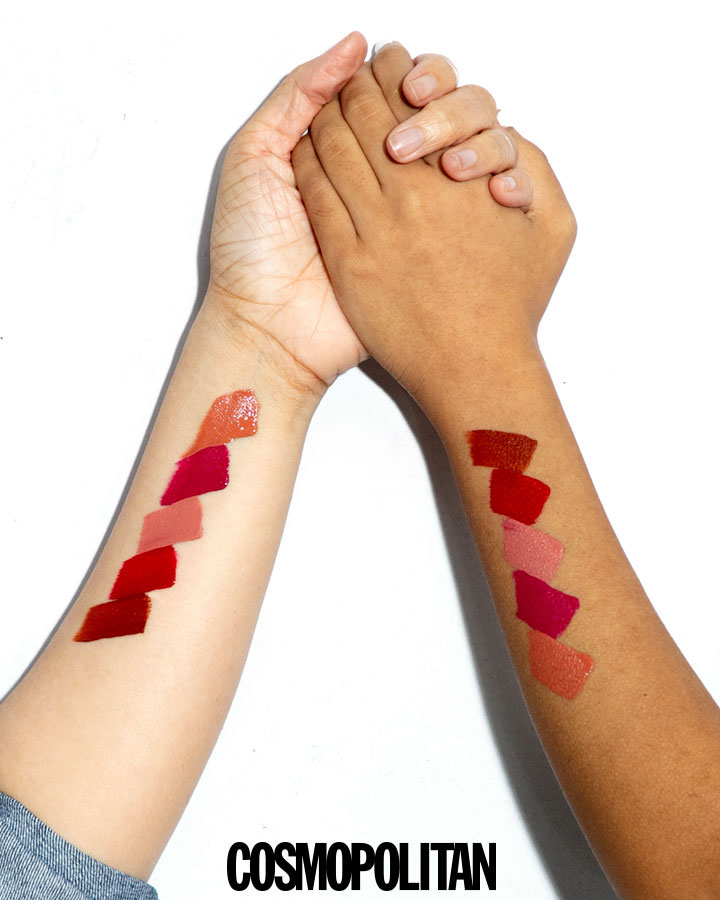 Tisha
Lipstick preference: I like bullet or crayon-type lipsticks because honestly, I've always found liquid lipsticks to be too drying on my lips. I just never got used to the feeling of cement on my pout, drying it out so much that it resembles a desert. Bullet/crayon lippies never give me that feeling, even the matte versions! In terms of shades, I like nude and MLBB colors because they're low-maintenance. Whenever I drink or eat, I don't worry as much about it transferring or smudging because they're so subtle.
First impressions: I'm not going to lie, I was freaking out a little bit while applying the liquid lipstick because the way the mint tingled on my lips was really similar to how it feels when I'm having an allergic reaction to something I ate—hot, yet cold at the same time, and only on specific parts of my pout, not the whole thing! Luckily, it was just the Peppermint extract doing its job.
As a beauty girl of Cosmopolitan, I've tried countless liquid lipsticks. My favorite consistency is a thin, lip tint-esque formula that smoothly glides over lips, leaving only a layer of color. And SHE Cosmetics' formula was exactly this! I loved how when the lippie completely dried down, it didn't feel like it was sucking out all the hydration from my lips. It just prettily cloaked it in rich color. I noticed immediately, though, that it's not transfer-proof. But that's okay with me!
Favorite shades: Surprisingly, I liked Go Girl (the vibrant fuchsia) and Off She Goes (a coral pink), but combined. When I mix the two shades, it creates a beautiful medium pink hue that no lipstick has ever been able to give me. Plus, I found the nude shades of the collection were too light for my complexion.
Overall experience: I am pleasantly surprised with SHE Cosmetics' liquid lippies! Because there are already so many in the market, I often hold new liquid lippie releases to a higher standard and this one definitely passed all my criteria. I've noticed how with many liquid lipsticks, once I eat or drink, my pout takes a turn for the worse. Meaning, it starts to look wrinkly and shriveled; but with SHE Cosmetics, it still looked hydrated and healthy after! What is this sorcery? TBH, if all liquid lipsticks were as hydrating and lightweight on the lips as this, I would've become addicted a long time ago.
ADVERTISMENT - CONTINUE READING BELOW ↓
Is the She Cosmetics Liquid Cushion Matte Lipstick worth buying?
Um, duh! For P399, you get a hydrating, pigmented, and long-lasting liquid lipstick packaged in a sleek, classy rose gold tube. And because the color payoff is so intense, a small amount goes a long way. Meaning, this will last you for months!
Follow Ira on Instagram.
Follow Tisha on Instagram.