I first found out about Thermage FLX when I saw billboards advertising it along Guadalupe bridge. The before-and-after pics of Sue Ramirez intrigued me: Her face appeared lifted and smaller, and the billboard said the procedure was non-invasive. Then, Anne Curtis, one of the most flawless stars in the industry, tried it. Other celebs who have done the treatment are Marian Rivera, Coleen Garcia, and Belle Daza.
I decided to try Thermage FLX to see what the hype was all about. I said to myself, "Gusto ko maging fresh like Anne Curtis!" Kidding aside, I'm already in my early 30s, and I'm not ashamed to try procedures that could help my skin aging concerns. But before I booked my appointment, I had to be sure of what to expect. I was lucky to interview Dr. Vicki Belo to ask for more info about it.
What is Thermage FLX?
According to Dr. Belo, Thermage FLX uses monopolar frequency and provides a non-surgical facelift. Filipino skin doesn't sag that much, so we don't need an invasive facelift. "It's very good for tightening the jawline where a lot of aging happens. It's also very good for [the area] around the eyes. As you get older, our eyes start to droop, and the skin around our eyes becomes loose. [You] have a lot of sagging, [and] you get eye bags. Thermage tightens the area around the eyes to make you look more alert, fresher, and younger," she explained.
ADVERTISMENT - CONTINUE READING BELOW ↓
What are the benefits of Thermage FLX?
Thermage is good for the jawline and when you need the eye area to open up and the forehead to tighten. If your eyebrows are starting to fall and your lids have started to droop, you're an ideal Thermage FLX candidate.
Aside from tightening the jawline and opening up the eye area, Thermage FLX stimulates the fibroblast, responsible for creating collagen and elastin. These two make the cheeks look plump, lifted, and younger-looking. "For every year we're alive, we lose one percent of collagen. We usually start doing Thermage at 30 years old because you've already lost 30 percent of your collagen, and that's already halata," she said.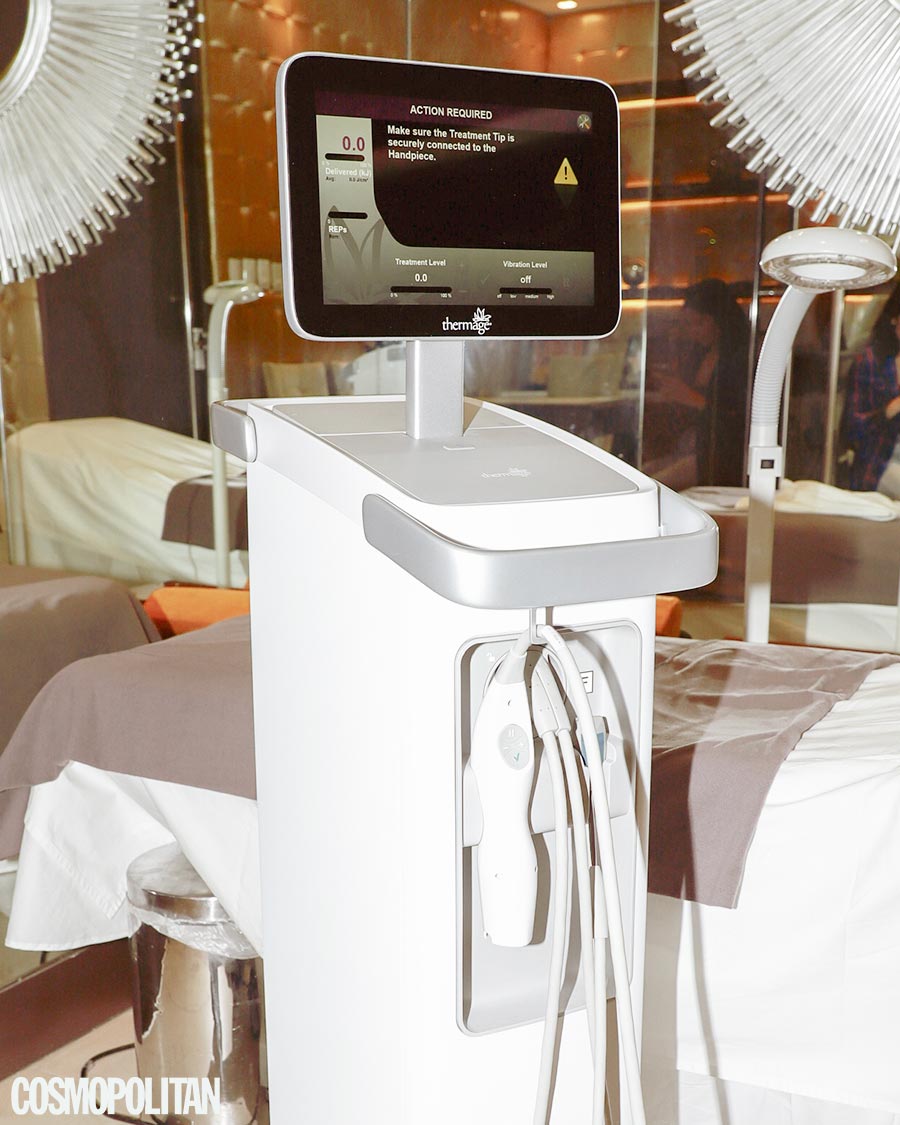 ADVERTISMENT - CONTINUE READING BELOW ↓
Recommended Videos
What are the biggest misconceptions about Thermage FLX?
People think their faces will "fall" once they stop doing Thermage FLX, but Dr. Belo said otherwise: "Thermage basically brings your face back I would say five to 10 years, depending on the quality of your skin. So, it's not that your face will fall. It's like when you did it when you were younger, the further back you go. So let's say you're 35, you will probably look 28. And then aging continues, 'di ba? You don't stop aging. You just bring it back in time." She also added, "If you want to continue looking [like you're] between 28 and 30, then you'll have to do it every year."
And if getting a Thermage FLX treatment every year isn't feasible for your lifestyle, she made it clear that it's okay. "Even if you never do Thermage again and you just did it once in your life, then at least it brought you back a minimum of five years." 
ADVERTISMENT - CONTINUE READING BELOW ↓
Which body parts can you do Thermage FLX on?
You can do Thermage on any body part except the knuckles and toes. Dr. Belo revealed that she has done the procedure on her knees to tighten the loose skin. She also explained how the treatment can improve the arms: "My arms, even if I work out, the muscles are firm but the skin sags. So, I just did it the other day to help my skin move up. We call it vectoring. When you look at the person, dapat [your line of vision] goes up. When you look at the person, your eyes should go upward, [so it's] vectoring upward. Thermage will bring it up again and make you look tight and sculpted."
Are there activities you can't do before and after getting the treatment?
Dr. Belo advised that the patient should refrain from undergoing chemical peels before the treatment. "Your skin will be stripped [of its] upper layer and then [it will feel] mahapdi," she warned.
ADVERTISMENT - CONTINUE READING BELOW ↓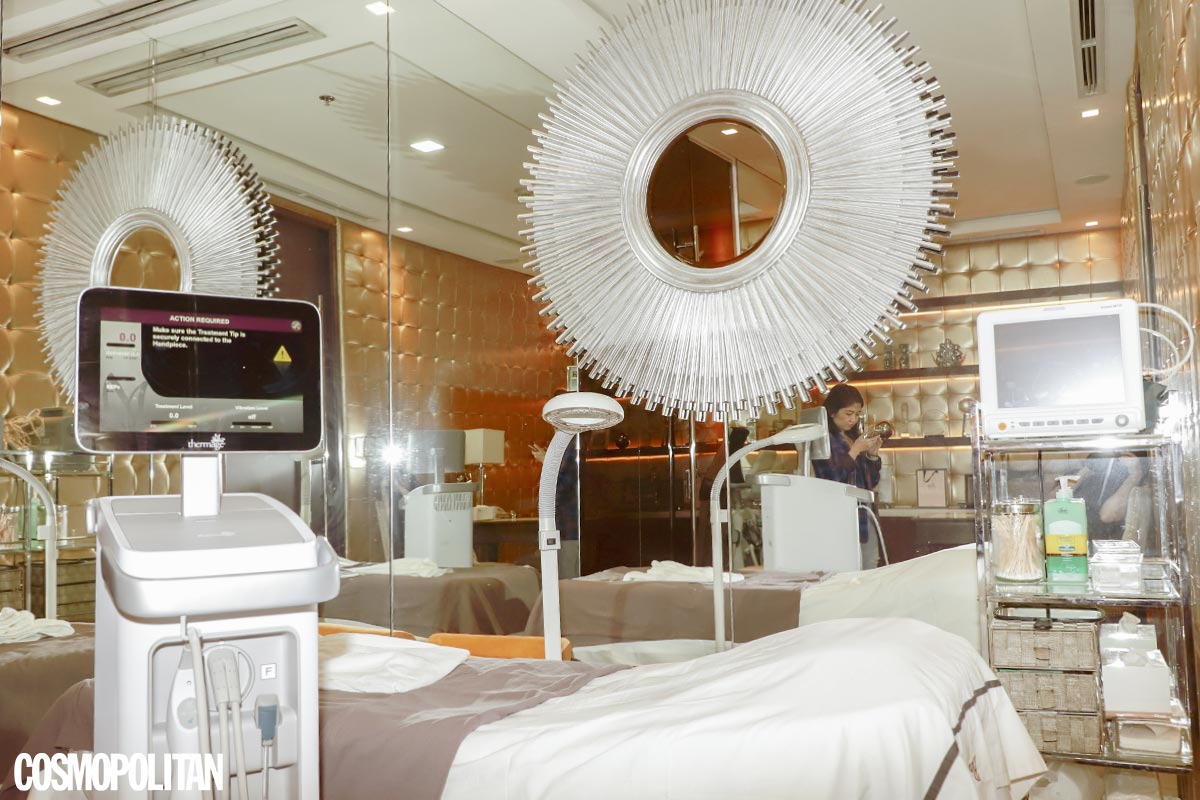 Where are the clinics of Belo Medical Group?
I had the Thermage FLX treatment at the Belo Medical The Residences at Greenbelt branch [Telephone: (02) 817-7178; (02) 817-9283; Mobile: (0917) 839-8182; (0999) 885-7741] but here are the other clinics you can book:
ADVERTISMENT - CONTINUE READING BELOW ↓
BGC: Bonifacio High Street Central

Telephone: (02) 621-4030; (02) 621-4031

Mobile: (0917) 840-9268; (0999) 885-7731

Medical Plaza Makati: Suite 901 Medical Plaza Makati, Amorsolo cor. Dela Rosa Sts., Legaspi Village, Makati City

Telephone: (02) 844-1182; (02) 843-6007

Mobile: (0917) 839-8185; (0999) 885-7688; (0999) 885-7742

Power Plant Mall: R3 Level, Powerplant Mall, Rockwell Center, Makati City

Telephone: (02) 478-3823; (02) 478-3826

Mobile: (0949) 881-7063; (0917) 800-9642

Shangri-La Plaza: 5th Level (Main Wing), Shangri-La Plaza, EDSA corner Shaw Boulevard, Mandaluyong City

Telephone: (02) 706-4941; (02) 706-4942

Mobile: (0999) 885-7692; (0917) 528-6840

SM Megamall: 5th Level, SM Megamall, EDSA cor. Julia Vargas Ave., Mandaluyong City

Telephone: (02) 470-1992

Mobile: (0917) 584-9260; (0999) 885-7708

Greenhills: 49 Connecticut St., Northeast Greenhills, San Juan City

Telephone: (02) 724-6626; (02) 724-7443

Mobile: (0917) 891-3762; (0999) 885-7735

Alabang: Westgate Center, Filinvest Alabang, Muntinlupa City

Telephone: (02) 771-2350; (02) 771-2353

Mobile: (0999) 885-7736

S Maison: Level 2, S Maison, Marina Way, Mall of Asia Complex, Pasay City

ADVERTISMENT - CONTINUE READING BELOW ↓

Telephone: (02) 776-8733; (02) 776-8734

Mobile: (0918) 908-9566; (0917) 599-8561

SM North EDSA: 5th Level, The Block, SM North EDSA, Quezon City

Telephone: (02) 374-3713; (02) 374-2559

Mobile: (0998) 966-6298; (0917) 536-0385

Tomas Morato: 305 Tomas Morato Ave., cor. Scout Madriñan St., South Triangle, Quezon City

Telephone: (02) 373-3355; (02) 373-3188

Mobile: (0917) 832 0576; (0999) 885-7739

TriNoma: 3rd Level, TriNoma, North Ave., Quezon City

Telephone: (02) 943-2230; (02) 943-2231

Mobile: (0917) 8635572; (0999) 885-7734

Ayala Center Cebu: 1st Level, The Terraces, Ayala Center Cebu, Cebu City

Telephone: (032) 234-2356; (032) 417-1323

Mobile: (0917) 552-6986; (0999) 885-7740

Abreeza Davao:  2nd Level, Abreeza Mall Davao, J.P. Laurel Avenue, Davao City

Telephone: (082) 296-2356

Mobile: (0998) 966-6297; (0917) 536-0794
How much does one session of Thermage FLX cost?
The Thermage FLX treatment costs P125,000 per session. For Dr. Belo, maintenance is more important than a major facelift. Dr. Belo recommends doing it once a year if you're in your 30s. If you're in your 40s, she advises undergoing the procedure twice a year for maintenance. Belo Medical Group has payment packages so you won't have to shell out the amount in one go.
ADVERTISMENT - CONTINUE READING BELOW ↓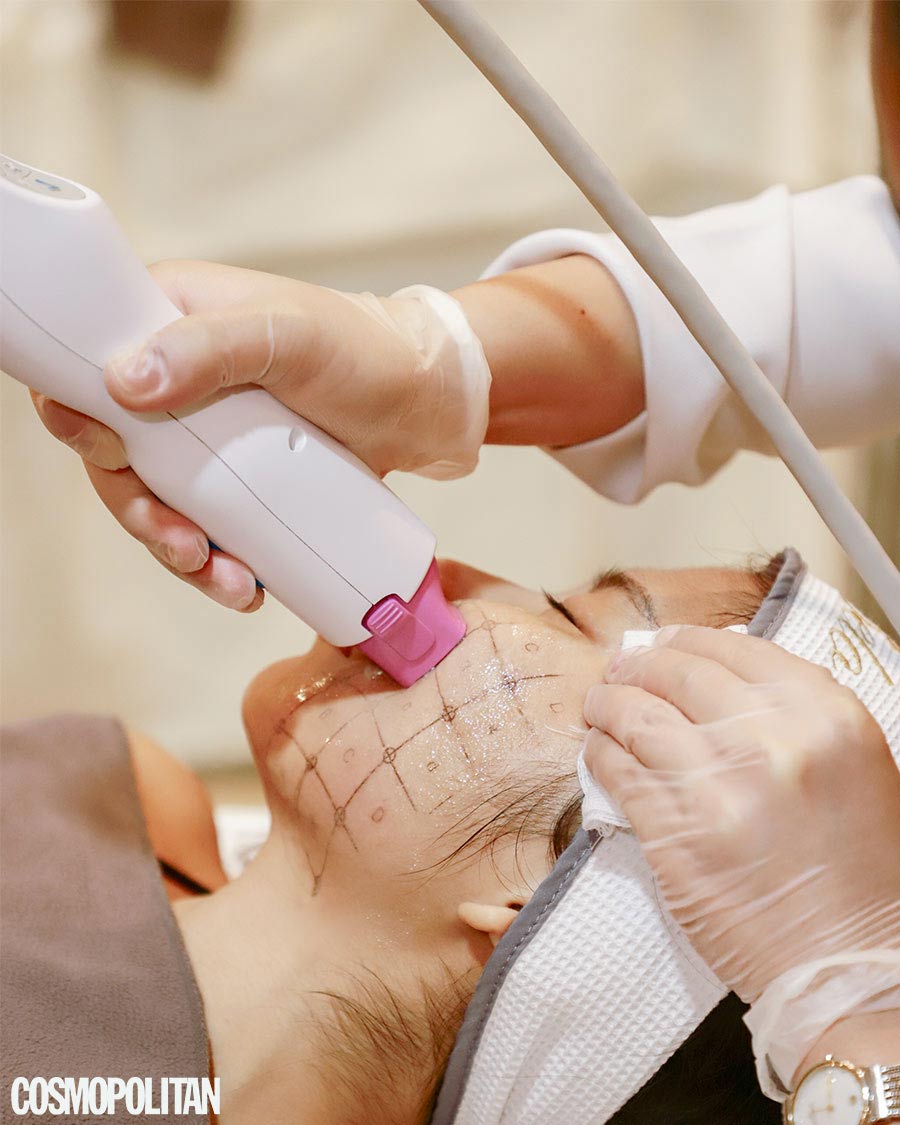 The Thermage FLX Review
I was always conscious of my droopy eyes and round jawline. Both are influenced by genetics. I thought of Thermage FLX as an anti-aging shortcut.
Expect two people in the treatment room with you: An aesthetician and a doctor. The aesthetician applies a cooling gel on your face to counteract the heat from the machine. Yep, you read that right: HEAT. The warmth is tolerable, but on certain hairy areas, the sensation intensifies. You can take quick breaks just to *breathe* and relax.
ADVERTISMENT - CONTINUE READING BELOW ↓
The treatment took only 30 minutes. My skin did not turn red—it looked normal, so yay for no downtime! Dr. Belo said that my forehead and jawline will look smoother and more lifted two weeks from the day of the procedure. But she reminded me that its full effect will be seen two months from now.
Did the P125k treatment magically make my face look younger? Here's the before-and-after pic: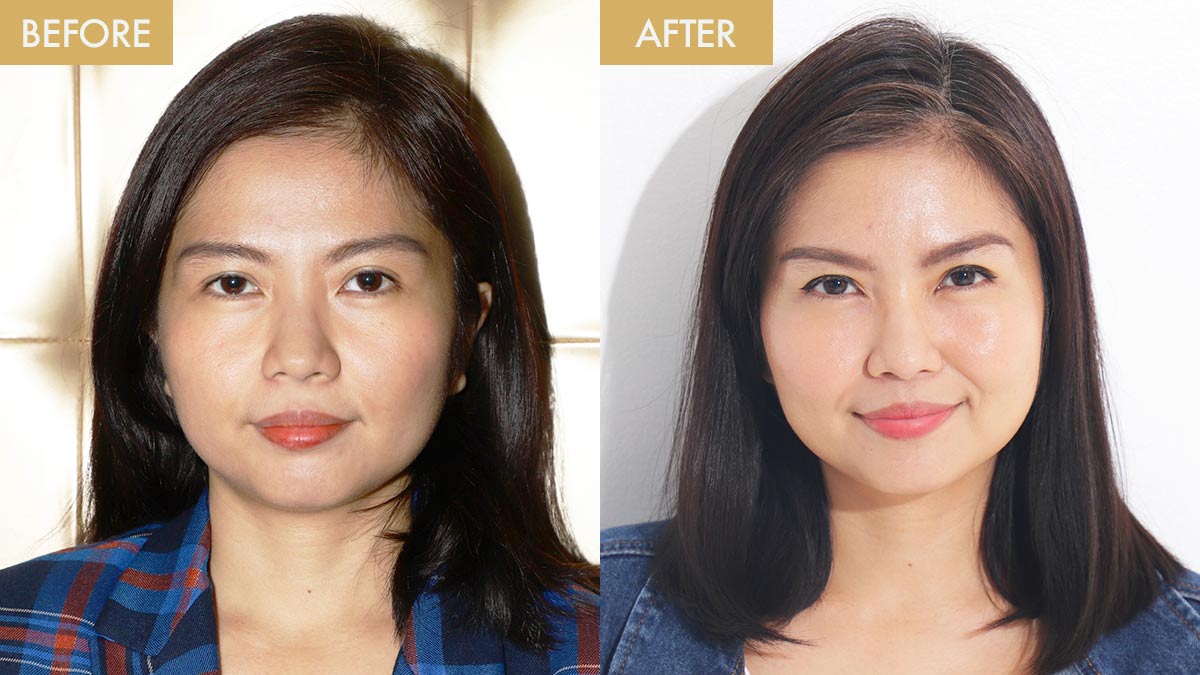 ADVERTISMENT - CONTINUE READING BELOW ↓
Is Thermage FLX worth it?
I'm not going to lie, P125k is pretty steep for most of us. But I've seen an improvement in my features. My cheeks became smaller (yet still plump, so I still look like myself), and my forehead, which is one of my insecurities, appeared smoother. My chinita eyes looked more awake, too! You'll definitely get what you're paying for.
Follow Ira on Instagram.
***
Don't miss the chance to attend the biggest beauty and wellness festival in the Philippines! Buy tickets to the Cosmopolitan BEAUTYCON on August 31 AND September 1, where you'll find the widest selection of makeup, skincare, hair, and wellness brands with exclusive freebies, offers, and discounts. There will also be sessions with beauty experts, creatives, and celebrity speakers. It's gonna be epic! Get your tix here.
EXPLORE COSMO