Getting a Brazilian wax for the first time is one of the scariest (probably most dreadful, even, thanks to all the articles out there that you swear were made to make you cancel that appointment while you still can) firsts you'll ever experience in your life. We get it, though. Walking into a room and exposing your sensitive lady parts to a stranger and having said stranger rip all your pubic hair off from places you didn't even know existed is not exactly a pleasant situation to be in. It goes without saying that where you get it done is a huge deciding factor on whether or not you'll be doing it again.
Whether you're a Brazilian-wax virgin or not, we're pretty sure you're on the lookout for the best place to go when you want to go bare down there. So, we tried the 10 best places to get a Brazilian wax and ranked them based on cleanliness, facilities, staff's expertise, comfort, value-for-money, and to some extent, pain level, so you'll know where to go the next time you get a Brazilian.
10. Piandre's Brazilian Wax (P1,350)
Piandre specializes in haircuts and hair color, but they also offer waxing services. So if you're looking for a place that can pamper you from head to toe, Piandre can do just that. Their Greenhills branch has one room for their Brazilian wax service where you'll find a colorful painting hanging on the wall directly across the massage bed, which may help calm your nerves when your body hair is being ripped from the roots.
While everything is neat and you can tell they put a premium on sanitation (they add a layer of a disposable cotton sheet on the bed and vacuum the area after each service), you might have to tell the technicians yourself if the wax they're applying is too hot instead of them checking with you first. We recommend double—or even triple-checking—after the session to make sure the technician got all the hair out. They'll gladly wax or pluck out any strand that gets left behind.
Overall, Piandre's Brazilian wax service gets the job done. It has a pretty steep price compared to other waxing salons, but it's pretty convenient for days when you just want to treat yourself to a full makeover. Note that they don't have an online reservation platform, but you can always call to book an appointment.
Piandre is at B1 Promenade (below Starbucks), Greenhills, San Juan City. Open from 7 a.m. to 9 p.m. (Monday to Saturday) and 9 a.m. to 5 p.m. (Sunday). Contact them through 451-1233. See a list of Piandre branches.
9. Dashing Diva's Brazilian Wax (P800)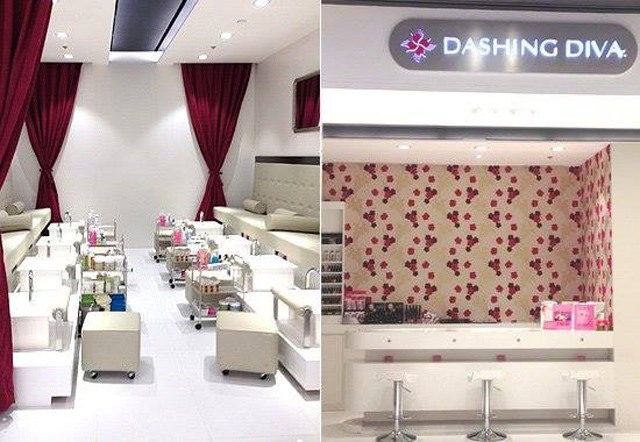 Booking an appointment at Dashing Diva for their Brazilian Wax was the trickiest part: Not all branches offer the service and most of the ones that do usually run out of wax. We were lucky to be able to book a slot at their Greenbelt 5 branch, and if you're a no-nonsense kind of gal who just wants to get the job done (and done well), you might want to consider heading to this salon.
Just like the popular nail salon's interiors, the designated waxing room is very clean, so much so that it almost looks like a doctor's clinic. It is pretty much how you could describe our experience: Like a trip to the OB-GYN. If you're a first timer, they'll ask you to try their bikini wax first before going all the way, just to see if your pain tolerance can handle it. But, don't expect the technician to make you feel comfortable or guide your every move, which isn't exactly ideal for first-timers. On the upside, they're super thorough and make sure not a single strand is left behind. Surprisingly, it's one of the least painful waxing places we've tried. Do note that this branch doesn't have their own bathroom, so make sure you've already freshened up before your appointment.
Dashing Diva is at 2/F Phase 2, Greenbelt 5, Makati City. Open from 11 a.m. to 9 p.m. (Monday to Thursday), 11 a.m. to 10 p.m. (Friday and Saturday), and 10 a.m. to 9 p.m. (Sunday). Contact them through 757-5028. See a list of Dashing Diva branches.
8. Hey Sugar!'s Dulce de Brazilian (P1,050)
Hey Sugar's sweet interiors will surely make all your pre-Brazilian wax worries disappear. It's like entering a cupcake store—even their services menu is dessert-themed and there's absolutely nothing is scary about Dulce de Brazilian, right? Everything about Hey Sugar! is organic—from the alcohol they use to prep the skin (ethyl alcohol made from pure sugar cane) to their wax (100% made from sugar) to the cornstarch they use to get rid of extra oil.
Their Glorietta 3 branch has a total of three waxing rooms, all following the theme of the waxing salon: Floral wallpapers, bright cushions, and dainty posters. They don't have their own bathroom, so be sure to freshen up before your appointment. The technician takes her time to explain the procedure carefully, so first-timers would know what to expect. You'll feel very comfortable in their hands because they'll guide you every step of the way. After the waxing is over, the technician applies extra virgin coconut oil to soothe the skin around the area. Before leaving, you might want to check and see if they did a clean job so they can go back to waxing or plucking in case you aren't satisfied with the result. 
Hey Sugar! is at 3/F Glorietta 3, Makati City. Open from 10 a.m. to 9 p.m. (Sunday to Thursday) and 10 a.m. to 10 p.m. (Friday and Saturday). Contact them through 533-0875. See a list of Hey Sugar branches.
7. Pink Parlour's Brazilian Wax (P1,000)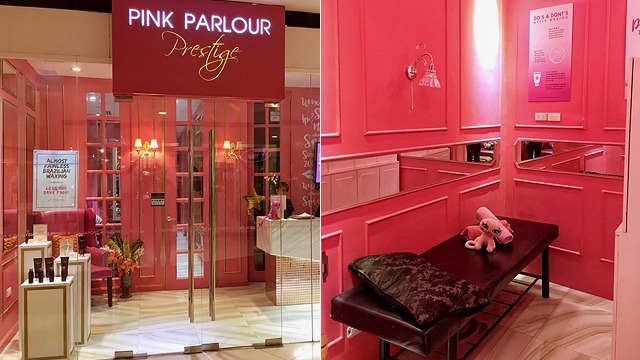 What's good about Pink Parlour is that they have a real-time booking on their website, so you can see which timeslots are available for all their branches. They make sure to send you a message confirming your booking and they will even send you a text reminder on the day of your appointment. This makes you feel like you're in really, really good hands—and you are.
Stepping inside Pink Parlour's Eastwood Mall branch is like entering a posh hotel lobby in a world where everything is pink. The staff welcomes you with smiles, then they lead you to your waxing room and ask if you'd like to freshen up in their bathroom (plus points for having their own!). The technicians are just as warm; they make you feel comfortable throughout the procedure by making sure you're okay with the wax's temperature before applying it to sensitive areas. You won't have to worry about how to move around because they'll be guiding you every step of the way. Plus, they even provide you with a cat stuffed toy that you can squeeze and hug if you need a little more comfort!
After waxing, they make sure you're completely hair-free by plucking the strands that get left behind. Finally, they apply a soothing lotion (they make their own!) to calm your skin down before you leave. You're in and out in about 20 minutes, tops. We also have to note that the whole thing was pretty much painless. While the procedure was 100% smooth-sailing, Pink Parlour would've ranked higher on the list if the bathroom was cleaner: We spotted a few hair strands near the drain.
Pink Parlour is at 2/F Eastwood Mall, Quezon City. Open from 11 a.m. to 10 p.m. (Monday to Thursday) and 10 a.m. to 11 p.m. (Friday and Saturday). Contact them through 706-6101 or book an appointment online. See a list of Pink Parlour branches.
6. Maxwax's Brazilian Wax (P1,500)
If you feel like treating yourself, book an appointment at Maxwax. The Ayala Malls 30th branch has IG-worthy interiors, featuring '50s pin-up posters and bright pops of color here and there. There are about four to five cubicles for waxing, all featuring cozy seats and beds that are enough to make you feel comfortable. Though you might want to freshen up beforehand since they don't have their own bathroom.
Maxwax stands out from the rest of the waxing salons on this list with their strawberry wax (which explains the color and scent of their product). We give it major points for being neat inside and out! The technician adjusts the pace based on your pain tolerance, so you can tell her to pause for a bit if you need a quick breather. Apart from warm and accommodating technicians, they're very thorough with their jobs, too. They make sure no strand is left behind, so you could say you're really getting your money's worth.
Maxwax is at L/G Ayala Malls The 30th, Pasig City. Open from 11 a.m. to 9 p.m. (Monday to Thursday) and 11 a.m. to 10 p.m. (Friday to Sunday). Contact them through 0956-846-2352. See a list of Maxwax branches.
5. Lay Bare's Brazilian Wax (P500)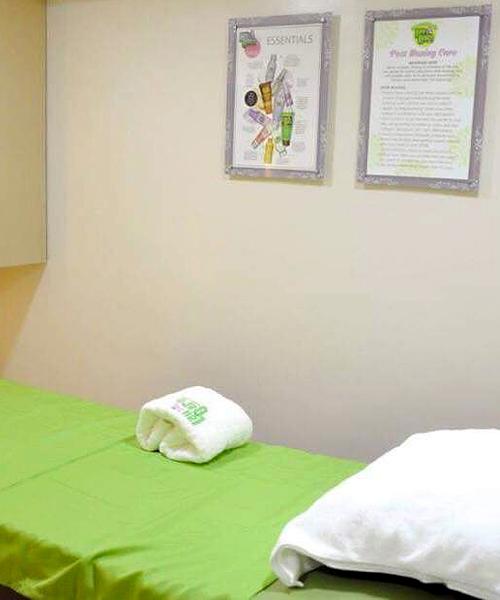 If you need something quick and accessible, you can never go wrong with Laybare. All their branches are equipped with their own bathrooms complete with bidets and different kinds of feminine washes, so you can freshen up when you get there. The technicians are skillful and quick and you can tell that they know what they're doing and that you're in good hands. Plus, all the rooms in Laybare's Katipunan branch have TVs, so you're not left scrolling through your phone the whole time or awkwardly trying to make conversation with your waxer. The only downside is that they don't have online reservations and follow a first-come-first-served basis, so you might want to come in early if you're planning a visit.
Lay Bare is at Loyola Heights Condominium, Esteban Abada Street, Loyola Heights, Quezon City. Open daily from 9 a.m. to 10 p.m. Contact them through 921-2966. See a list of Lay Bare branches.
4. Beeswax's Brazilian Wax (P740)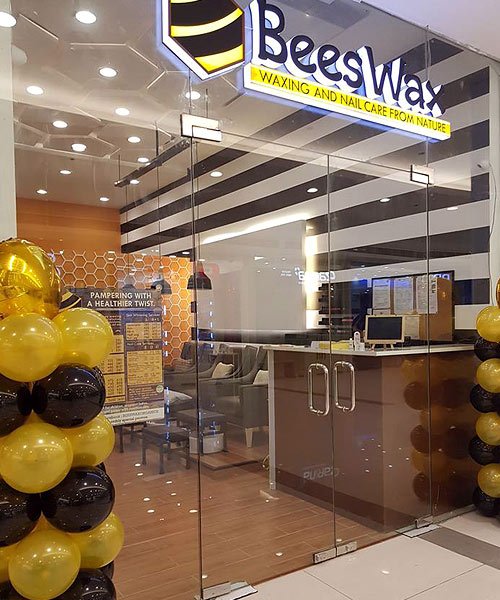 Beeswax's Estancia branch is small but cozy, featuring a nice honeycomb-inspired aesthetic. The well-lit waxing salon makes use of organic and non-toxic products, so you don't have to worry about harsh chemicals irritating your skin. Even if the stalls are a bit cramped, you'll be out of there in no time, thanks to their skillful technicians. They make sure you're comfortable all throughout your waxing session and you can even have a little chat if that makes you feel more at ease. Considering the price, it's a pretty win-win situation. We suggest freshening up beforehand because they don't have their own bathroom. We would've ranked them higher on the list if they had their own.
Beeswax is at B/L Estancia Mall, Capitol Commons, Pasig City. Open from 11 a.m. to 9 p.m. (Monday to Thursday) and 10 a.m. to 10 p.m. (Friday to Sunday). Contact them through 668-2561. See a list of Beeswax branches.
3. Strip's Brazilian Wax (P1,598/regular; P1,798/premium)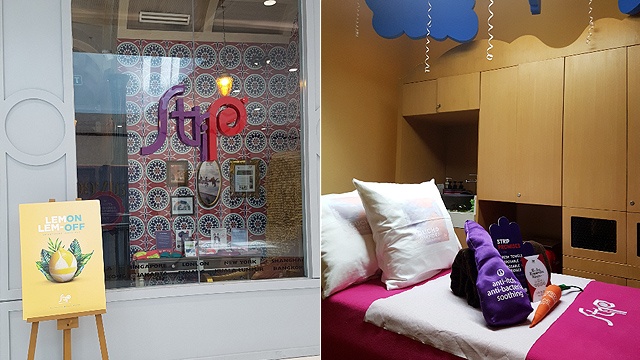 Strip's hip interiors and loud music almost make you forget that you're about to get waxed, but the bright and colorful waxing salon also has lots of fun and witty posters that remind you why you're there. The therapists are friendly yet very professional and we like that they don't make you feel self-conscious. Plus, you'll be at ease all throughout. You can tell the therapist if the wax is too hot, and they'll adjust it until it's the perfect temperature for you. They also let you know when they're about to wax a particularly sensitive spot so you can prepare yourself for what's to come.
Although the priciest on the list, Strip is the perfect option for those who are looking for a first-rate service and don't mind paying for it. They get bonus points for giving all their clients their own "Wax Kits" which contain a fresh pair of gloves, wooden spatulas, a wet wipe, and three cotton pads. We recommend booking an appointment in advance because it can be hard to book a slot as a walk-in.
Strip is at 5/F Mega Fashion Hall, SM Megamall, Mandaluyong City. Open daily from 10 a.m. to 10 p.m. Contact them through 531-4083. See a list of Strip branches.
2. Barenaked's Brazilian Wax (P550)
You'll instantly feel relaxed when you enter Barenaked's Katipunan branch, thanks to the calm music playing in the background and the earthy theme of their interiors. They don't do appointments, so you might have to wait a bit when you visit. They offer to text you once it's almost your turn, though, so you can run some errands while you wait.
The service more than makes up for the lack of pre-booking your appointments. The technicians can chat you up if you're a chatty type, but they also respect those who prefer silence during their sessions. They also adjust the service to your pain tolerance, which is great for people who need to take some time to breathe before the next pull. Barenaked's service doesn't end when you step out of the waxing salon—they make sure to text you after three weeks to remind you that it's time for a waxing sesh once again. It is pretty thoughtful, if you ask us. The price of their service also cements their spot on the list, considering you get quality service that won't hurt your wallet.
Barenaked is at Unit 106 Xanland Place, 323 Katipunan Avenue, Quezon City. Open daily from 10 a.m. to 9 p.m.  Contact them through 372-3227 or 0995-555-2844. See a list of Barenaked branches.
1. Wink's Brazilian Wax (P800)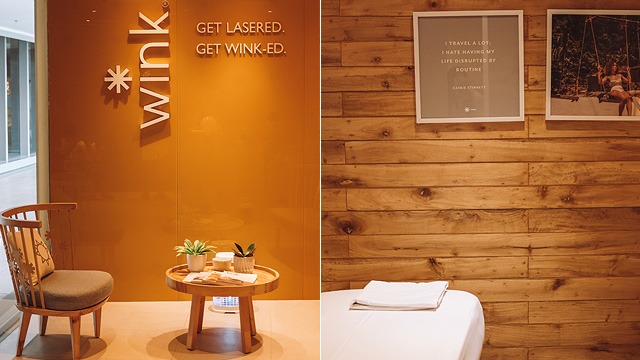 Wink's brightly lit store in Vertis North features lots of artwork and fun sayings that will surely help you ease up a little if you're a bit nervous prior to your session. Once inside their waxing rooms with their friendly technicians, you?ll wonder why you were even dreadful in the first place. The technician really takes her time to explain the procedure and the possible effects of Brazilian waxing and how to prevent them from happening, so not only will you leave the place hair-free, you'll be a more educated about it, too. 
Their technicians constantly check if the wax is too hot or if you're in pain so they can adjust to whatever makes you feel more comfortable. They are also very thorough, making sure you're completely hair-free before you leave. Plus points because they have an online reservation, their own bathroom, and they lend you a stress ball during your session! You get more than you pay for at this waxing salon—it might just be your new go-to. 
Wink is at 3/F Ayala Malls Vertis North, Quezon City. Open daily from 10 a.m. to 9 p.m. Contact them through 987-1232 or 0917-129-3495. See a list of Wink branches.
All SPOT.ph Top 10 lists are researched for, paid for, tested, and selected by the writers and editors. They are discreetly conducted without any notice made to the establishments or their owners.