Growing up, I've always struggled with sensitive skin and to add to that, my skin is oily and acne-prone. These skin problems have restricted me from trying out new products because of the fear that they would break my skin out. So, when I read about the woman who solved her skin problems by changing the water she uses to wash her face, I was a bit skeptical yet excited. I mean, it's just water, right? Doing this challenge is basically harmless.  
If you're curious as to how washing my face with distilled water changed my skin (spoiler alert!), then read on:
Name: Karla Trillanes
Age: 19
Occupation: Communications student, freelance writer
Skin type: Oily, sensitive
Daily Skin Care Routine:
Morning: Oilatum Gentle Cleansing Bar, Biore Perfect Face Milk, Nature Republic Aloe Vera Gel
Evening: Oilatum Gentle Cleansing Bar, It's Skin VC Effector, Clindamycin Spot Treatment, Nature Republic Aloe Vera Gel
Twice a week: Beauty Bakery Witch Hazel Scrub, Aztec Clay Mask
DAY 1
When I first read the Reddit post, I got super excited mainly because I had a huge cystic pimple on my forehead and a couple of smaller ones on my cheeks and jaw. After work, I immediately bought a liter of distilled water at a convenience store near my house. I estimated this would last me the next two weeks.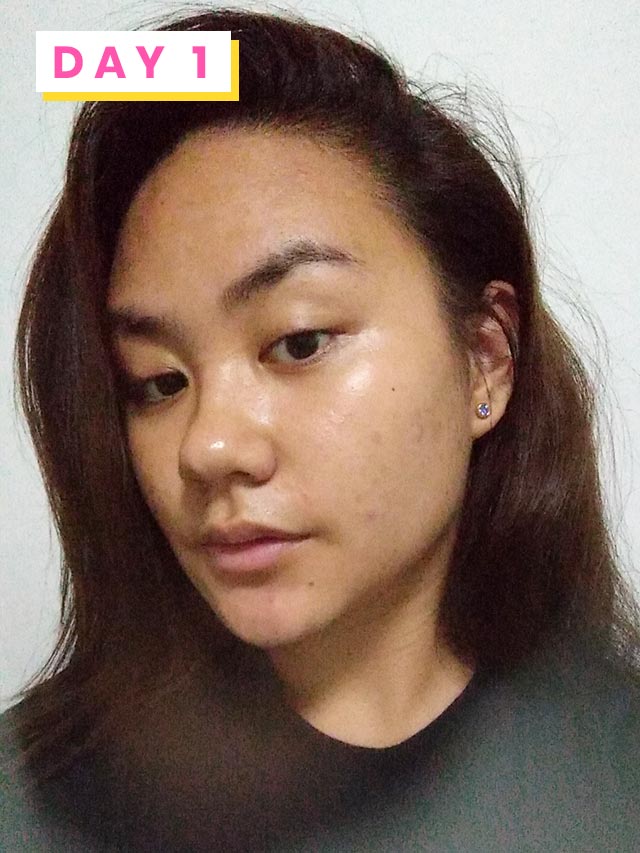 Continue reading below ↓
Recommended Videos
I do have to admit that washing my face was a struggle. I was careful not to waste THAT much water, so I looked for an old bottle of rubbing alcohol (because the original writer said that she used one so it wouldn't be as messy) but I couldn't find one. I just settled with a spray bottle I found in one of my travel kits. It felt kind of different, but I don't know if it was just psychological: Using water that was not from the faucet made me feel fancy (lol). The water felt a bit more refreshing. I went on with my regular skincare routine.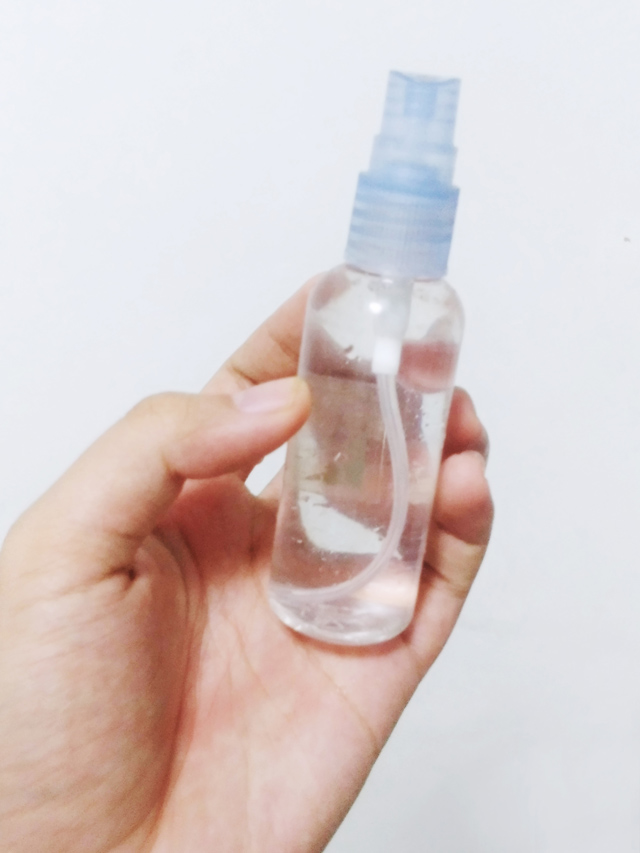 DAY 2
This morning, I accidentally used tap water when I was washing my face while I was in the shower. I woke up late and was rushing to get ready, so I completely forgot that I was doing the challenge.
I made up for it tonight, but I found incorporating distilled water my routine harder. I was scheduled to exfoliate my face. It was a challenge to rinse my exfoliating cleanser because the product's consistency was thicker. So, I remembered what my editor told me when she gave me this assignment—she told me to use cotton pads soaked in distilled water. It was very helpful, and it took me two cotton pads to fully rinse my face. I also let the water air-dry because the original writer did that. My face felt very hydrated even after scrubbing all the dead skin off of it!
DAY 3
I went out tonight, and I had to sleep over at my best friend's condo. She didn't have distilled water, and I was too drunk to buy some. Tbh, I was too drunk to go through the elaborate process of washing my face with distilled water. I then realized that this challenge is really not for lazy people. I skipped a day and just washed my face with tap water.
DAY 4 to 5
I continued with my distilled water wash-and-rinse routine, but I did not notice any changes.
DAY 6
I woke up with a big zit on my chin and really bad breakouts all over my face. I even had some rashes on the side of my nose. I had no idea if this was caused by PMS or if I was reacting badly to my new serum. I decided to just simply wash my face (still with distilled water) and give my skin a rest by just putting spot treatments on the angry zits and simply skipping my usual skincare routine. Hopefully, these spots will subside in the next few days.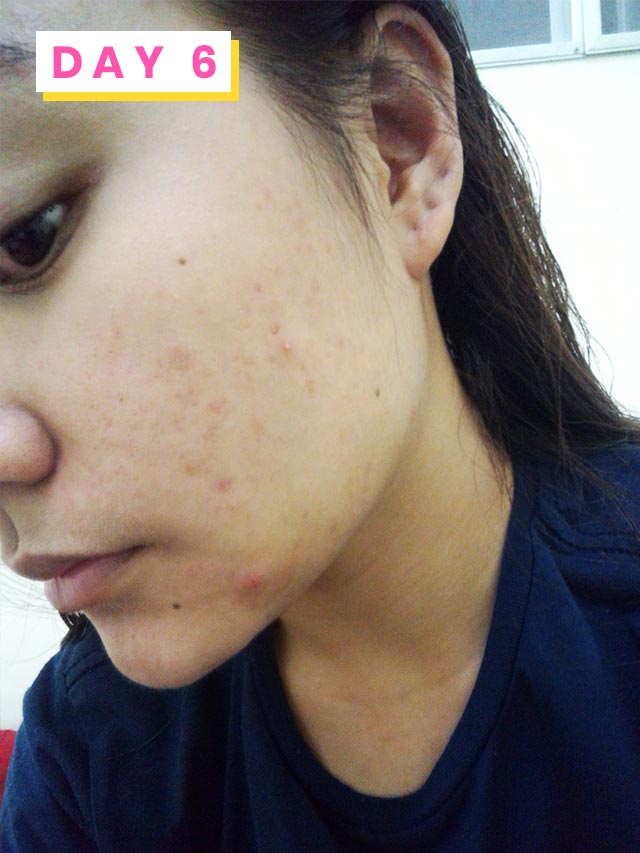 DAY 7
By some miracle, my zit was magically flat when I woke up today. This made me think that the distilled water may have made my products more effective. I started to wonder whether trying this challenge during my PMS week, where I usually get bad breakouts, was a good or bad idea. 
DAY 8 to 10
I didn't see any obvious changes.
DAY 11
I was surprised to see that my skin was becoming less oily! Usually, by noon, my skin would feel super heavy and oily. I was super excited when I looked in the mirror and saw myself without shiny cheeks. My bad breakouts have also subsided, and my skin looked hydrated!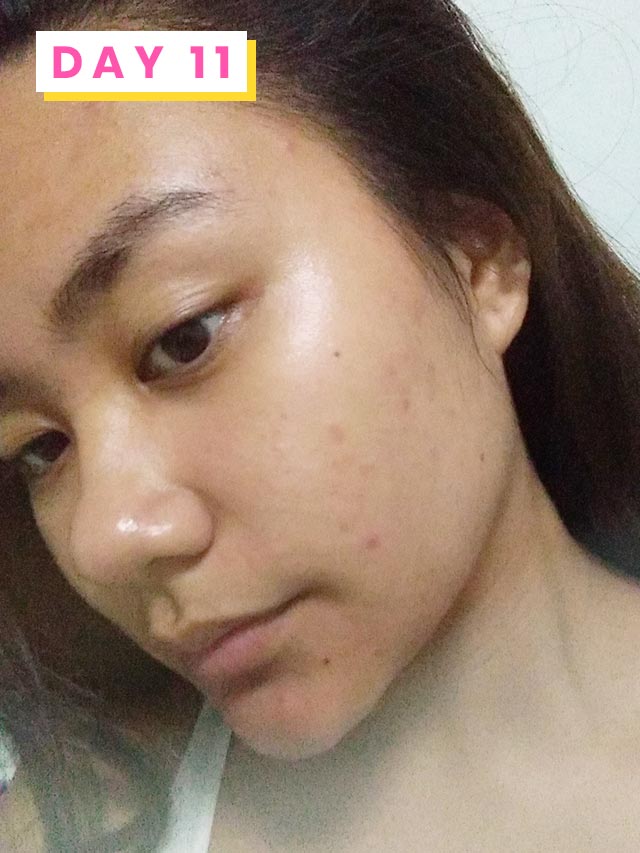 I decided to put on my Aztec clay mask today, and of course, I mixed it with distilled water instead of tap water. Still, I don't know if it's a psychological effect but the mask felt quite refreshing. Usually, my face gets itchy when I put on the mask, but that wasn't the case today. It was a struggle to take it off, but I felt like my skin needed that deep-cleaning. The extra elbow grease was worth it.
DAY 12 to 13
No changes.
DAY 14
Today was the last day of the challenge, and also the first day of my monthly period. Usually, I wake up with a huge cystic pimple on the first day of my period, but I was surprised when I didn't see any new pimples today. Throughout the day, my skin was also less oily, and I only needed to blot once (instead of the usual three times) within the day.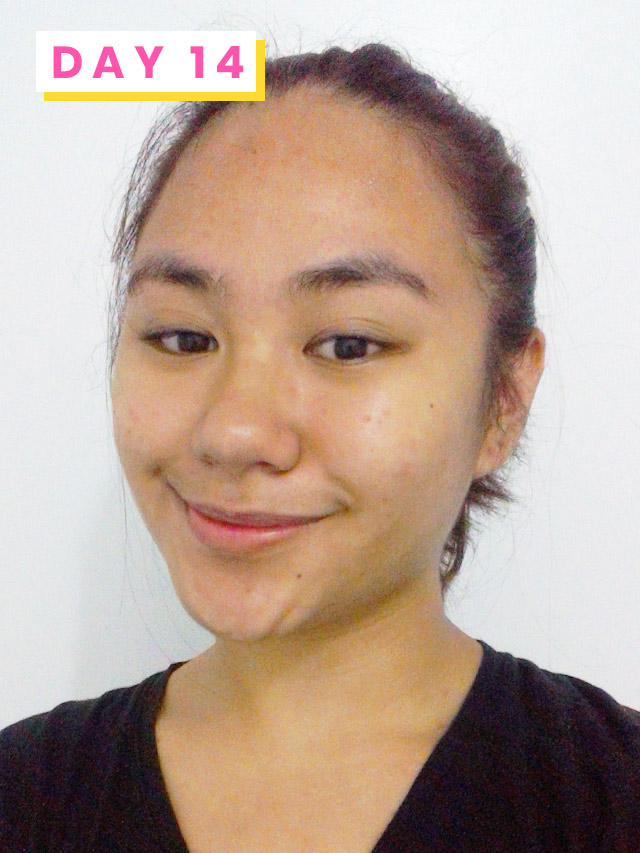 Did it work?
In those two weeks, I saw a real change in my skin! I really didn't know what to expect, and I have to admit that I was a bit skeptical. My skin became less oily and more hydrated! Distilled water is free of impurities and works well with the skin's pH levels, so it helped my skincare products work better.
I know that my skin still isn't perfect. I'm still struggling with hormonal acne and acne marks, but I do believe that continuing this practice would improve my complexion. 
Is it an expensive and high maintenance skincare habit?
When I told my friends that I was doing this challenge, they told me that it would be expensive. When in fact, it's pretty cheap! A two-liter bottle that costs P30 lasted for two weeks. You just need to find ways to utilize it.
This practice definitely isn't for lazy people! As someone who has a very busy schedule, it was hard to maintain. There were times I went on to use tap water. I decided to continue this practice after the challenge, but I won't beat up myself for missing a day. I can't wait to see how this changes my skin in the long run. Who knew that something as simple as changing the water you use to wash your face could make your skin better?