I always knew that if I would want to get a tattoo, I should consider the following: Research on the design, decide on the body part where I'll get inked, check reviews of tattoo artists and studios, and canvass the cost.
After years of doing the SOPs, I was finally ready for my first tattoo! Read on for my ~somewhat painless~ experience.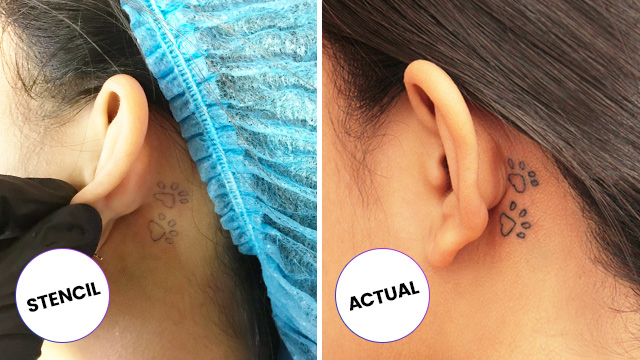 ADVERTISMENT - CONTINUE READING BELOW ↓
Design: Two paw prints on the back of my left ear
Price: P1,500
Where I got it: Immortal Tattoo
Experience
I've always wanted to have a tattoo since I was in high school. But because I went to an all-girls Catholic school and I was always hatid-sundo, I realized that I wouldn't be able to get one during my teen years. 
Fast forward to today, I now have the freedom and money to get one. I wasn't planning on getting it on November 3rd, but it just sort of happened. A relative of mine told me that she was getting hers done, and I remembered that I did want one. I researched on different tattoo artists and salons here in Manila and decided to get one at Immortal Tattoo.
When I arrived there, I told the guy I wanted a tiny tattoo of two paw prints behind my left ear because I love dogs. I think he knew that I was nervous because I asked him how much it would hurt if I wanted it behind my ear. It would technically be on my skull! He laughed and asked if I wanted to have numbing cream applied. Of course, I immediately said yes.
After 15 minutes of letting the numbing cream work its magic, I lied down on my right side. My whole ear was covered with tape to prevent the ink from splattering all over it. The artist then started with just one dot on the area to check if I felt anything, and OMG, I did not. Tip: If you're going to get a tattoo for the first time, *remember* to ask for numbing cream.
For 20 minutes, I was just there, playing with my phone and feeling short scratches behind my ear. At the end of the session, the artist explained my tattoo aftercare routine: I just need to wash the area with water and gentle soap for three days and to moisturize it with petroleum jelly. That was it!
While there was one part of the tattoo session that hurt like a bitch (it hit my neck), overall, it was a pleasant experience. I'm ready to go back for more! The next one I plan on getting is a tiny palm tree on my right hand. Maybe I'll be ready to try that without numbing cream!
ADVERTISMENT - CONTINUE READING BELOW ↓
Immortal Tattoo is located at GF Tiendesitas Mall, Frontera Verde, Ortigas Ave., Cor. C5 Road, Pasig City. For inquiries, call or text (0917) 933 7730.