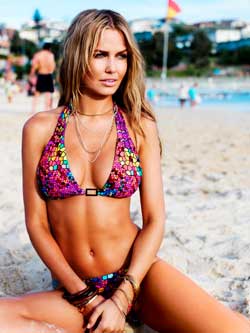 1. Scrub More Often
Polish your skin with a grainy scrub once a week, but get into the habit of doing a scrubdown before slipping on a skin-baring skirt or top.
Tip:
Dry and grainy scrubs work better when massaged into dry skin first. Ran out of supply? Try making your own.
Skincare specialist Christopher Watt shared one you could easily do at home
.
2. Shave Properly

Showing off your gams in shorts and swimsuits means you need a cleaner, smoother shave. Nix using drying soap or airy foam. Lather on a rich shaving cream to cushion hairs and avoid ingrowns.
3. Lighten Your Moisturizer

The onset of summer heat means your face will love a fresh, non-greasy moisturizer. Switch to a water-based gel formula to nourish without clogging pores.
Continue reading below ↓
Recommended Videos