Today in amazing two-in-one beauty products: Human Nature's Detoxifying Mask + Scrub.
The mask and scrub combo contains all the good stuff for your skin, like strawberry seeds, bamboo granules, kaolin clay, and skin-renewing multifruit extracts. Together, these ingredients help remove excess oil, unclog pores, and slough away dead skin cells. And unlike other masks, this one doesn't contain parabens or plastic microbeads!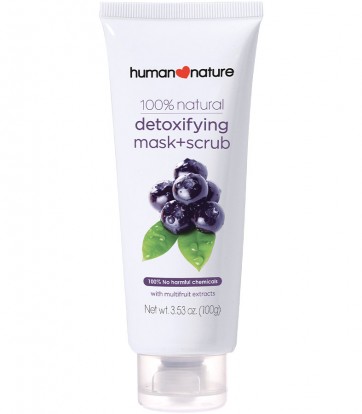 For days when you simply have no time to visit your facialist, we suggest using this as a detoxifying scrub at least two times a week. Apply a small amount on your fingers and massage your face and neck area gently. Then wash off.
When you do have the time—and you should make time—use it as a facial mask. Apply the product generously onto your damp face, keep it on for five minutes, and then rinse!
Now you can save your suweldo and skip overpriced facial scrubs and masks from the spa!
Human Nature Detoxifying Mask + Scrub is available at www.humanheartnature.com for P249.75.